Pages
Categories
Contributors
Recent Posts
Recent Comments
Recommended
Archives
October 2017
S
M
T
W
T
F
S
« Jan
1
2
3
4
5
6
7
8
9
10
11
12
13
14
15
16
17
18
19
20
21
22
23
24
25
26
27
28
29
30
31
A few years ago I saw famed jazz clarinetist Anat Cohen play downtown in Manhattan at the Village Vanguard, finding myself utterly unprepared for what "jazz clarinet" might really entail. As the jazz unfurled, it entailed an intensely personal form of musical communication, laden with emotion, interjection, assertion, charisma. I read a story about her recently here — and was intrigued by her description that she can now play "as if it is part of my body."
Though I am, by many orders of magnitude, by no means as accomplished on bass guitar as Cohen is on clarinet, I do know the experience of feeling like my Fender or Rickenbacker basses are an extension of my body. Only in the last few years have I really begun to feel like I am in a relationship to these basses, neck, body front and body back, strings, headstock, and frets, in a way that approaches something like a feeling of "bone of my bone and flesh of my flesh," to use the old biblical phrase. I think that I have been playing my way toward this relationship to my basses over the course of 27 years. When I stop to think about it, what happens in this relationship between my arms/hands/fingers and wood/metal/wire is something (more…)
While this post will be less adventurous and more off the cuff than the title promises, I'd like to begin by asking you to check out this recent interview with jazz (and more) musicians Pat Metheny and John Zorn, as conducted by the New York Times critic Nate Chinen.
I want to focus on two statements Mr. Metheny makes:
"What I look for in musicians is a sense of infinity. Within this world, you could go forever."
"Another thing I love is hearing musicians who develop context for themselves. And of the many things I admire about John, that might be right near the top. He's a master of coming up with opportunities for music to exist."
Put together, these ideas of musicians inventing the context for their music to make sense on its own terms, in such a rich way that doors keep opening seemingly without end, put me in mind of theology. The notion of "context" has come to play a very important role in contemporary theology. Many theologians today would argue that all theology is "contextual," by which is usually meant that it is grounded in or emerges from a particular human/worldly scene, situation, or difficulty — for example, an existential question, an unjust suffering, or a break in normal ways of life.
This development in academic theological work over the past generation has helped to make theology in (and beyond) the West more attuned to local needs and to break it away from Eurocentric ways of proceeding. One of the questions about contextual theology — whether as its own approach or as a way of thinking about theological approaches in general — that I have had, however, is its reluctance to be contextual all the way down. That is to (more…)
This is part 2 of my reflection on a review of a recent "drone" music concert in New York City. Part 1 is here.
Now for further reflection:
In the process of his review, Ratliff explores meanings of sounds that take one into humming ruminations on essentials: musically we call these "drones," but in theology they are, in a sense, the whole game, because theology is no more and no less than a humming rumination on essentials. We can explore such "droning" by theologically overhearing music reviews, and musically overhearing theological works, which are two ways of relating theology to music.
Consider Ratliff's opening reflection: "There's an irreducible element of music that connects metal, industrial music, power electronics and classical minimalism, and no word exists for it."
Stay with that for a while. And then onto the next sentence:
"It involves deep pulsations; excited provocation through sound and concept more than traditional technique; low-end frequencies rarely encountered in life; long sustained tones enlarged through overdrive; or distortion or just force of hands on instruments."
The kind of theology I write and teach often falls within the domain of "practical theology," in which it is emphasized that whatever is worthy of being called "theological" must be "experienceable" by people. I stand by that, so long as what it means is carefully interpreted, but Ratliff's meditation on (more…)
Anyone know who this terrific drummer of a priest (or seminarian) is? (Watch all the way through for the special ending.)
httpv://www.youtube.com/watch?v=42cPoUS1qME
No doubt he'll be pegged for the youth ministry, but despite myself, I am wondering what it would be like if he teamed up with bass wizard Fr. Stan Fortuna on bass to compose a Mass.
httpv://www.youtube.com/watch?v=UNneLDaEuOw
And wait — they could be joined by, perhaps, guitar guru Fr. Stan Fortuna on guitar:
httpv://www.youtube.com/watch?v=9tvMEDIVAe4
And while Fr. Fortuna can — it is true — also front a rock band, I suggesting sharing the wealth, and nominate Fr. Cesare Bonizzi for lead singer:
httpv://www.youtube.com/watch?v=ZbiItSiC4fo
I believe this opens up a new topic at R&T: Religious leaders who rock. Do readers have other suggestions?
This topic takes us back to the origins of Rock and Theology and its patron saint, the Abbot Primate of the Benedictines, Notker Wolf.
Tommy Beaudoin, Hastings-on-Hudson, New York
My local newspaper, the Rivertowns Enterprise, had an interesting story this weekend about a new venture being organized by John Patitucci and some (church) friends. Patitucci is a world-renowed bass player, known perhaps most for his work with Chick Corea and for the music he makes with the Wayne Shorter Quartet and his own John Patitucci Quartet.
He is apparently a neighbor, though I have yet to see him around town. The article, by Ann Van Buren, is titled "Grammy Winner at the Altar of Justice, Mercy, and Music." With his wife, the cellist Sachi Patitucci and some colleagues, he is starting up the "Trinity Rivertowns Fellowship" in our village, and will play an inaugural show this Saturday at 4pm at the First Reformed Church of Hastings to benefit Hastings Helps the Hungry. The article reports that Trinity Rivertowns is "an offshoot of Trinity Presbyterian Church in Rye, where Patitucci is an elder."
Though the article is not entirely clear, it sounds to me like he is involved in some kind of new church planting exercise. He is quoted as saying that "The church is helping us launch a new thing. We want to be involved with the mission and service of community to build something, and start having services after that."
I can only hope that this will mean Patitucci leads worship by playing "Jesus is On the Main Line" as a bass solo.
Sit down: Here is Patitucci with the Chick Corea "Akoustic" band.
httpv://www.youtube.com/watch?v=gk9al9JksSE
And here is Patitucci giving a rock bass lesson:
httpv://www.youtube.com/watch?v=AvuOQzqjBTI
Tommy Beaudoin, Hastings-on-Hudson, NY
httpv://www.youtube.com/watch?v=bfuhvTczmQA
When pondering fitting Advent tunes to post here at R&T, it didn't take long for "Waiting" by The Rentals, featuring ex-Weezer bassist Matt Sharp, to come to mind. Technically, though, the song is about the process of waiting that is often a part of good songwriting. Perhaps the experience of that kind of waiting might offer insights into the "spiritual" waiting associated with this liturgical season.
The Rentals, by the way, were at least a decade ahead of their time and far underrated during their initial run as a band from 1995-1999. Which may explain the current rediscovery and popularity of the band since they reunited a few years back. In addition to the live video above shot in 2007, hear the studio version here (you will have to sit through a commercial before you do, courtesy of Warner Music) and see if there isn't something eschatological going on with the song's freshness even fifteen years after its initial release.
Michael Iafrate
Parkersburg, West Virginia
As I have been sketching in a brief blog series (the most recent one is here), one of the theologically significant ways of rock culture is training in bodily habitation. As religion scholar Talal Asad among many others have argued, the training of sense was intrinsic to the working of classic Catholic sacramental theology and is part of what Christianity and Islam share. With regard to how rock does it, I have called this the performance of a bodily wherewithal, wherein instruments like electric guitars or basses become something like natural appendages for the musician, in a way that speaks to fans (including other musicians) of bodily integration and excellence or deep congruence in inhabiting the world. (I realize I have had too little to say about drums, keyboards, or other instruments; I hope our commenters or R&T bloggers will over time correct what I've written about guitars or fill out these other underrepresented instruments.)
Recently I took lead guitarist Reb Beach as my example. In this post, I present to you Kip Winger, lead singer and bassist for the band Winger. Kip Winger's bodily wherewithal in performance exhibits as strong a gathered congruence as Reb Beach.  In fact, he is somewhat renowned for this among both Winger fans and detractors. I speak here of his pirouettes, his near-sashays, his rockish plies, all of which were on display early on in Winger videos. The most famous is "Seventeen" (full disclosure: not for kids). But there are many other examples, like "Madalaine":
httpv://www.youtube.com/watch?v=NozSLdxAVnw
What I did not know until recently was that apparently Kip Winger had training in ballet as an adolescent. Even more, his ballet background is coming to play more and more of an influence over his musical interests. This recent interview discusses his rising interest in composing classical music for ballet (a new composition of his, "Ghosts," recently premiered at the San Francisco Ballet). And he's been going back to school at Vanderbilt University in Nashville (see the interesting feature here) to refine his classical chops. This is a much more "distinguished" way of holding oneself than one typically assumes in rock.
(more…)
One of the mundane insights of my adulthood thus far has been that there are better and worse ways to conclude an ordinary day. One of the better ways is to end the day with a spiritual review of sorts, what Christian spiritual tradition (and the Ignatian tradition in particular) calls an "examen." This is, generally speaking, a practice of carefully remembering a period of the day with the intention of noticing spiritually significant material — sins and graces, desolations and consolations, gratitudes and regrets — and paying more meditative attention to that material.
I am a naturally meditative person, and would walk around for hours each day thinking about life, if I could, so the examen appeals to me. But I also find that at the end of the day, there is particular benefit in my playing music as a kind of examen. I will plug in a bass (my Rickenbacker 4001 or Fender Jazz), and here go the headphones, pedalboard up, and then the attention can really begin. Even thirty minutes an evening feels like a descent into an unmistakable and unsolicited good. The day's substrates can come out in hooks, tones, riffs, explorations, and even (I've learned) impasses, missed notes, sludgy playing. Sometimes I sense new dimensions of my day coming through in the playing. It's almost as if I have to invent the truths of my day through the bass.
Tom Beaudoin
Hastings-on-Hudson, New York, United States
It always amazes me in this age of instant obsolescence that one can rediscover a rock music video from 20 years ago and still find it startlingly fresh.  So it is with this Toni Childs song which, a long, long time ago in a galaxy far, far away, I used to wear out my Walkman batteries to.  Resurfacing in my life today it now exists with multiple meanings all interlayered, but the one that I offer here for consideration is that of a paradoxical Divine absence.  Childs has a way of singing with both her mouth and her hands at the same time, evoking a creative performance through mutual speaking and manipulation, much like the way that the two creation accounts in Genesis complement each other.  This visualization of creativity is held in tension with the lyrics and the gritty passion of Childs's voice which painfully laments the loss of Love.  Read theologically as an expression of Divine abandonment and absence, the song generates a powerfully physical feeling of losing God.  Yet, and here is where I find it most paradoxical, the strong underlying groove of the bass and drums in the song provides an undeniable sense of the Spirit's presence that still remains through the rhythm of life's unwillingness to give up.
httpv://www.youtube.com/watch?v=Fn-OcqIbHYc
I find this section of the song especially haunting:
"Ripping love out by the roots
Though my ghost is still with you
It hurts to watch you turn away
So I'm tearing out the truth"
Loye Ashton
Jackson, Mississippi
All praise to John Entwistle (The Who), Chris Squire (Yes), and Geddy Lee (Rush) as guys who have been the Olympian figures for me on the bass.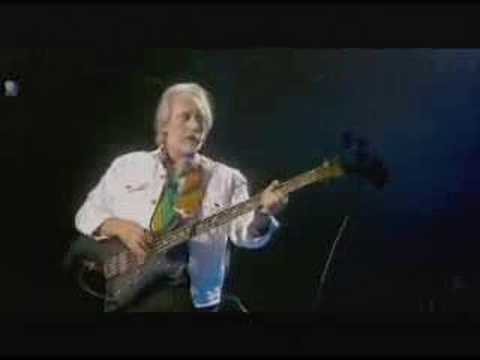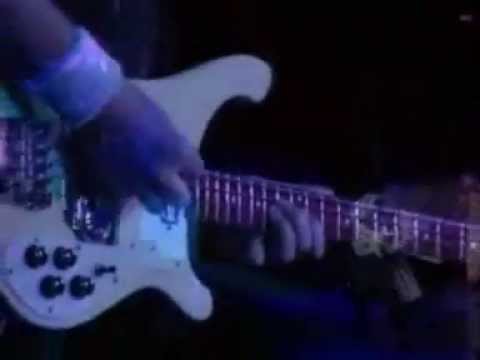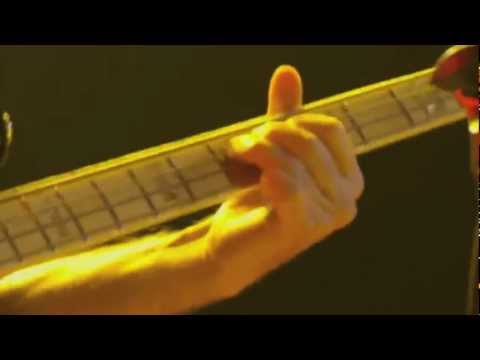 This is because, along with other modern masters like Billy Sheehan, they seem to have the bass as promise of an entire existence for themselves — and those who have ears to hear.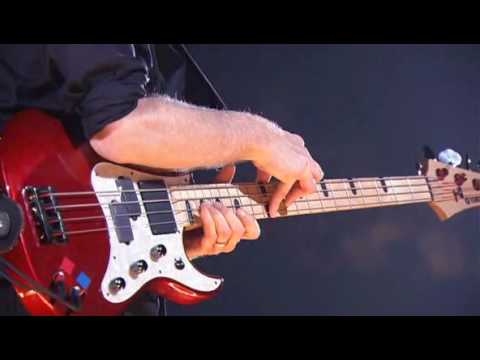 The way they hold and relate to it is as revelatory as the notes that they choose, if choice is even the right word in seismographing such immanent communion they each manifest.
These are all guys who play out front but without dominating in a "bad way," who are constantly inventive and orthogonal in (more…)