Pages
Categories
Contributors
Recent Posts
Recent Comments
Recommended
Archives
September 2017
S
M
T
W
T
F
S
« Jan
1
2
3
4
5
6
7
8
9
10
11
12
13
14
15
16
17
18
19
20
21
22
23
24
25
26
27
28
29
30
Tonight in my "Foundations of Pastoral and Practical Theology" class at Fordham, I taught about Gregory the Great's sixth century classic, the Book of Pastoral Rule. In it, Gregory argues that pastors must become "student[s] of how to live." In this short firework of a phrase is contained centuries of thought and practice about spiritual exercises in antiquity, attempts to explore and take up a different relationship to one's "soul" through practices that take one both outside and into oneself: meditation, contemplation, reflection, imagination.
I had the thought today, while preparing class, that my approach to theology and music foregrounds such practice-minded techniques as Gregory's while backgrounding the explicit God-related 'content' of those techniques. This has to do with a much bigger question about the relationship between form and content in general, and specifically in works like Gregory's as well…. which has to do with an argument also about what spiritual exercises are and how they work.
As that argument is not best made in a short blog post (but maybe I will attempt it later), I will leave well enough alone for now. But suffice it to say that Gregory's work reminded me of the ways that music has helped me learn how to live with reference to ultimate reality. And in that sense, pop music has been theologically significant for millions of fans and musicians.
A few years ago, Audioslave had a song that spoke to this: "Show Me How to Live."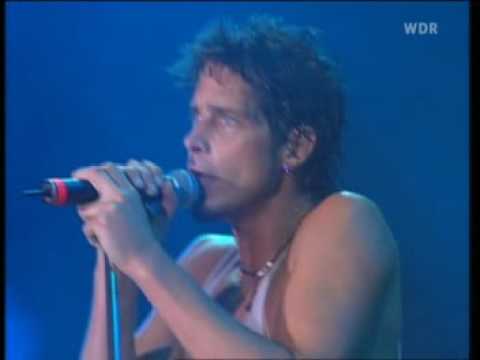 The song was written (as far as I can tell) from the vantage of the crucified Jesus, which I appreciated theologically because it put so dramatically the (more…)
I was recently interviewed by WFUV, "New York's Rock and Roots Public Radio," for the show Fordham Conversations, talking about the spiritual significance of popular music. R&T readers might be interested — the show is here.
TB
Several of the contributors to Rock and Theology wrote chapters for a book that has just been published, Secular Music and Sacred Theology (publisher page here, Amazon page here), a book that looks at different ways that popular (hip hop, punk, early rock, metal, and more) music can be spiritually/religiously/theologically significant — without reducing music to being merely a "tool" for religion. As the editor of the book, it was my responsibility to show the argument that the book as a whole is making about the relationship between theology and music, and I tried to do so by grouping the chapters according to three distinct ways in which the authors find in music something that is theologically meaningful. Here is an excerpt from my "Introduction" to the book, outlining those three ways and giving a sense of what is in the book:
*
In the first section, "Theology Through Artistry," the authors situate the theological significance of music in relationship to the creative process of artistic invention. David Dault juxtaposes the music of Lou Reed with the theology of Karl Barth and the art of Yves Klein, so as to show how all three artists create works that try to name what exceeds naming. The ancient theological question of whether God can be comprehended in human terms is turned by Dault, in his chapter "To the Void: Karl Barth, Yves Klein, and Lou Reed's Metal Machine Music," into a triptych of rock and roll, theology, and visual art, all trying to let that which is profoundly other appear through their respective mediums. In the process, we are sensitized to the analogies among these forums of artistry, and while theology is not assimilated to music and art, it is located by Dault on an evocative map of family resemblances across genres for experiencing what cannot be grasped. Maeve Heaney, in "Musical Space: Living 'In-Between' the Christian and the Artistic Callings," also finds juxtapositions to be a productive site for theological exploration. For her, the life and work of the artist houses a key tension in music culture that is theologically significant: the calling to be a Christian and the calling to be a musician. Heaney works with statements from musicians about their art and their faith, weaves in her own experience as a Christian musician, and finds in contemporary theology resources for making sense of these distinct and yet complementary callings. The deeper one goes, juxtapositions become comparisons, and comparisons become exchanges, or occasions for pursuing places of spiritual convergence and divergence. Through it all, the tensions among callings will be the place for theological work. Thus we have two different takes on why and how one can make musical artistry the center of theologically interested exploration.
The second section of the book, "Theology In Community," investigates ways that music helps create communities of heightened moral consciousness. Michael Iafrate's chapter "More Than Music: Notes on 'Staying Punk' in the Church and in Theology," finds punk rock, and especially the ethics of punk culture, to be a robust place for theological appreciation and criticism. This is so especially because the personal and social commitments of punk and theology frequently coincide, and a theologically aware punk ethic can even help ground everyday adult life and the practice (more…)
The other night on Colbert, Paul McCartney reiterated the well-known story that the Beatles stopped performing live because they couldn't hear themselves over the screaming. "We were musicians," McCartney said, "but in the end we were sort of puppets on stage." So they left the road and concentrated on the studio.
That got me thinking about a couple weeks ago, when I watched The Breeders on Late Night with Jimmy Fallon. They performed "Cannonball," which is a really chaotic song. What struck me was how static, motionless, and disengaged the performance felt. It was like they were going through the motions – hitting their right marks, but without life or any sort of emotional commitment.  After all this time, I think (that is, I hope) this is not the result of stage fright. Instead, it seems to me to be a studied indifference, an aesthetic of indifference.
(Fallon no longer has the clip available, but there is a recent performance of the song here.)
For a study in contrasts, I was pleased to run across this clip by 90s flash-in-the-pan Spacehog, recorded recently at NYC's Mercury Lounge: (more…)
How have your own views shifted over time in how you relate music and theology/religion/spirituality/faith? I was reminded of a shift in my own understandings recently when a friend told me that he had just read my first book, Virtual Faith: The Irreverent Spiritual Quest of Generation X (Simon and Schuster/Jossey-Bass, 1998). "That was my 27-year old self," I said, probably playing a little anticipatory defense.
As he pointed out to me, at the time I understood the relationship between music and theology to be a question of mission. I thought my work was to interpret music to the church in a way that would facilitate the church reaching out to young adults. So in that book I tried to show how an "emerging spiritual quest" evident through pop culture was important for the church to take seriously, but was also finally congruent with a Catholic understanding of sacramental experience. I also "challenged" Christians of my generation to take church community more seriously as a necessary part of their spiritual quest. Theologically, I thought that when I was talking about sacramental experience, I was talking about reality as such.
Through different experiences leading to changes of mind and heart in the following decade, one way to describe how I have changed is from seeing the substance of the interaction between music and theology no longer as mission but as dialogue. These are loaded terms in contemporary Christian theology, and a blog post can only handle them lightly. A difference between mission and dialogue, in emphasis if not essence, is that dialogue sees (more…)
Today's print edition of the New York Times has an interesting story by Christine Haughney about how film stars no longer are the draw they once were for women's magazines. The tide has turned toward musicians and television stars. According to the article, they are more relatable, more like everyday fans, than film stars for the millions of readers of Cosmopolitan, Glamour, and the like. In an interesting coda, this does not seem true of men's magazine sales, which seem to reflect a taste among men for more idealized, distant stars from film.
In academic theology, we are not well-accustomed to paying attention to magazine sales, although they are one index of what the general public takes to be important. Academic theology courts decadence — the unfortunate and despoiling kind of decadence, not the decadence of joys– if it cannot speak, ultimately, to what moves human beings today. Unsurprisingly, musicians are among the most influential people… specifically, musicians such as Miley Cyrus and Selena Gomez and Lady Gaga.
Religions will tend to reiterate that their teachings are beyond culture, but any true engagement with what speaks to hearts today will have to take the risk of reformulating the "core message" in the engagement with what moves people. This is not to say that a theological analysis should stay at the (more…)
A few weeks ago, the new book Secular Music and Sacred Theology was published. The chapters are written by many R&T contributors, and explore different ways that popular music can be connected to spirituality/religion/faith. I served as editor of the book and also wrote the introductory chapter. Here is an excerpt from my chapter, "Theology of Popular Culture as a Theological Exercise"…
*
Most people spend a lot of time enjoying music, but very little time asking why we care about it so much. In the United States, lots of people easily and passionately state that we like this or that song, band, or genre, but we have few occasions for asking how these choices connect up with what we think our lives are all about. This is perhaps easiest to see among young people. More than one teacher has observed that students today "live inside music. Their musical lives may well be their spiritual lives." They (and their elders) find something "vital, vigorous, intense" in music. But they (and we) lack ways of integrating that pleasure into our larger lives, of thinking about how music relates to the bigger picture of our lives.
The authors in this book, in writing theology, care about "big picture" questions. Theological research focuses on what religious traditions have to do and say concerning the beings, books, and beliefs that people call holy, sacred, or somehow special. Certainly there are many fields of inquiry in (more…)
While this post will be less adventurous and more off the cuff than the title promises, I'd like to begin by asking you to check out this recent interview with jazz (and more) musicians Pat Metheny and John Zorn, as conducted by the New York Times critic Nate Chinen.
I want to focus on two statements Mr. Metheny makes:
"What I look for in musicians is a sense of infinity. Within this world, you could go forever."
"Another thing I love is hearing musicians who develop context for themselves. And of the many things I admire about John, that might be right near the top. He's a master of coming up with opportunities for music to exist."
Put together, these ideas of musicians inventing the context for their music to make sense on its own terms, in such a rich way that doors keep opening seemingly without end, put me in mind of theology. The notion of "context" has come to play a very important role in contemporary theology. Many theologians today would argue that all theology is "contextual," by which is usually meant that it is grounded in or emerges from a particular human/worldly scene, situation, or difficulty — for example, an existential question, an unjust suffering, or a break in normal ways of life.
This development in academic theological work over the past generation has helped to make theology in (and beyond) the West more attuned to local needs and to break it away from Eurocentric ways of proceeding. One of the questions about contextual theology — whether as its own approach or as a way of thinking about theological approaches in general — that I have had, however, is its reluctance to be contextual all the way down. That is to (more…)
The new book that includes many R&T authors, Secular Music and Sacred Theology, really should end in a question mark, so that it would read: Secular Music and Sacred Theology? Indeed, that was how the book started. Somewhere along the process, the question mark dropped out, but only on the cover, not in my head.
Adding the question mark would put in question whether "secular music" and "sacred theology" are the best way to denominate the two sets of phenomena we are trying to relate to each other in the book. I don't think they are the best/clearest ways. In other words, I don't want to let theology off the hook for also being, in a certain sense, a 'secular' exercise, nor do I want to let popular music get away with not being considered 'sacred.'
The problem with both terms is that both 'secular' and 'sacred' are pretty well worn-down to very fine armies of pencil-point definitions now in academic discourse, even though they still carry substantial weight in everyday language. In fact, as far as I can tell, one of the benefits of carefully exploring the relationship between music and theology is that neither one is able to stay on secure ground over against the other, whether those (more…)
For those in the New York City area: Next Sunday 19 May, Trinity Rivertowns Church (mentioned earlier at R&T here) is hosting a forum called "Creativity and Trust: A Performance and Conversation on the Art of Improvisation." The event, in Hastings-on-Hudson, will be moderated by Rev. Jim Kirk and will feature extraordinary musicians, likely well-known to many R&T readers, including John Patitucci on bass, Jay Azzolina on guitar, John Ellis on saxophone, and Rogerio Boccato on percussion. Here is the flyer:
The intriguing quotation on the flyer from jazz legend Wayne Shorter, "You can't rehearse the unknown," put me in mind of some remarks I made in a 2009 paper presented at the Catholic Theological Society of America's Annual Convention. In that paper, titled "Give It Up / for Jesus," I was reaching for ways to talk about the confluence of rock and roll and theological work as practices that are spiritually significant. Taking a seemingly different tack from Shorter, I suggested that in fact "You can rehearse the unknown," and that both theological work and musical experience can help you to do (more…)
« Previous Page
—
Next Page »