Pages
Categories
Contributors
Recent Posts
Recent Comments
Recommended
Archives
September 2017
S
M
T
W
T
F
S
« Jan
1
2
3
4
5
6
7
8
9
10
11
12
13
14
15
16
17
18
19
20
21
22
23
24
25
26
27
28
29
30
Last night in New York City at Brooklyn Bowl, I saw guitar guru Anders Osborne and his band perform for a New Orleans-rockish, groove-heavy, guitar-blistering 2-hour set. I had never heard of Mr. Osborne's music, but a friend turned me on to his status and accomplishments among the lick-heavy jam-band blues-loving crowd. Think of an overlap between Phish and Black Crowes fans.
One of my favorite tunes from the night was the heavier song "5 Bullets." Here is the track:
Here is Mr. Osborne live with "Burning on the Inside":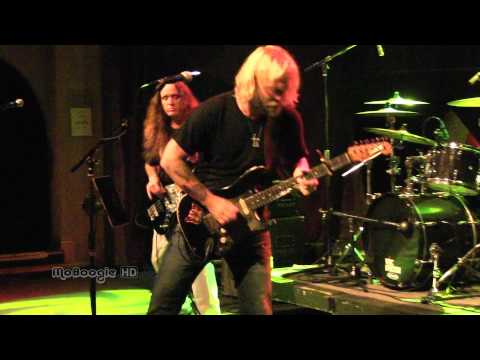 As I watched him play, I was taken by his ability to show through his bodily stances the sounds of his guitar and the feelings/meanings those sounds harbor, letting himself be taken away especially by the experience of resolving chords, so that as he thrummed a chord at the end of a phrase, his arms
Last night at the Hammerstein Ballroom in Manhattan, I saw My Bloody Valentine (website, wiki), the short-lived 1980s-90s "shoegaze" rock band that helped define the genre.
Here is their video for "Only Shallow":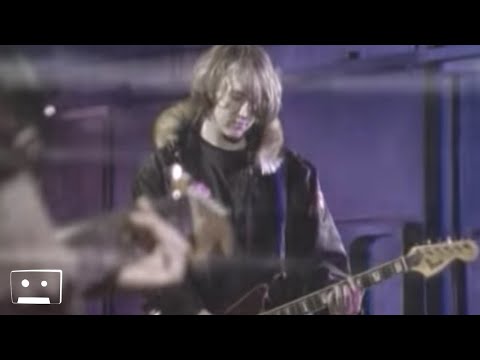 Much-lauded and lately seldom-seen, they played two shows at the Hammerstein this week, and announced last night that this would be their "last show for a long time." (I have written at R&T about a newer shoegaze band, The Sunshine Factory.)
Last night was the first concert in my thirty years of concertgoing where I could not understand one single lyric. The music was so overbearingly loud (I came prepared with my earplugs, but by the end I had to cover my ears with my hands over the earplugs); the huge projection screen behind them so dazzling with engrossing visuals of hyper close-up/fast nature-culture details bordering on the grotesque/beautiful; the stage so devoid of any (more…)
A review of Secular Music and Sacred Theology, written with contributions from many R&T authors, is online at "Catholic Books Review" here. (The reviewer slightly misstates my name, but better a good review with a little mistake than…) You can find our book SMST at the publisher's website here or on amazon here…
New York Times critic Ben Ratliff has a savory review of a recent Depeche Mode concert in Brooklyn, chock full of potential theological material. Ratliff–whose rock reviewing I cannot seem to stop praising at R&T, most recently in July–describes how the band drew a diverse audience ("multiracial and multiethnic"), prioritized integrity ("No poseurs."), reworked sexual categories with reference to nature ("Mr. Gahan […] danced in Cuban heels without necessarily looking for approval, as if you'd come upon him in nature."), and attracted a crowd willing to inhabit this music in a subjectivity-shaping way ("it was always ready to dance but would do so when it wanted […] it met the band's intensity with its own.").
These suggestive brief descriptions are all indicators, in different kinds of theological literature, of something more at stake, something we used to call "religious" and now call "spiritual," or in the more chastened words of my classroom, I call "potential theological material."
They all signal that something of deeper significance may be afoot. Especially when the key feeling is that of transformation. In Ratliff's words, "Its principal members grew up in England during the glam-rock '70s, and must remember the idea that a strong concert can change a life more deeply than a record." For many people, this is the new face of religion. For many, it will be enough to help life add up to something noble. Theologians can help chart the course of this movement in contemporary culture.
Tommy Beaudoin, Hastings-on-Hudson, New York
I read this typically craftily-rendered review recently, by critic Ben Ratliff, in the New York Times, "Serenading Isis with the Hypnotic Vibration of the Universe", and thought it connected somehow with Rock and Theology. Mr. Ratliff was reviewing a recent show by the band Om at, of all places, the Temple of Dendur at the Metropolitan Museum of Art. The ancient Egyptian temple was crafted 2000 years ago in honor of the goddess Isis. Ratliff — I've already quoted him many times at R&T — has this terrific paragraph a little bit into the review:
"In its lyrics, song titles and musical atmosphere, Om seems to be inhaling the mixed fumes of the early mystics. It has no singular scriptural source. It implies religious music without a religion, except riffs and resonance — the religion of sound — which is a lot, and enough."
I like this idea, and this review, but I cannot quite say why. There is the evident connection Holy Mother of God, have you entered into the droney din of cave rock that is Om?! Check out "State of Non-Return":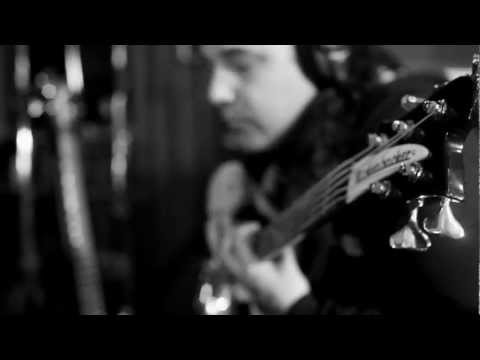 (Yes, that is a "Fly By Night" t-shirt that the bassist/vocalist Al Cisneros is wearing.)
Anyway, as I was saying, with regard to R&T, this event featured the evident attempt to relate music (Om) and theology (Isis). Ratliff, however, (more…)
Last week, I visited the exhibit titled "The Universe Within" at Tibet House in lower Manhattan. The exhibit consists of many paintings by Nepalese artist Govinda Sah "Azad", whose website is here.
What do I know from painting? Very little. But this exhibit reached me gravitationally. Many of the recent, more abstract paintings are given titles — like "Hope," "Rising Truth," "Tracing Truth," "Salvation," "Apocalypse," and even the guileless-sounding "Never Give Up" — that evoke religious, spiritual, philosophical, theological feelings and thoughts. Each one seemed to summon me into a substantial weightlessness, pulled outward into the cosmos and inward into consciousness. Many of the paintings were like starbursts and dreams all at once. Through soundings of shapes that evoke cloudforms and nebulae in gentle yet dynamic powers of contrasting forces, I wondered where they lived, after all: inside or outside of me? As if the painting invited a galaxizing of inner experience. Or in the words of the exhibit: "The Universe Within."
You can see pictures of some of these paintings here and here, but they only hint at the actual artworks, which are geographies of uneven elevations, like topographical maps, and painted on a variety of textured "canvases", including some that look like small tightly woven ropes.
Here is a video of the exhibit: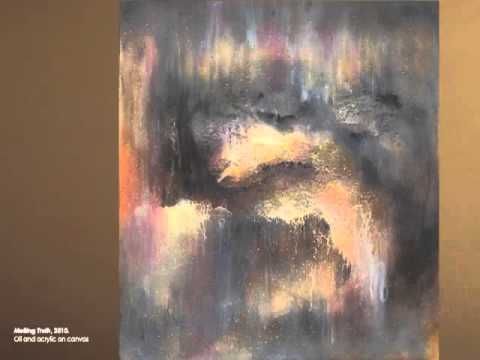 Govinda Sah "Azad" is quoted accordingly in the exhibit: "My imagination is exploring alternate realms outside of me that somehow seem hidden just beneath the surface within me. Painting becomes this continual process of losing myself." This reminds me of the theme of dispossession with which I have been working for the last several years, and puts it in a new frame. With regard to myself and my students, I wondered how our spiritual convictions might deepen and change if we had to express them in colors. Or if we had to explain our spiritual acts and knowledge with respect to paintings. It seemed like a whole other order of theological experience was, in this exhibit, on offer.
Tommy Beaudoin, in flight between Washington DC and Omaha, Nebraska
This is part 2 of my reflection on a review of a recent "drone" music concert in New York City. Part 1 is here.
Now for further reflection:
In the process of his review, Ratliff explores meanings of sounds that take one into humming ruminations on essentials: musically we call these "drones," but in theology they are, in a sense, the whole game, because theology is no more and no less than a humming rumination on essentials. We can explore such "droning" by theologically overhearing music reviews, and musically overhearing theological works, which are two ways of relating theology to music.
Consider Ratliff's opening reflection: "There's an irreducible element of music that connects metal, industrial music, power electronics and classical minimalism, and no word exists for it."
Stay with that for a while. And then onto the next sentence:
"It involves deep pulsations; excited provocation through sound and concept more than traditional technique; low-end frequencies rarely encountered in life; long sustained tones enlarged through overdrive; or distortion or just force of hands on instruments."
The kind of theology I write and teach often falls within the domain of "practical theology," in which it is emphasized that whatever is worthy of being called "theological" must be "experienceable" by people. I stand by that, so long as what it means is carefully interpreted, but Ratliff's meditation on (more…)
That was my first thought, or at least my fourth or fifth, when I read the headline over music critic Ben Ratliff's review of a drone concert in last weekend's New York Times. The print headline read: "A House of Drone, Ecstatic and Raw, With a Potent Aura of Largess." I wondered: with this evocative headline, what are we really talking about here?
(I have frequently quoted and celebrated Ratliff's reviews, such as here and here.)
The theological significance of drone may have to do with Holy Mother of God! Before anything else happens, take a look at this picture that accompanied the story, of Kim Gordon (formerly of Sonic Youth and now of Body/Head), taken by photographer Brian Harkin:
I hate to ask so pedantically whether you consider this as remarkable as I do, but ask I must. This is an ornate, even extreme position in which to posture an electric guitar. I can only surmise that by driving the headstock into the top of the amp, hunching over the upturned instrument from shoulder strength supported by delicately bent knee inside the carefully calibrated leg-stance, working the tremolo with her right hand, and steering the balance from her left hand, she is summoning feedback. For some reason the picture reminds me of the disturbing provocation of an upside-down crucifix, an (more…)
For my New Year's Resolution, I vowed to listen more.  I particularly want to listen to those who don't easily get a hearing. Of course, everyone gives half an ear when the Rolling Stones play a 50th anniversary tour. Of course everyone is curious when Black Sabbath releases their first album in almost 20 years.  But what about the Eagulls, from Leeds, England, with their EP by the same name?They don't even have a website yet, let alone the industry marketing muscle of the Stones or Black Sabbath. They've actually got to make it on the strength of their songs, especially played live.  The lead single, "Moulting," is a perfect example of their melodic post-punk sound. Their early single, "Council Flat Blues," points to the struggle of their upbringing and the cry of despair so common in punk. Bands like this remind me of what lament psalms would sound like today, done in rock and roll style. Here is a clip of the band playing the lead song off their EP, "Coffin," live at The Barfly in Camden, London.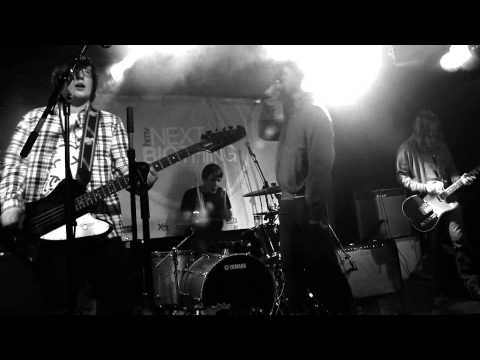 Last night at South By Southwest, I witnessed perhaps the very best set of rock and roll in my life. Dead Sara played at Empire Automotive, a former auto repair shop converted into a concert space. In less than 45 minutes, Dead Sara exhibited an exquisite abandonment to rock and roll. The lead singer Emily Armstrong and guitarist Siouxsie Medley were utterly irrepressible throughout the show, somehow managing to sing and play while pacing, thrashing, headbanging, and flailing to the music.
(For a taste, here is Dead Sara performing "The Weatherman" last October in Dallas:)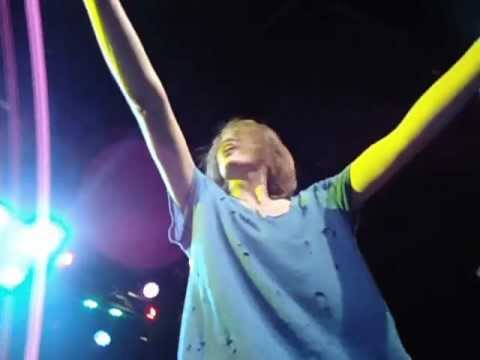 Last night, Armstrong was a one-woman rock and roll firestorm, part Janis Joplin, part Freddie Mercury, as she claimed the entire stage, and then some, as her own. Seemingly out of nowhere, Armstrong suddenly has one of the best voices in rock music today. While showing it off, she also spun around, played guitar lying down, jumped onto the drum riser and back off, swung the microphone faster and harder than I've ever seen done, wrapped and unwrapped the cord from around her body, careened in unpredictable directions, and toward the end of the show, climbed on top of a tall (more…)
Next Page »