Pages
Categories
Contributors
Recent Posts
Recent Comments
Recommended
Archives
This is part 2 of my reflection on a review of a recent "drone" music concert in New York City. Part 1 is here.
Now for further reflection:
In the process of his review, Ratliff explores meanings of sounds that take one into humming ruminations on essentials: musically we call these "drones," but in theology they are, in a sense, the whole game, because theology is no more and no less than a humming rumination on essentials. We can explore such "droning" by theologically overhearing music reviews, and musically overhearing theological works, which are two ways of relating theology to music.
Consider Ratliff's opening reflection: "There's an irreducible element of music that connects metal, industrial music, power electronics and classical minimalism, and no word exists for it."
Stay with that for a while. And then onto the next sentence:
"It involves deep pulsations; excited provocation through sound and concept more than traditional technique; low-end frequencies rarely encountered in life; long sustained tones enlarged through overdrive; or distortion or just force of hands on instruments."
The kind of theology I write and teach often falls within the domain of "practical theology," in which it is emphasized that whatever is worthy of being called "theological" must be "experienceable" by people. I stand by that, so long as what it means is carefully interpreted, but Ratliff's meditation on (more…)
That was my first thought, or at least my fourth or fifth, when I read the headline over music critic Ben Ratliff's review of a drone concert in last weekend's New York Times. The print headline read: "A House of Drone, Ecstatic and Raw, With a Potent Aura of Largess." I wondered: with this evocative headline, what are we really talking about here?
(I have frequently quoted and celebrated Ratliff's reviews, such as here and here.)
The theological significance of drone may have to do with Holy Mother of God! Before anything else happens, take a look at this picture that accompanied the story, of Kim Gordon (formerly of Sonic Youth and now of Body/Head), taken by photographer Brian Harkin:
I hate to ask so pedantically whether you consider this as remarkable as I do, but ask I must. This is an ornate, even extreme position in which to posture an electric guitar. I can only surmise that by driving the headstock into the top of the amp, hunching over the upturned instrument from shoulder strength supported by delicately bent knee inside the carefully calibrated leg-stance, working the tremolo with her right hand, and steering the balance from her left hand, she is summoning feedback. For some reason the picture reminds me of the disturbing provocation of an upside-down crucifix, an (more…)
For my New Year's Resolution, I vowed to listen more.  I particularly want to listen to those who don't easily get a hearing. Of course, everyone gives half an ear when the Rolling Stones play a 50th anniversary tour. Of course everyone is curious when Black Sabbath releases their first album in almost 20 years.  But what about the Eagulls, from Leeds, England, with their EP by the same name?They don't even have a website yet, let alone the industry marketing muscle of the Stones or Black Sabbath. They've actually got to make it on the strength of their songs, especially played live.  The lead single, "Moulting," is a perfect example of their melodic post-punk sound. Their early single, "Council Flat Blues," points to the struggle of their upbringing and the cry of despair so common in punk. Bands like this remind me of what lament psalms would sound like today, done in rock and roll style. Here is a clip of the band playing the lead song off their EP, "Coffin," live at The Barfly in Camden, London.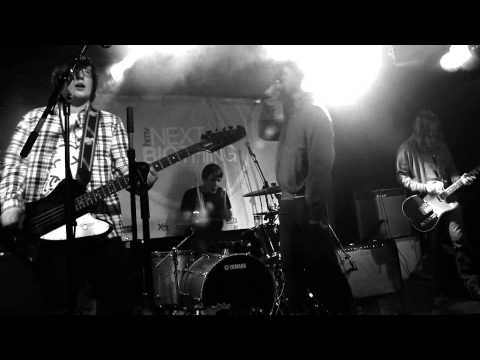 Last night at South By Southwest, I witnessed perhaps the very best set of rock and roll in my life. Dead Sara played at Empire Automotive, a former auto repair shop converted into a concert space. In less than 45 minutes, Dead Sara exhibited an exquisite abandonment to rock and roll. The lead singer Emily Armstrong and guitarist Siouxsie Medley were utterly irrepressible throughout the show, somehow managing to sing and play while pacing, thrashing, headbanging, and flailing to the music.
(For a taste, here is Dead Sara performing "The Weatherman" last October in Dallas:)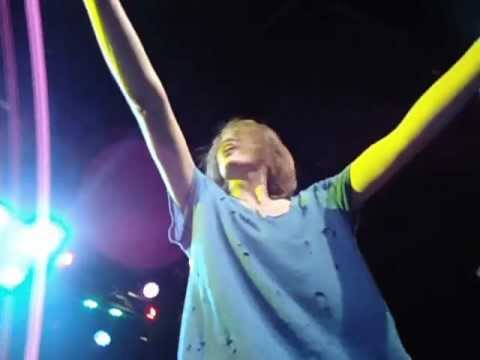 Last night, Armstrong was a one-woman rock and roll firestorm, part Janis Joplin, part Freddie Mercury, as she claimed the entire stage, and then some, as her own. Seemingly out of nowhere, Armstrong suddenly has one of the best voices in rock music today. While showing it off, she also spun around, played guitar lying down, jumped onto the drum riser and back off, swung the microphone faster and harder than I've ever seen done, wrapped and unwrapped the cord from around her body, careened in unpredictable directions, and toward the end of the show, climbed on top of a tall (more…)
Advance word on David Bowie's surprise (and, for many reviewers, surprisingly rich) new album, The Next Day, is that it is an extended meditation on death. Here is critic Simon Reynolds' very thoughtful take from the New York Times last weekend.
Reynolds writes that on this record, "There is little evidence of serenity or enlightenment. Facing the final curtain the singer seems exposed as rarely before, his uncertainty and disorientation no longer couched in allegory or elegantly stylized [...] You can reinvent yourself over and over, but Death, the Great Uninventor, will catch up. The naked torment of that apprehension has fueled Mr. Bowie's twilight masterpiece."
Perhaps all great religions and philosophies offer ways of meditating on death. Indeed, historian of philosophy Pierre Hadot has argued that philosophy is essentially the way of grounding a choice for a way of life in face of the reality of death. From this perspective, it is possible to see a wide variety of spiritual exercises being proposed in various times and places to proffer various basic teachings about mortality, and to offer ways of living into and living out of those basic teachings. There are many ways of making the thought of death an exercise in and for life, from the Egyptian and Tibetan "Books of the Dead," to Psalm 88 in the Torah, to Stoic and Epicurean doctrines and practices, to the stories of Jesus' suffering, dying and (more…)
In discussions about theology and music, it is sometimes asked whether music can make a properly theological contribution on its own, of its own dignity, and from its own resources, without need of words.
For me, the question is always somewhat poorly put, because the very question typically emerges from a dissatisfaction with the limits of conceptual discourse as theological discourse, and thereby keeps conceptual discourse tethered to nonconceptual (or hyperconceptual) forms of experiencing, like music. In other words, anyone who bothers to ask that question is trying to get out from under the limits of modern theology — and is therefore related to that theology counting as theology. I freely admit I am one of those persons trying to break free, but then I'm also limited by that theological heritage in terms of what will count as theological in the first place.
These thoughts came to me when I read dance critic Brian Seibert's recent New York Times review of Sean Curran Company's "Left Exit (Faith, Doubt, and Reason)" here. The show had dancers working creatively with philosophical-religious meditations provided by some contemporary philosophers and theologians, including Professors Cornel West (Union Theological Seminary), Judith Butler (UC-Berkeley), and Denys Turner (Yale).
Seibert's article links to Dr. West speaking in the documentary "The Examined Life":
Here is Dr. Butler, with Sunaura Taylor, also from "The Examined Life": (more…)
Late last night at Bowery Electric in lower Manhattan, I got to see The Sunshine Factory.
The Sunshine Factory is a band I last enjoyed at the South By Southwest music festival in Austin, Texas last spring. In my remarks on that show (at R&T here), I characterized it like this: "The music sounded like what would be written if Radiohead and Depeche Mode got high under a blacklit poster of The Smiths: sensitive and curated, hard-working and lovingly skilled, translucent and gently transporting."
Tonight, before an intimate crowd in lower Manhattan, they played a short set. In the space of about 30 minutes, however, they created a compression-whorl of psychedelia. Was that a surf rock riff, an alt-rock flange, a hint of disco beat, a torchy Brit-rock insouciance, a synth-keyboard sample pushing against a tastefully relaxed chromatic guitar fretting? Is all of this insta-baked for enveloping you, a soufflé of transcendence? Yes, and yes again.
For me, a key connection between this music and theological work is their overlapping intent, and effect, of drawing down the powers of reinhabiting reality from above and within at the same time.
Good theology can do that. Your mileage will vary, of course. The Sunshine Factory can do it, too,
On Saturday night, I saw Roger Waters (formerly of Pink Floyd) and his band perform "The Wall" at Yankee Stadium. Somehow over the past thirty years, I had missed "The Wall." I was in fifth grade when it came out in 1979, and although I was not into music then, I certainly heard many references to it by the time I was in junior high and high school. Friends would go see the movie, but somehow I was never in those groups. I had seen Pink Floyd live (without Roger Waters) around 1988 at Arrowhead Stadium in Kansas City, and so had heard some songs from The Wall played live, and as Saturday's concert unfolded, I realized that I knew most of the songs from radio play. Most popular in the social circles in which I grew up were the songs "Another Brick in the Wall" and "Comfortably Numb," the latter of which is some sort of anthem to the experience of a depressive, isolating coming-to-terms with the tenuous connection we have to what gives us life. The playing of that song in high school would induce a reflective mood wherever it was played: car, rec room, bedroom. At Yankee Stadium, tens of thousands sang it together along with the band, a couple of whom were elevated on top of The Wall, in something like the concert's most clearly liturgical moment.
Here is Waters performing "Comfortably Numb," as part of "The Wall," in May 2011 in London, with special guest and former Floyd bandmate David Gilmour:
The show Saturday was the most technologically sophisticated rock show I have ever seen, with pyrotechnics, giant puppets, of course the famous Pink Floyd "floating pig," and most of all, The Wall itself, which was built up over the course of the first half of the show, and stood many dozens of feet high through almost all of the second set. The Wall served not just to screen off the band
I am a fan of A Band Called Pain, the San Francisco Bay Area hard rock act. They are a spry, assertive, tight ensemble with a knack for writing memorable hooks while stomping confidently through the neighborhoods of rock-metal-pop badassery. They are also that rare contemporary art form, an African-American rock band. They are a band that, based on talent alone, deserves to be much better known than they are.
Here they are performing "Swallow":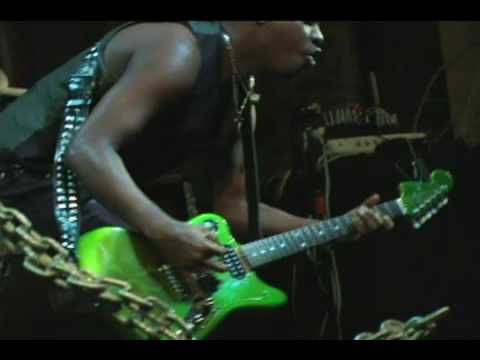 Recently, I watched their homemade "documentary" ("A Band Called Pain: Behind the Pain") and learned some more about the backgrounds of these excellent musicians. Given the racial divisions still operative in popular music, and the racist history of rock and roll, it is interesting to hear snippets of their stories about their interest in the genre. It is worth remembering that without that racist history, black rock bands (or multiracial bands) would be much more the norm today, instead of the exception. In the United States, anyway, rock and roll has never not been racially invested music, wittingly or unwittingly, even when it sets out to complicate or displace raciality (by which I mean the ongoing authority of race as a determining factor of identity) in popular music.
Part one of the documentary (viewer discretion advised) is here: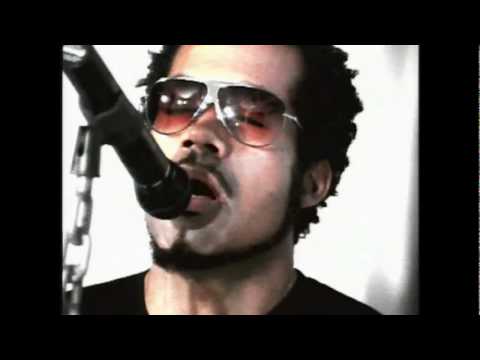 part two is here, part three is here, and part four is here.
Thinking about my experience as a white musician, in dialogue with these videos, I was aware of how rarely race has come up as an explicit factor in what I can and cannot do as a musician, compared to the members of A Band Called Pain. This is not, of course, because my own musicianship has not been steeped in racialized history and practices, but because I have had the benefit (and in a different way, the disadvantage) of not having had race called to my attention in creating, recording, distributing, and performing music. That said, neither rock and roll nor life are reducible to a few licks, to sound bites, and this documentary gives
I'm tired of reading mainstream rock critics who seem to have no theological bones in their bodies. They seemingly can't recognize or articulately discuss theological issues even when the artist gives it to them on a silver platter. I could do a more thoughtful post on this another time, when I've let the dust of my frustration settle. Take, for instance, Kitty Empire who reviewed Patti Smith's new album Banga in The Observer, a major English newspaper.  Ms. Empire begins her review with the "rock as religion" analogy: "People often talk about music fandom as a secular religion, one of many founded in the 20th century to replace the old church." She cites the typical examples of this "religion": the communal rush of the concert experience, lyrics as scripture, fans as devotees. 
Where many rock gods disappoint, Ms. Empire writes, Patti Smith offers the authentic goods. She describes Smith as "one of the few figures with a firm handle on the shaman-poet imperative," singing songs that "have always aspired to a frequency that you might call sacred."
If a critic (Ms. Empire or any other) even took a moment to read the liner notes, it would be obvious that Patti Smith actually IS religious. Her songs are their own sort of theological commentary, and always have been. The album begins with a remarkable theological fantasy about Amerigo Vespucci 's voyage to the "New World" in 1497. The song begins and ends with baptismal fonts, but at the end of the song the rain has become the "font" which gives new birth to Vespucci's explorers, now stripped of their armor and laying naked on the ground. The album ends (if you don't count the coda, a cover of Neil Young's 1970 prophetic ecological vision "After the Gold Rush") with an incredible 10:19 long punk gospel tune called "Constantine's Dream." The song began while on an Italian tour when Ms. Smith had a bad dream–about "environmental apocalypse and a weeping Saint Francis." She awoke and went downstairs, through the courtyard and "entered a church to say a prayer." It was, it turned out, the Basilica of St. Francis. The song is an incredible poetic description of the long
Next Page »