Pages
Categories
Contributors
Recent Posts
Recent Comments
Recommended
Archives
September 2017
S
M
T
W
T
F
S
« Jan
1
2
3
4
5
6
7
8
9
10
11
12
13
14
15
16
17
18
19
20
21
22
23
24
25
26
27
28
29
30
I was listening to "Ocean" by King's X recently, and thinking about how metaphors of, and deep experiences in, nature are central to the experience of the narrator in the song. We hear of the "ocean," "sea," "mountain," "valley," "sun," "snow," and "desert."
These ways of imagining what is most important in life, these "theological materials," are common in rock culture, which often takes its distance from official religious language and concerns. But nature as a depth orientation for life is also found across a variety of religions, spiritualities, and philosophies.
It is also an important part of the identity of being "spiritual but not religious" today in Western cultures. So I was interested to hear about a new book by Rev. Lillian Daniel, titled When Spiritual But Not Religious Is Not Enough. The book was published a few weeks ago; I have not yet read it. I watched this report about her on Religion and Ethics Newsweekly, specifying her criticism of people who call themselves spiritual but not religious.
I was surprised to see a pastor, especially of a progressive congregation, carelessly attacking people who so identify, in a mocking and condescending tone. She sneers at "spiritual" people who say that they find sunsets meaningful. I can imagine that she and others who agree with her would find King's X's recourse to "ocean," "desert," and "mountain" to be greeting-card pathos because God is not invoked and the demands of a religious tradition are not avowed.
Sometimes I hear some of my fellow and sister theologians in the academy say similar things, and I hear it from ministers with (more…)
One album marks my coming of age. One rock album shook my body.  When we cranked an album after beers and late-night pizza in college, it was this. We'd even (I'm now blushing) grab brooms and jump about the dorm room, air guitar gods every one. The one album was AC/DC's Back in Black.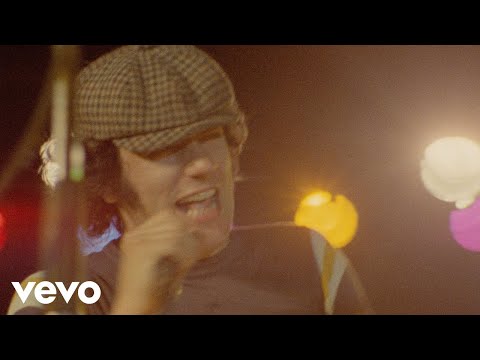 Finally, this week AC/DC has given up their principles and released all their music for download on iTunes. What were their principles? iTunes ushered in the era of the single–albums no longer matter because one need not buy an album to get a song (usually–however, sometimes songs are categorized "album only").   Angus Young, the iconic lead guitarist for AC/DC, put their position this way in at New York Times article in 2008:
"You get very close to the albums," said Angus, relaxing on a couch while sipping a cup of tea. Without the schoolboy uniform he's famous for wearing onstage, he comes off calm and soft-spoken in a black T-shirt, blue jeans and Converse Chuck Taylors. Like his brother he's short and slight, about 5 foot 3 and 110 pounds.

"It's like an artist who does a painting," he added. "If he thinks it's a great piece of work, he protects it. It's the same thing: this is our work." The band has said it does not want to break up its albums to sell individual songs as iTunes usually requires.
This past monday that principle went out the window. This despite being the second best selling rock band, below the Beatles, but above the Stones or Zeppelin, and without ever having a chart-topping single. I know, take a breath.  AC/DC are THAT successful, no matter what the purists say. And AC/DC have had their detractors. In fact, in one of the most remarkable snubs in rock history, AC/DC were not featured on the cover of iconic magazine Rolling Stone until . . . wait for it . . . 2008. The band (more…)
I recommend Bill Moyers' excellent recent interview with renowned journalist and author Christopher Hedges. They discuss Hedges' research on the ways that corporations' and the US government's widespread, unchecked, and nearly invincible capitalist commitments, have reached a new and deeply troubling apex of wreaking economic, social, and political devastation in the United States. They also discuss Hedges' "faith" and what resistance to the dehumanizing effects of greed in our society means today. Hedges comes around to what he calls a theological point: the neglect of "the neighbor" in this society.
Here is the interview:
In recent years, I have grown more persuaded by analyses like Hedges', as I take further stock of the perpetual war economy, the aggregation of wealth in fewer and fewer hands, the deep difficulties of most families in meeting basic necessities for surviving and thriving in life while maintaining a healthy family life, and the violence and human diminishment that our participation in the everyday economy–joining "us" to impoverished workers around the world–propagates.
Hedges calls for massive nonviolent resistance, and is untroubled by questions about its short-term effectiveness. He seems to return again and again to the question of duty, to what one must do in order not to betray oneself, whether or not the system is overturned in his/our lifetime. He also focuses continually on the matter of telling the truth about the world.
I think that however we construe the relationship between theology and music, the basic question about how we are being made
Thomas Erdbrink reports on the story here. Shanin Najafi wiki here. It is striking to see the rock and roll tradition, now as rap, continuing its creative tangle with religion in new religious and cultural contexts. And it is frightening to see the violent pushback against that creativity in the form of a bounty on a musician's life.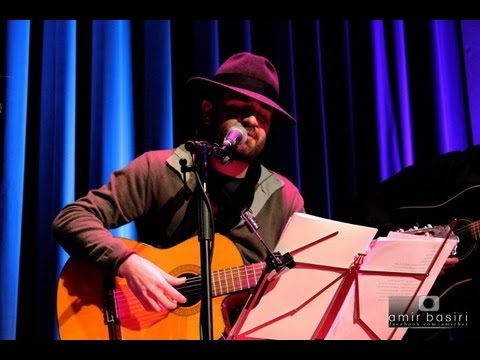 TB
Adam Yauch, also known as MCA of The Beastie Boys, died on 4 May. Jon Pareles' obituary in the New York Times is here, and C.J. Hughes' NYT report from the Lower East Side and East Village of Manhattan about mourning Yauch on the streets is here. Oliver Wang at NPR has a thoughtful piece on Yauch here.
I first listened to the Beastie Boys around 1986 or so, when a high school friend played his Licensed to Ill cassette over and over, and our group of Risk-playing ne'er-do-wells quickly memorized the whole album. Thus began the peppering of everyday speech with Beastie Boys lyrics, many decanted from the mouth of Yauch, whose scratchy throat always made him sound like the scruffiest of the three. Well into the 90s, part of the bond I had with that group of men from high school had to do with the ability to drop Beastie lyrics into ordinary scenarios like ordering fast food at the drive-through, playing basketball, or competing in video games.
Yauch and the other Beastie Boys, just a few years older than me and my friends, seemed to grow through their 20s, 30s, and 40s in ways that kept making sense, while never letting go of their adolescent insouciance. Licensed to Ill is a ready-made soundtrack for a punk rock frat party – or suburban fantasies of same. But Yauch was instrumental in shaping the band's later lyrical maturity and public presence in the direction of political and spiritual engagement. Yauch took up Buddhism, and penned a song for the Beastie Boys, "Bodhisattva Vow." Here are the lyrics (courtesy of lyricsdepot.com, with some of my editing):
On Mayday, I was in the parks and streets of Manhattan for #M1GS, the May 1st General Strike, a daylong gathering called by a coalition of dozens of labor organizations. Like many, I was there under many motivations: as a participant in Occupy Wall Street and Occupy Faith NYC, as a member of the labor union and advocacy organization the American Association of University Professors (AAUP), and as a theologian. I joined tens of thousands in New York City and around the country, and hundreds of thousands around the world. I noticed workers of all kinds, labor union members, Occupiers, community organizers, seasoned activists, first-time participants, and all manner of allies who cheered us on from the sidewalks, fire escapes, and opened windows in the tall buildings along the march route.
There were apparently a few dozen arrests, though I did not personally see any over the course of seven hours. (Nor could I afford to get too close if things got too hot, because I needed to be free to teach the next day.) I arrived in the early afternoon at Bryant Park to find a thousand or so people getting warmed up with teach-ins, leafletting, conversations, sign-making, and picture-taking. There were also dozens of people carrying guitars (and a few basses and banjos), rehearsing for the Occupy Guitarmy, an all-volunteer guitar ensemble led by renowned rock guitarist Tom Morello, of Rage Against the Machine and now The Nightwatchman.
I was concerned because I thought that a thousand or so people would be a poor turnout for such a hyped-up event as this General Strike. But things changed quickly.
Around 2:00, we began marching to Union Square Park, and arrived there about 75 minutes later. As we marched, more people began joining in, and by the time we go to Union Square, there were many thousands more waiting for us. And people kept streaming in from all sides for the next couple hours. Tom Morello and a contingent from the Occupy Guitarmy played a few songs…
(Note: video contains a few obscenities, heartily sung)
…there were brief speeches about solidarity and economic justice from people representing different labor organizations, and there was plenty of Latin music to aerate everyone's spirits in preparation for the long march to Wall Street.
A couple dozen members of Occupy Faith NYC gathered near the Gandhi statue in the park, where I joined them, and around 5:30 we began to move in a march with some 30,000+ people down Broadway all the way to lower Manhattan, a slow journey that took some three hours.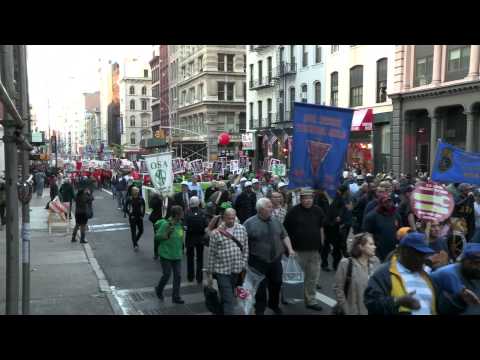 As the thousands of different banners, placards, signs, tattoos, shirts, headgear, songs and chants avowed, there was no single reason for being there, but I think it is fair to say that a great many of those gathered could endorse two basic theological statements: negatively, the market is not God; positively,
Some R&T readers may be following this story about the Russian punk (Riot-Grrrl-inspired) band, Pussy Riot, and their February "punk prayer service" protest against Putin in a cathedral in Moscow, as a way of protesting (among other items) the close link between church and state of late in Russia. This is a rare example of a band staging a protest in a church. At least some of its members were jailed immediately and have not yet been released.
Here is some video apparently from the protest, where they apparently performed their song, "Virgin Mary, Mother of God, Expel Putin!"
In many cultures, attempting to occupy a church for a political protest, especially one undertaken with electric guitars, conjures up a powerful symbolic conflict, with allegations of desecration and sacrilege not far behind. The exact contents of that symbolic conflict in Russia, I don't know, but if it bears any resemblance to Western countries, it would have to do with an imaginary of self-assertion or aggression, license and sexuality on the one side, and an imaginary of peace, order, hierarchy, and respectability on the other.
R.E.M. announced today on their website that they will call it quits after 31 years together. R.E.M. was the band I got into obsessively in junior high and high school. They made me want to learn the guitar and to write songs, and they continued to inspire my music making in many ways through college and beyond. It would not be stretching it to say that they were "secular" spiritual directors for me at various points in my life. (I wrote a bit about meeting R.E.M.'s guitarist Peter Buck and about R.E.M. as spiritual directors here.)
Thanks for everything guys!
We are young despite the years / we are concern
We are hope despite the times
It's time I had some time alone.
Here's their debut single, "Radio Free Europe," followed by a live version of the song. (more…)
Last week I posted that I was on my way to present a paper at a conference in Oxford on Christian Congregational Music. I'm happy to report that this was among the best conferences I've ever attended, in terms of an instant collegiality and the discovery of a confluence of interests among so many scholars who, until this past weekend, were strangers to one another. Some of them, I gather, are a part of a special interest group of the Society for Ethnomusicology devoted to "Sacred/Religious Music," but there were many participants who, like me, came out of our own niche interests, whether academic or practical (or both). Fifty papers were delivered over the course of three days, ranging from Hungarian CCM (a distinctively counter-cultural & Catholic version of Christian pop/rock) to the corporate branding of Hillsong, from multicultural parades in Toronto to the theopolitics of Pentecostalist music in Haiti.
In the final "Looking Forward" roundtable, I was pleased that someone (and not me!) brought up this blog—and, in particular, the Somatica Divina series—as a helpful resource for reflecting upon the theme of embodiment in musical practices, a theme that emerged as predominant across many of our discussions.
Many presentations included video, often taken from fieldwork in congregations around the world. We discussed the varieties of gesture and what Barthes called "the grain of the voice," as well as how congregations or various Christian subcultures employ musical practices to assert their (social, theological, political) identities both internally and externally.
Notable papers included the following:
Monique Ingalls (University of Cambridge) and Gesa Hartje (Leuphana Universität Lüneberg) both pointed to Benedict Anderson's theory of "imagined communities" as a helpful tool in interpreting the function of musical practices within Christian communities, particularly evangelical "praise & worship" music.
Clive Marsh (University of Leicester) presented the results of a survey into how congregations listen to music—not just the words, but the actual physicality of various soundscapes—and how they might learn to listen better.
Anna Nekola (Denison University) presented a fascinating look at the print ads that emerged in the mid-90s for praise & worship music CDs, and how that marketing reflected and reinforced a hyper-Protestant bias toward the privatization of religion: they usually depict young women with headphones and eyes closed in bliss, or a serenely dark cockpit of a luxury car, with captions describing how one may be transported to heaven from anywhere on earth.
Deborah Smith Pollard (University of Michigan-Dearborn) traced an illuminating genealogy of contemporary "praise & worship" music to its roots in distinctive practices within Black Churches, deconstructing several assumptions about that genre.
Kinga Povedák (University of Szeged) presented her study of Contemporary Catholic Music as it emerged in communist Hungary as a counter-cultural voice of gypsies and youth. This subculture fought on two fronts, against both political powers and the Catholic hierarchy.
Of course this is just a sampling as I review my notes after returning home. With so many fine papers and subsequent discussion, it is difficult to truncate their collective value. I think of Kierkegaard's cartographical argument against historicism here: the only accurate portrayal would be a map the size of the world, or a history that takes millenia to read! Indeed, it would take another three days to fully represent this event.
Finally, however, I must share two humorous comments that made a lasting impression:
Britney Spears is a perfect anagram of Presbyterian; think about it. (Martyn Percy, Ripon College Cuddeson)
King's College Cambridge Choir has done for parish choirs what Barbie has done for women. (June Boyce-Tillmann, University of Winchester)
I hope to further explore this latter comment, however, as the question of musical "perfection" is an issue of particular interest.
Andy Edwards
Collegeville, MN
My local newspaper, the Rivertowns Enterprise, had an interesting story this weekend about a new venture being organized by John Patitucci and some (church) friends. Patitucci is a world-renowed bass player, known perhaps most for his work with Chick Corea and for the music he makes with the Wayne Shorter Quartet and his own John Patitucci Quartet.
He is apparently a neighbor, though I have yet to see him around town. The article, by Ann Van Buren, is titled "Grammy Winner at the Altar of Justice, Mercy, and Music." With his wife, the cellist Sachi Patitucci and some colleagues, he is starting up the "Trinity Rivertowns Fellowship" in our village, and will play an inaugural show this Saturday at 4pm at the First Reformed Church of Hastings to benefit Hastings Helps the Hungry. The article reports that Trinity Rivertowns is "an offshoot of Trinity Presbyterian Church in Rye, where Patitucci is an elder."
Though the article is not entirely clear, it sounds to me like he is involved in some kind of new church planting exercise. He is quoted as saying that "The church is helping us launch a new thing. We want to be involved with the mission and service of community to build something, and start having services after that."
I can only hope that this will mean Patitucci leads worship by playing "Jesus is On the Main Line" as a bass solo.
Sit down: Here is Patitucci with the Chick Corea "Akoustic" band.
httpv://www.youtube.com/watch?v=gk9al9JksSE
And here is Patitucci giving a rock bass lesson:
httpv://www.youtube.com/watch?v=AvuOQzqjBTI
Tommy Beaudoin, Hastings-on-Hudson, NY
« Previous Page
—
Next Page »