Pages
Categories
Contributors
Recent Posts
Recent Comments
Recommended
Archives
In the New York Times print edition today, there is an editorial titled "Millennial Searchers" by Emily Esfahani Smith and Jennifer L. Aaker, arguing that young adults today, often known as "Millennials," are more committed to finding meaningful lives than is commonly realized. Their search, it is argued, has been urged on them by the collapse of the dream/myth of material prosperity in the wake of the financial collapse of 2008. Though the authors do not discuss spirituality/religion/faith/theology/etc, I wonder how this constellation relates to the search for meaning among young adults today, especially as so many identify spirituality as important in their lives. Moreover, given the massive surround that music represents in the lives of many young adults, I wonder further what tunes will be recognized as essential to the soundtrack of this cohort? It's always tricky, and perhaps impossible, to find songs that symbolize a cohort's spiritual quest, but I wonder what the basic candidates would be for today's young adults.
What are those songs? Middle-aged professors like me want to know, but I bet many parents of "Millennials" would like to know, too, as well as religious leaders and not least, maybe "Millennials" themselves.
Tommy Beaudoin, Hastings-on-Hudson, New York
When I saw a news item a few days ago about the increasing attention being paid to a heavily-tattooed, "liberal, foul-mouthed preacher," a Lutheran pastor, I was interested. Since then, I have been trying to catch up with the work of the Rev. Nadia Bolz-Weber.
I am interested in those who come into religious/theological/spiritual work from such rough-and-tumble backgrounds as Rev. Bolz-Weber, in how religions deal with innovations in thought, practice, and personae, or how tradition and innovation even come to be understood as such.
Here is Rev. Bolz-Weber telling some of her story to a convention center full of Lutheran teenagers: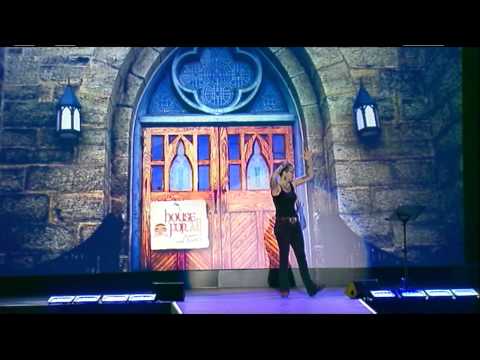 I was moved by her testimony about living within her own specificity and difference, and referring the power of that inhabitation to a rendering of divinity (here, God and Jesus). With what sounds like a feminist, LGBT-affirming message, I would imagine she gets substantial resistance as well as affirmation, and a dose of bafflement, in her denomination.
How do religions change? One way is at the symbolic level. Her convictions — and I am no expert on them — sound so far to me to be within the bounds of liberal Christianity. Her courage to articulate them and (more…)
LA Weekly recently named The Entrance Band the best rock band of 2013. (Make what you will of the fact that the category comes between "Best Club for Burlesque Parody" and "Best Ska Band".)
Here they are live in NYC in 2009:
We were already celebrating The Entrance Band here at R&T four years ago! See my post from October 2009, "The Entrance Band; The Incantatory."
I have to say that Dead Sara is right up there with them. See my note on their SXSW show from earlier this year. Makes me already look forward to SXSW 2014. New Dead Sara album out soon.
Have you appreciated theologically (or otherwise) your favorite bands of the year yet?
Tommy Beaudoin, Hastings-on-Hudson, New York
On the front page of today's print edition of the New York Times, Laurie Goodstein has an article titled "Some Mormons Search the Web and Find Doubt." Ms. Goodstein's article is about how the Internet is facilitating deep doubt about Mormon faith/truth claims among some Mormons who find research on the Internet that questions their religious tradition. This seems to me to possibly be a story about what is known in academic theology as "deconversion," or the process whereby people detach from the form and content of religious affiliation that used to be secure in their lives. Deconversion is a widespread phenomenon today across religious traditions, and has hit Roman Catholicism particularly hard, which is one reason that I and a colleague at Fordham, Dr. Patrick Hornbeck, have been studying deconversions from Catholicism for the past several years.
Ms. Goodstein describes crises of belief and conscience among Mormons who find that the religious claims that have been presented to them as normative, or binding, may be false or at least considerably "otherwise" than they have learned. Interestingly, the article twice quotes Mormon leaders who compare the drama of this (apparently widespread) Mormon situation with Roman Catholicism, which is imagined in these quotations as more secure in the public presentation of its basic faith story.
This comparison makes sense as a rhetorical contrast between a "young religion" and an "old religion", but it does not jive with the facts, as a substantial number of baptized Catholics no longer trust or believe many basic faith/truth claims that they are taught as binding on Catholics. That is (more…)
Today's print edition of the New York Times has an interesting story by Christine Haughney about how film stars no longer are the draw they once were for women's magazines. The tide has turned toward musicians and television stars. According to the article, they are more relatable, more like everyday fans, than film stars for the millions of readers of Cosmopolitan, Glamour, and the like. In an interesting coda, this does not seem true of men's magazine sales, which seem to reflect a taste among men for more idealized, distant stars from film.
In academic theology, we are not well-accustomed to paying attention to magazine sales, although they are one index of what the general public takes to be important. Academic theology courts decadence — the unfortunate and despoiling kind of decadence, not the decadence of joys– if it cannot speak, ultimately, to what moves human beings today. Unsurprisingly, musicians are among the most influential people… specifically, musicians such as Miley Cyrus and Selena Gomez and Lady Gaga.
Religions will tend to reiterate that their teachings are beyond culture, but any true engagement with what speaks to hearts today will have to take the risk of reformulating the "core message" in the engagement with what moves people. This is not to say that a theological analysis should stay at the (more…)
R&T readers have been patient while I send various reports from and about the South By Southwest music festival. Recap-wise, the New York Times report by Jon Pareles is here.
It's never clear what images count as "religious," whether inside or outside self-designated religious spaces. However, these are some photos I took at SXSW as I tried to pay attention to "religious" images that were set in the midst of a more or less "secular" music festival. (Readers beware: those terms are very mobile! They have no fixed meaning.) These images show that "secular" music is not done with its relationship to "religion," that's for sure.
[1] Here is the first one: "Is God Really Dead?" These posters were all over downtown Austin in full sight of festivalgoers. I had trouble deciphering it. The symbolism might be a touch too arcane for me. At any rate, it certainly put a theological question right into the everyday wanderings of festival attendees. I assume that by raising the question, the answer is, somehow, "no," but maybe being stumped about the provocation is the artistic point of the image. (At least one of these posters had a "YES" scrawled on it by the last evening of the festival.)
[2] The posters below were up all over downtown Austin on the morning of Friday 15 March. A variation on it had the same image but "PAPA" at the bottom. Small type at the bottom read papaemeritus.com. The site was down when I tried it a few days ago(probably too many hits at once), but  I just discovered that it is a link to a band and their new album. (more…)
Thanks to Nicole's recent comment here at R&T, I recently watched "Ordain a Lady." This video was apparently put together by the Women's Ordination Conference, a group that has been advocating for decades for the ordination of women in the Roman Catholic Church. The song is a feminist theological parody of Carly Rae Jepsen's "Call Me Maybe."
Here is "Ordain a Lady":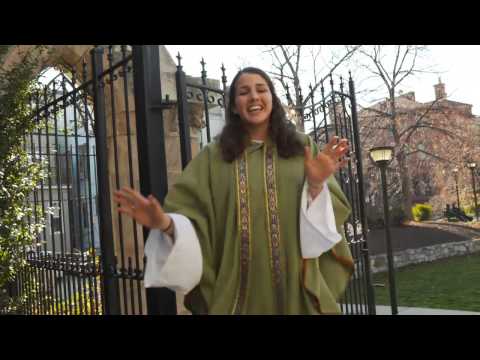 Women's ordination is back in the (inter)national conversation as the Roman Catholic Church undergoes a transition of leadership in the wake of the recent announcement of Pope Benedict XVI's retirement. Although Catholic teaching forbids the ordination of women, many scholars, indeed I would say most scholars, and theologians in particular, are not persuaded by this teaching. And certainly, in the West, support for the ordination of women among Catholics is now consistently in the majority in survey after survey. In other words, the Catholic Church has a widespread crisis of credibility about its restriction of ordination to men.
The decision to make a music video to further the case for women's ordination is an interesting one, and it is a decision that I support. I think the song/video, overall, is surprisingly good given that it was created by a church-related organization.
(Popular culture creations — whether songs, videos, films, cartoons, comics, and more — are, let's be frank, often (but of course not always!) second-rate when produced by religious organizations. Religious groups making popular art often do not have the technical expertise to compete with more sophisticated "secular" works, and their didactic style frequently renders pedantic an otherwise aesthetically appealing creation.)
In Christian tradition, despite popular perception that men with Roman collars, taking orders from Peter or his successor, were walking around the Middle East (or Rome!) in the first century, ordination itself does not seem to go all the way back to the Jesus movement. The Christian/Catholic "priesthood" is a later creation. (more…)
I was recently interviewed by journalist Martin Buzacott for this ABC radio special from Australia, "Woodford and the Quest for Meaning," about the Woodford Folk Festival. If you have a chance to listen, I hope you find it interesting.
Here is a report from the 2011-2012 festival: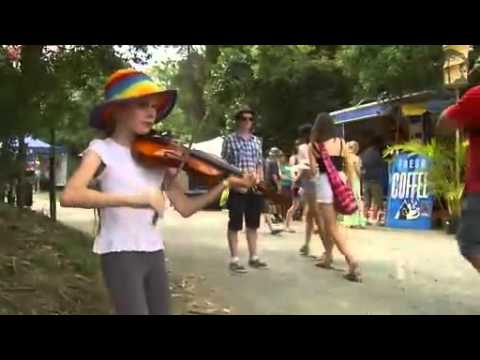 Tommy Beaudoin, Hastings-on-Hudson, New York
And there is this story about the Vatican's attempt to more deeply grasp youth culture by way of an appreciative exegesis of the music of Amy Winehouse. According to one Yes, I wrote Amy Winehouse.
Here is Winehouse from a 2007 concert:
The story about the Vatican's interest in Winehouse's music, as it sponsors a conference on youth culture this week, is kind of interesting, but I'm just not sure how interesting.
It is noteworthy that a Vatican office seems to be admitting that it does not understand an important part of contemporary culture — younger generations' tastes, needs, interests. I think that this is actually pretty remarkable, this admission of a lack of comprehension and the need for dialogue, and I hope that it will be more prominent as the Vatican continues to attempt to shape its new stance toward culture and toward "lapsed" Catholics that it calls the "new evangelization." I think that an approach of what the theological tradition calls "learned ignorance" — here with respect to the meaning of culture, not only with respect to "God", but theologically because of learned ignorance about "God" — is a wise stance for the "new evangelization." (I have written earlier at R&T about the present bishop of Rome's invitation to the Roman Catholic Church to dialogue with the culture.)
I wonder who is advising the Pontifical Council on Culture and how they came to make Amy Winehouse's music their opening exhibit. Amy Winehouse is a provocative choice, but I wonder if the interest in her music is more symbolic (in the "thin" sense of symbol) than anything else. Winehouse, after all, died in 2011 and so cannot be invited to a conversation about the meaning of her music. Were the Vatican two invite a smattering of (living) bands/musicians and fans from around the world to talk about the (more…)
I was listening to "Ocean" by King's X recently, and thinking about how metaphors of, and deep experiences in, nature are central to the experience of the narrator in the song. We hear of the "ocean," "sea," "mountain," "valley," "sun," "snow," and "desert."
These ways of imagining what is most important in life, these "theological materials," are common in rock culture, which often takes its distance from official religious language and concerns. But nature as a depth orientation for life is also found across a variety of religions, spiritualities, and philosophies.
It is also an important part of the identity of being "spiritual but not religious" today in Western cultures. So I was interested to hear about a new book by Rev. Lillian Daniel, titled When Spiritual But Not Religious Is Not Enough. The book was published a few weeks ago; I have not yet read it. I watched this report about her on Religion and Ethics Newsweekly, specifying her criticism of people who call themselves spiritual but not religious.
I was surprised to see a pastor, especially of a progressive congregation, carelessly attacking people who so identify, in a mocking and condescending tone. She sneers at "spiritual" people who say that they find sunsets meaningful. I can imagine that she and others who agree with her would find King's X's recourse to "ocean," "desert," and "mountain" to be greeting-card pathos because God is not invoked and the demands of a religious tradition are not avowed.
Sometimes I hear some of my fellow and sister theologians in the academy say similar things, and I hear it from ministers with (more…)
Next Page »