Pages
Categories
Contributors
Recent Posts
Recent Comments
Recommended
Archives
R&T readers have been patient while I send various reports from and about the South By Southwest music festival. Recap-wise, the New York Times report by Jon Pareles is here.
It's never clear what images count as "religious," whether inside or outside self-designated religious spaces. However, these are some photos I took at SXSW as I tried to pay attention to "religious" images that were set in the midst of a more or less "secular" music festival. (Readers beware: those terms are very mobile! They have no fixed meaning.) These images show that "secular" music is not done with its relationship to "religion," that's for sure.
[1] Here is the first one: "Is God Really Dead?" These posters were all over downtown Austin in full sight of festivalgoers. I had trouble deciphering it. The symbolism might be a touch too arcane for me. At any rate, it certainly put a theological question right into the everyday wanderings of festival attendees. I assume that by raising the question, the answer is, somehow, "no," but maybe being stumped about the provocation is the artistic point of the image. (At least one of these posters had a "YES" scrawled on it by the last evening of the festival.)
[2] The posters below were up all over downtown Austin on the morning of Friday 15 March. A variation on it had the same image but "PAPA" at the bottom. Small type at the bottom read papaemeritus.com. The site was down when I tried it a few days ago(probably too many hits at once), but  I just discovered that it is a link to a band and their new album. (more…)
Thanks to Nicole's recent comment here at R&T, I recently watched "Ordain a Lady." This video was apparently put together by the Women's Ordination Conference, a group that has been advocating for decades for the ordination of women in the Roman Catholic Church. The song is a feminist theological parody of Carly Rae Jepsen's "Call Me Maybe."
Here is "Ordain a Lady":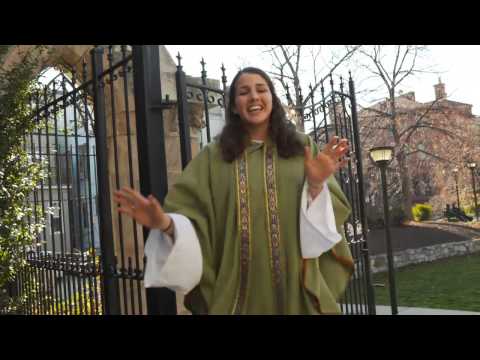 Women's ordination is back in the (inter)national conversation as the Roman Catholic Church undergoes a transition of leadership in the wake of the recent announcement of Pope Benedict XVI's retirement. Although Catholic teaching forbids the ordination of women, many scholars, indeed I would say most scholars, and theologians in particular, are not persuaded by this teaching. And certainly, in the West, support for the ordination of women among Catholics is now consistently in the majority in survey after survey. In other words, the Catholic Church has a widespread crisis of credibility about its restriction of ordination to men.
The decision to make a music video to further the case for women's ordination is an interesting one, and it is a decision that I support. I think the song/video, overall, is surprisingly good given that it was created by a church-related organization.
(Popular culture creations — whether songs, videos, films, cartoons, comics, and more — are, let's be frank, often (but of course not always!) second-rate when produced by religious organizations. Religious groups making popular art often do not have the technical expertise to compete with more sophisticated "secular" works, and their didactic style frequently renders pedantic an otherwise aesthetically appealing creation.)
In Christian tradition, despite popular perception that men with Roman collars, taking orders from Peter or his successor, were walking around the Middle East (or Rome!) in the first century, ordination itself does not seem to go all the way back to the Jesus movement. The Christian/Catholic "priesthood" is a later creation. (more…)
I was recently interviewed by journalist Martin Buzacott for this ABC radio special from Australia, "Woodford and the Quest for Meaning," about the Woodford Folk Festival. If you have a chance to listen, I hope you find it interesting.
Here is a report from the 2011-2012 festival: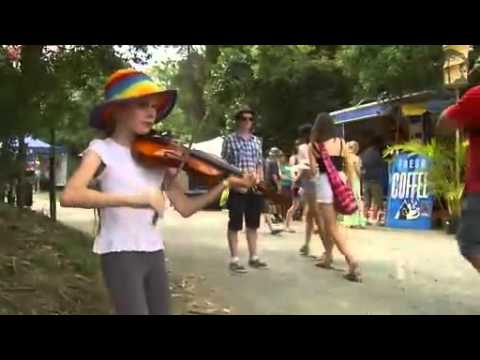 Tommy Beaudoin, Hastings-on-Hudson, New York
And there is this story about the Vatican's attempt to more deeply grasp youth culture by way of an appreciative exegesis of the music of Amy Winehouse. According to one Yes, I wrote Amy Winehouse.
Here is Winehouse from a 2007 concert:
The story about the Vatican's interest in Winehouse's music, as it sponsors a conference on youth culture this week, is kind of interesting, but I'm just not sure how interesting.
It is noteworthy that a Vatican office seems to be admitting that it does not understand an important part of contemporary culture — younger generations' tastes, needs, interests. I think that this is actually pretty remarkable, this admission of a lack of comprehension and the need for dialogue, and I hope that it will be more prominent as the Vatican continues to attempt to shape its new stance toward culture and toward "lapsed" Catholics that it calls the "new evangelization." I think that an approach of what the theological tradition calls "learned ignorance" — here with respect to the meaning of culture, not only with respect to "God", but theologically because of learned ignorance about "God" — is a wise stance for the "new evangelization." (I have written earlier at R&T about the present bishop of Rome's invitation to the Roman Catholic Church to dialogue with the culture.)
I wonder who is advising the Pontifical Council on Culture and how they came to make Amy Winehouse's music their opening exhibit. Amy Winehouse is a provocative choice, but I wonder if the interest in her music is more symbolic (in the "thin" sense of symbol) than anything else. Winehouse, after all, died in 2011 and so cannot be invited to a conversation about the meaning of her music. Were the Vatican two invite a smattering of (living) bands/musicians and fans from around the world to talk about the (more…)
I was listening to "Ocean" by King's X recently, and thinking about how metaphors of, and deep experiences in, nature are central to the experience of the narrator in the song. We hear of the "ocean," "sea," "mountain," "valley," "sun," "snow," and "desert."
These ways of imagining what is most important in life, these "theological materials," are common in rock culture, which often takes its distance from official religious language and concerns. But nature as a depth orientation for life is also found across a variety of religions, spiritualities, and philosophies.
It is also an important part of the identity of being "spiritual but not religious" today in Western cultures. So I was interested to hear about a new book by Rev. Lillian Daniel, titled When Spiritual But Not Religious Is Not Enough. The book was published a few weeks ago; I have not yet read it. I watched this report about her on Religion and Ethics Newsweekly, specifying her criticism of people who call themselves spiritual but not religious.
I was surprised to see a pastor, especially of a progressive congregation, carelessly attacking people who so identify, in a mocking and condescending tone. She sneers at "spiritual" people who say that they find sunsets meaningful. I can imagine that she and others who agree with her would find King's X's recourse to "ocean," "desert," and "mountain" to be greeting-card pathos because God is not invoked and the demands of a religious tradition are not avowed.
Sometimes I hear some of my fellow and sister theologians in the academy say similar things, and I hear it from ministers with (more…)
One album marks my coming of age. One rock album shook my body.  When we cranked an album after beers and late-night pizza in college, it was this. We'd even (I'm now blushing) grab brooms and jump about the dorm room, air guitar gods every one. The one album was AC/DC's Back in Black.
Finally, this week AC/DC has given up their principles and released all their music for download on iTunes. What were their principles? iTunes ushered in the era of the single–albums no longer matter because one need not buy an album to get a song (usually–however, sometimes songs are categorized "album only").   Angus Young, the iconic lead guitarist for AC/DC, put their position this way in at New York Times article in 2008:
"You get very close to the albums," said Angus, relaxing on a couch while sipping a cup of tea. Without the schoolboy uniform he's famous for wearing onstage, he comes off calm and soft-spoken in a black T-shirt, blue jeans and Converse Chuck Taylors. Like his brother he's short and slight, about 5 foot 3 and 110 pounds.

"It's like an artist who does a painting," he added. "If he thinks it's a great piece of work, he protects it. It's the same thing: this is our work." The band has said it does not want to break up its albums to sell individual songs as iTunes usually requires.
This past monday that principle went out the window. This despite being the second best selling rock band, below the Beatles, but above the Stones or Zeppelin, and without ever having a chart-topping single. I know, take a breath.  AC/DC are THAT successful, no matter what the purists say. And AC/DC have had their detractors. In fact, in one of the most remarkable snubs in rock history, AC/DC were not featured on the cover of iconic magazine Rolling Stone until . . . wait for it . . . 2008. The band (more…)
I recommend Bill Moyers' excellent recent interview with renowned journalist and author Christopher Hedges. They discuss Hedges' research on the ways that corporations' and the US government's widespread, unchecked, and nearly invincible capitalist commitments, have reached a new and deeply troubling apex of wreaking economic, social, and political devastation in the United States. They also discuss Hedges' "faith" and what resistance to the dehumanizing effects of greed in our society means today. Hedges comes around to what he calls a theological point: the neglect of "the neighbor" in this society.
Here is the interview:
In recent years, I have grown more persuaded by analyses like Hedges', as I take further stock of the perpetual war economy, the aggregation of wealth in fewer and fewer hands, the deep difficulties of most families in meeting basic necessities for surviving and thriving in life while maintaining a healthy family life, and the violence and human diminishment that our participation in the everyday economy–joining "us" to impoverished workers around the world–propagates.
Hedges calls for massive nonviolent resistance, and is untroubled by questions about its short-term effectiveness. He seems to return again and again to the question of duty, to what one must do in order not to betray oneself, whether or not the system is overturned in his/our lifetime. He also focuses continually on the matter of telling the truth about the world.
I think that however we construe the relationship between theology and music, the basic question about how we are being made
Thomas Erdbrink reports on the story here. Shanin Najafi wiki here. It is striking to see the rock and roll tradition, now as rap, continuing its creative tangle with religion in new religious and cultural contexts. And it is frightening to see the violent pushback against that creativity in the form of a bounty on a musician's life.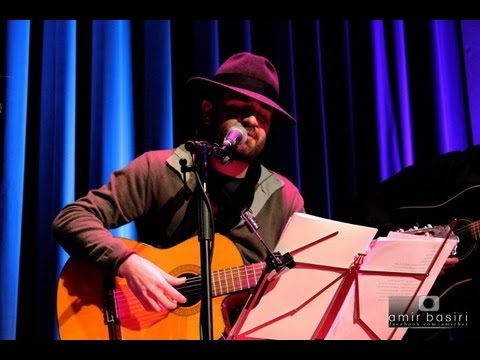 TB
Adam Yauch, also known as MCA of The Beastie Boys, died on 4 May. Jon Pareles' obituary in the New York Times is here, and C.J. Hughes' NYT report from the Lower East Side and East Village of Manhattan about mourning Yauch on the streets is here. Oliver Wang at NPR has a thoughtful piece on Yauch here.
I first listened to the Beastie Boys around 1986 or so, when a high school friend played his Licensed to Ill cassette over and over, and our group of Risk-playing ne'er-do-wells quickly memorized the whole album. Thus began the peppering of everyday speech with Beastie Boys lyrics, many decanted from the mouth of Yauch, whose scratchy throat always made him sound like the scruffiest of the three. Well into the 90s, part of the bond I had with that group of men from high school had to do with the ability to drop Beastie lyrics into ordinary scenarios like ordering fast food at the drive-through, playing basketball, or competing in video games.
Yauch and the other Beastie Boys, just a few years older than me and my friends, seemed to grow through their 20s, 30s, and 40s in ways that kept making sense, while never letting go of their adolescent insouciance. Licensed to Ill is a ready-made soundtrack for a punk rock frat party – or suburban fantasies of same. But Yauch was instrumental in shaping the band's later lyrical maturity and public presence in the direction of political and spiritual engagement. Yauch took up Buddhism, and penned a song for the Beastie Boys, "Bodhisattva Vow." Here are the lyrics (courtesy of lyricsdepot.com, with some of my editing):
On Mayday, I was in the parks and streets of Manhattan for #M1GS, the May 1st General Strike, a daylong gathering called by a coalition of dozens of labor organizations. Like many, I was there under many motivations: as a participant in Occupy Wall Street and Occupy Faith NYC, as a member of the labor union and advocacy organization the American Association of University Professors (AAUP), and as a theologian. I joined tens of thousands in New York City and around the country, and hundreds of thousands around the world. I noticed workers of all kinds, labor union members, Occupiers, community organizers, seasoned activists, first-time participants, and all manner of allies who cheered us on from the sidewalks, fire escapes, and opened windows in the tall buildings along the march route.
There were apparently a few dozen arrests, though I did not personally see any over the course of seven hours. (Nor could I afford to get too close if things got too hot, because I needed to be free to teach the next day.) I arrived in the early afternoon at Bryant Park to find a thousand or so people getting warmed up with teach-ins, leafletting, conversations, sign-making, and picture-taking. There were also dozens of people carrying guitars (and a few basses and banjos), rehearsing for the Occupy Guitarmy, an all-volunteer guitar ensemble led by renowned rock guitarist Tom Morello, of Rage Against the Machine and now The Nightwatchman.
I was concerned because I thought that a thousand or so people would be a poor turnout for such a hyped-up event as this General Strike. But things changed quickly.
Around 2:00, we began marching to Union Square Park, and arrived there about 75 minutes later. As we marched, more people began joining in, and by the time we go to Union Square, there were many thousands more waiting for us. And people kept streaming in from all sides for the next couple hours. Tom Morello and a contingent from the Occupy Guitarmy played a few songs…
(Note: video contains a few obscenities, heartily sung)
…there were brief speeches about solidarity and economic justice from people representing different labor organizations, and there was plenty of Latin music to aerate everyone's spirits in preparation for the long march to Wall Street.
A couple dozen members of Occupy Faith NYC gathered near the Gandhi statue in the park, where I joined them, and around 5:30 we began to move in a march with some 30,000+ people down Broadway all the way to lower Manhattan, a slow journey that took some three hours.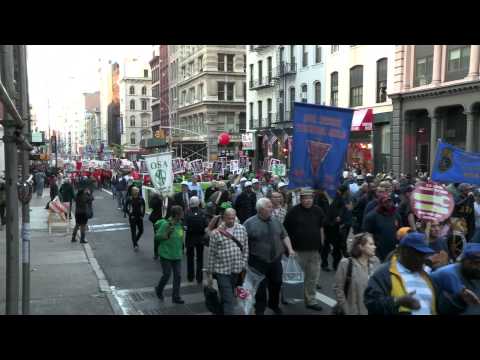 As the thousands of different banners, placards, signs, tattoos, shirts, headgear, songs and chants avowed, there was no single reason for being there, but I think it is fair to say that a great many of those gathered could endorse two basic theological statements: negatively, the market is not God; positively,
Next Page »