Pages
Categories
Contributors
Recent Posts
Recent Comments
Recommended
Archives
Not many art gallery shows sell out completely for months ahead, but the retrospective look at the life and music of David Bowie has. "David Bowie is" at the Victoria and Albert Museum in London from March 23rd to August 11th is sold out until August 11th, and sports long lines every morning for the few tickets reserved for 'on the day' sales. I would not have called myself a particularly avid David Bowie fan – and I'm not sure I understood what he was about, and yet passing through London these days I found myself drawn, and lucky enough to get in. Have you ever rediscovered without expecting it important parts of your past, or rather, found yourself in the midst of something more familiar than strange? And then began to understand something of why it was so important, or feels so essential? Such have been the last few days for me: music enters the body and mind via osmosis, like the smell of pizza in Italy that makes you hungry again even after you've just eaten, and so suddenly not only do you remember something but you're there, in how that song made you feel when you were between 5 and 15 (who remembers?) and opening your eyes to life: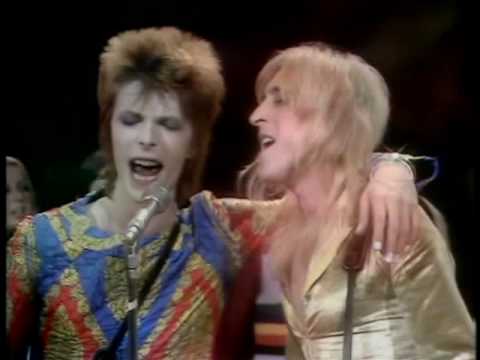 There is a star-man/ spaceman in my memory and musical history… although I wasn't aware of it, and the piano at the beginning of this song touches the (first?) chord of a life-long love of that instrument.

Apart from having way too much to see, hear and take in for so many people passing through, the exhibition is amazingly done – a window into the life, inspiration, hard-work and audacity of a musician some people call the Andy Warhol of the music -scene; a cacophony of sound, (more…)
That is the note that Alanis Morissette posted to Twitter yesterday. Here is the picture she attached to it (presumably of her own altar). Thus far, she has received several dozen responses on Instagram and Twitter alone, and probably many more on the wider Internet.
It is interesting to me that a pop musician would solicit something like examples of an "altar/sacred spot." Many religious institutions would benefit from asking such a question of their own people or of the larger public that they would like to engage.
Morissette, who has described herself as post-Catholic, played a show for the Vatican a dozen or so years ago, and performed a song that is 'about' religious skepticism: "Baba."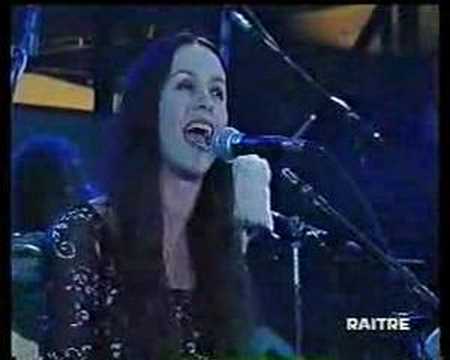 …But that does not mean she has foreclosed a spiritual search. In fact, hers has been a relatively public search, exemplified by that tweet yesterday. I have written several times about Ms. Morissette and spirituality at R&T, including most recently here in January, and some time ago, here on 'eucharist' (more…)
Two recent concert experiences have me thinking about shifting moral commitments in the USA, and the role of music in these shifts. (Thanks to K. for a conversation today that led to this post.)
A couple of weeks ago, a band (The Raina) in which I play bass did a show at a local bar. I gig with this band or with another one, The Particulars, every few months. And I always notice the alternative community that comes into existence in the club, festival, house party, or wherever it is we're playing: People mingle with other people whom they know well and don't know well; they revel in "non-productive" activities like listening, dancing, talking, drinking, smoking, hanging; they generally relax their personal boundaries (standing close to others, sharing some emotional talk while imbibing), while at the same time usually respecting others' boundaries in a somewhat heightened way (politeness in line for the bathroom, care for anyone who has partied a little too hard, adopting a live-and-let-live mentality).
And a few nights ago, I went with friends to see The Black Crowes at the newly and gorgeously renovated historic Capitol Theater in Port Chester, New York.
Here is some footage from one of the Crowes' Port Chester shows: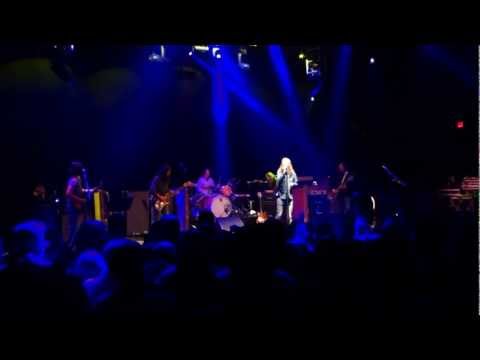 On that evening, whether it was in the Capitol's bar beforehand, or at the concert itself, the fans seemed to enjoy themselves and make room for each other. It was time to share drinks, smokes, and above all, songs — a shared submission to an extraordinary live blues-rock band. It's the kind of (more…)
R&T readers have been patient while I send various reports from and about the South By Southwest music festival. Recap-wise, the New York Times report by Jon Pareles is here.
It's never clear what images count as "religious," whether inside or outside self-designated religious spaces. However, these are some photos I took at SXSW as I tried to pay attention to "religious" images that were set in the midst of a more or less "secular" music festival. (Readers beware: those terms are very mobile! They have no fixed meaning.) These images show that "secular" music is not done with its relationship to "religion," that's for sure.
[1] Here is the first one: "Is God Really Dead?" These posters were all over downtown Austin in full sight of festivalgoers. I had trouble deciphering it. The symbolism might be a touch too arcane for me. At any rate, it certainly put a theological question right into the everyday wanderings of festival attendees. I assume that by raising the question, the answer is, somehow, "no," but maybe being stumped about the provocation is the artistic point of the image. (At least one of these posters had a "YES" scrawled on it by the last evening of the festival.)
[2] The posters below were up all over downtown Austin on the morning of Friday 15 March. A variation on it had the same image but "PAPA" at the bottom. Small type at the bottom read papaemeritus.com. The site was down when I tried it a few days ago(probably too many hits at once), but  I just discovered that it is a link to a band and their new album. (more…)
I spent the last four days at the South By Southwest music festival in Austin, Texas, launching ground for a good number of new bands over the past many years, and major meetup for those interested in the state of popular music. With a couple thousand bands, presentations and panels, exhibits, and a whole lot more, it is by any measure a major music gathering, featuring music across many genres. (I even heard "country rap" last night as I saw Colt Ford perform a raucous set, including covering "Give it Away" by the Red Hot Chili Peppers to an enthusiastic crowd.) I have a few "religion" pictures from SXSW to post soon. But before I do, a brief thought:
Religion in its "overt" forms seems to play a very minor, and almost absent, role at SXSW. I say this with little experience, though, having only attended for two years. I'm not suggesting that it needs to have a more prominent role, only that I notice being in an environment of tens of thousands of people, amidst a ton of bands, and having almost no "explicitly" religious talk or images. I wonder: do people check it at the door? Is this a liminal space where religious/spiritual/faith/etc investments are laid aside, and in that way is a "secular" space? Please don't hear me to be saying that I wish things were otherwise, only that I think these spaces in public life are significant ones, even if I cannot put my finger on why and how. Okay, let me suggest one possible meaning: popular/secular music culture, which itself grew in close relation to church contexts in the USA, is able to provide an experience-rich arena that speaks to spiritual/carnal needs, in a way that lets the focus rest more on commonalities among peoples than differences, and triggers an access to shared sentiments that — as long as the festival lasts, and sometimes longer — make doctrines and practices that might otherwise divide people seem less important. In other words, music culture changes religious/spiritual culture even as it feeds off of it. There is an (more…)
I just saw this news that Robert Plant is (at long last) apparently open to a Zeppelin reunion. If you have any doubts about whether they can still do it, you should see the Celebration Day film, which recounts their one-off 2007 show in London. Here is a clip: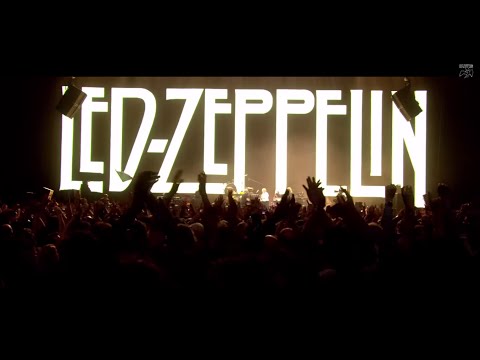 Such a reunion, which would probably be among the biggest concert events in decades, reminded me of the remarkable book by Susan Fast, In the Houses of the Holy: Led Zeppelin and the Power of Rock Music (New York: Oxford University Press, 2001). If this tour materializes, I'm going to have to go back to this book and write a commentary about its spiritual significance for R&T. My thesis would be something like: this book is laden with examples of how rock and roll is a spiritual exercise. (In fact, now that I am writing this out, I think I might choose a few examples from Fast's book to punctuate my upcoming talk at South by Southwest.)
Here are just a few suggestive examples: Writing about Jimmy Page's way of holding his guitar on his hip, and how it creates a "fictional body" that performs on stage, she writes: "The way in which Page moves the guitar over to the side is a metaphor for this decenteredness: the right side of his body and the hip on which the instrument rests in particular form a zone of psychological difference; it signals that now Page has moved further into the subjunctive, further into his otherness, further into the music. Raising his leg deepens the movement further, creating even greater instability. Raising the leg also points more directly to the materiality of the instrument: "Look; this is the vehicle through which I have become other." (p. 152)
"Many Zeppelin fans link sex with spirituality in their experience of the music" (p. 174), and this is exemplified in the (more…)
R&T readers: I recently wrote the foreword to a fine new book by Clive Marsh and Vaughan S. Roberts, now in print: Personal Jesus: How Popular Culture Shapes Our Souls (Baker Academic, 2013). Here is the classic Depeche Mode song to which the title refers: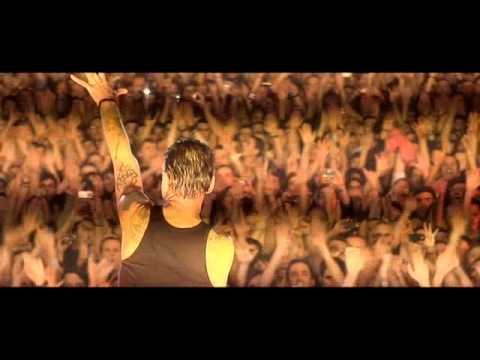 Recently the publisher posted this conversation between the authors of the book.
And here is the beginning of my foreword:
*
One of the most fundamental experiences of human life in almost any culture is music's power to structure personal and social identity and relationships. There are special reasons for this to be true in contemporary technological societies, where musical invention and enjoyment is notably diffuse and influential in everyday life. This is so on a micro level, when people can personalize their favorite music electronically, listening in privacy throughout their day. It is also true on a macro level, with the profusion of concert and festival culture, from public minstrels on street corners and in subway stations, to larger concerts and multi-day festivals, all of which show every sign of increasing their place in the soundscape that arranges everyday life for a majority of the world's privileged people.
Music, especially that music disseminated "popularly" through electronic media platforms of Internet, film, and television, is a fundamental palette for contemporary sensing, for negotiating what is real. Popular music is that color wheel in relation to which people identify those claiming powers around which they orient their lives. The experience of those who enjoy music, inadequately called (and sometimes dismissed as) "fans," is a significant frame for holding whatever people come to call religious or spiritual.
Clive Marsh and Vaughan Roberts are on the leading edge of research that makes theological sense of popular music. With (more…)
I was recently interviewed by journalist Martin Buzacott for this ABC radio special from Australia, "Woodford and the Quest for Meaning," about the Woodford Folk Festival. If you have a chance to listen, I hope you find it interesting.
Here is a report from the 2011-2012 festival: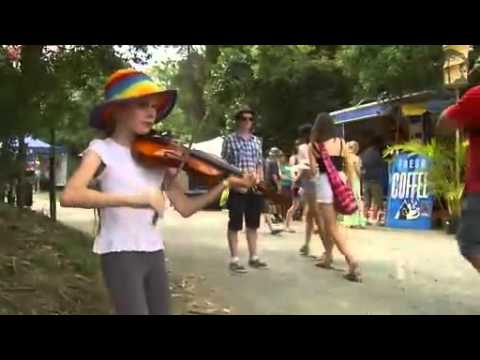 Tommy Beaudoin, Hastings-on-Hudson, New York
Or so Jesus is rumored to have said in one of the Gospels that failed to make it into the New Testament.
I was recently sent this picture and laughed out loud at each element: the double-neck guitar around Jesus, and his colorful admirers: the death-metal fan who throws the devil horns no matter what, the fan who politely reacts to rock music by clapping, the fan who is ready to stage dive onto The Lord, the fan who is too self-conscious to rock out but lifts an angled arm in the air awkwardly, the fan who stretches out his arms unselfconsciously because he is "having a moment," and the fan who has not once enjoyed the show but is filming the whole thing on his smartphone.
Does anyone know who painted/designed/defaced this work of art? What do you see in it?
And — which scene of Jesus' life is being pictured here? The Transfiguration? Resurrection? The Sermon on the Mount? The lost "Jesus — Live from Galilee" concert?
(Thanks to SM for sending.)
Tommy Beaudoin, Hastings-on-Hudson, New York
Tonight, I saw Soundgarden at the Hammerstein Ballroom in Manhattan. Ponderous riffage, minor chords, and an urgent straining wail for almost two and a half hours.
Here is footage from their Lollapalooza set in 2010:
During the last third of the show tonight, a mosh pit of a couple dozen people got going on the floor, and a few people perilously crowd-surfed from the middle of the floor to the arms of security near the stage.
As I watched all this from the second-floor balcony, I identified with their response to the music and felt gratitude for their expression, as if they were doing it in my place, because I couldn't mosh or crowd-surf from the balcony, and probably wouldn't even if I were on the floor. The actions of others, simultaneously spontaneous and elicited (by the music, the memories), helped me identify what I myself felt about the music.
On the way home, I wondered about this experience of a fruitful ritual "sacrifice" of others on my behalf. Religions have generated many theologies of vicarious benefit, sacrifice, atonement, and the like, in which one person or group are thought to accomplish things that benefit others across time and space.
Presuming that these theologies, which always risk being "magical," have some origination in ordinary experience, from where do they come? Social scientists and religion scholars have long pondered this question. Tonight's experience had me thinking about it, too.
Tommy Beaudoin, Hastings-on-Hudson, New York
Next Page »