Pages
Categories
Contributors
Recent Posts
Recent Comments
Recommended
Archives
September 2017
S
M
T
W
T
F
S
« Jan
1
2
3
4
5
6
7
8
9
10
11
12
13
14
15
16
17
18
19
20
21
22
23
24
25
26
27
28
29
30
I read this typically craftily-rendered review recently, by critic Ben Ratliff, in the New York Times, "Serenading Isis with the Hypnotic Vibration of the Universe", and thought it connected somehow with Rock and Theology. Mr. Ratliff was reviewing a recent show by the band Om at, of all places, the Temple of Dendur at the Metropolitan Museum of Art. The ancient Egyptian temple was crafted 2000 years ago in honor of the goddess Isis. Ratliff — I've already quoted him many times at R&T — has this terrific paragraph a little bit into the review:
"In its lyrics, song titles and musical atmosphere, Om seems to be inhaling the mixed fumes of the early mystics. It has no singular scriptural source. It implies religious music without a religion, except riffs and resonance — the religion of sound — which is a lot, and enough."
I like this idea, and this review, but I cannot quite say why. There is the evident connection Holy Mother of God, have you entered into the droney din of cave rock that is Om?! Check out "State of Non-Return":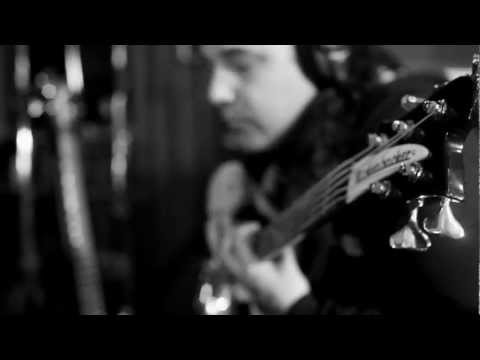 (Yes, that is a "Fly By Night" t-shirt that the bassist/vocalist Al Cisneros is wearing.)
Anyway, as I was saying, with regard to R&T, this event featured the evident attempt to relate music (Om) and theology (Isis). Ratliff, however, (more…)
Patti Smith was recently in Rome for a music festival and took the opportunity to greet the new pope.
This is my choice for "kick-ass pic of the week"!  The big question about this photo is: who is more honored?!
Dave Nantais, Detroit, MI
This is part 2 of my reflection on a review of a recent "drone" music concert in New York City. Part 1 is here.
Now for further reflection:
In the process of his review, Ratliff explores meanings of sounds that take one into humming ruminations on essentials: musically we call these "drones," but in theology they are, in a sense, the whole game, because theology is no more and no less than a humming rumination on essentials. We can explore such "droning" by theologically overhearing music reviews, and musically overhearing theological works, which are two ways of relating theology to music.
Consider Ratliff's opening reflection: "There's an irreducible element of music that connects metal, industrial music, power electronics and classical minimalism, and no word exists for it."
Stay with that for a while. And then onto the next sentence:
"It involves deep pulsations; excited provocation through sound and concept more than traditional technique; low-end frequencies rarely encountered in life; long sustained tones enlarged through overdrive; or distortion or just force of hands on instruments."
The kind of theology I write and teach often falls within the domain of "practical theology," in which it is emphasized that whatever is worthy of being called "theological" must be "experienceable" by people. I stand by that, so long as what it means is carefully interpreted, but Ratliff's meditation on (more…)
That was my first thought, or at least my fourth or fifth, when I read the headline over music critic Ben Ratliff's review of a drone concert in last weekend's New York Times. The print headline read: "A House of Drone, Ecstatic and Raw, With a Potent Aura of Largess." I wondered: with this evocative headline, what are we really talking about here?
(I have frequently quoted and celebrated Ratliff's reviews, such as here and here.)
The theological significance of drone may have to do with Holy Mother of God! Before anything else happens, take a look at this picture that accompanied the story, of Kim Gordon (formerly of Sonic Youth and now of Body/Head), taken by photographer Brian Harkin:
I hate to ask so pedantically whether you consider this as remarkable as I do, but ask I must. This is an ornate, even extreme position in which to posture an electric guitar. I can only surmise that by driving the headstock into the top of the amp, hunching over the upturned instrument from shoulder strength supported by delicately bent knee inside the carefully calibrated leg-stance, working the tremolo with her right hand, and steering the balance from her left hand, she is summoning feedback. For some reason the picture reminds me of the disturbing provocation of an upside-down crucifix, an (more…)
In the Chronicle Review, part of the Chronicle of Higher Education, Dr. Timothy Beal recently wrote a terrific piece displaying the substantial theological account of their actions left by the band Pussy Riot, who were recently sentenced to two years in prison in Russia — allegedly as punishment for their punk-rock protest. Michael Iafrate at R&T on the topic here. Wiki here.
Video of the "offending" event here:
Madonna, in Russia, defending Pussy Riot: "They have done something courageous. They have paid the price. I pray for their freedom."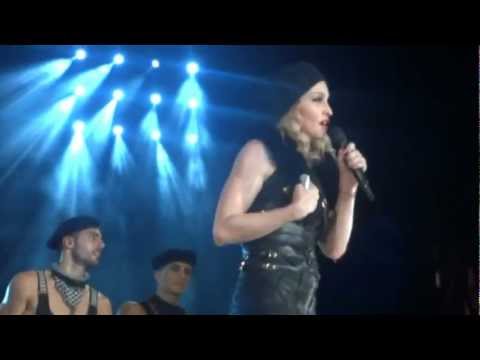 In his article, Beal very helpfully focuses on the way in which Pussy Riot's theological claims are rooted in Pauline writings about paradoxes, like the notion of holy foolishness (1 Corinthians), as they connect to Russian culture.
As I read Beal's summary of Pussy Riot's statements, I also detected echoes of Jesus' consolations or blessings (or "beatitudes") in the gospel of Matthew (5:10-11) in Tolokonnikova's assertion that "We are reviled, but we do not intend to speak evil in return." (This also seems to be a mashup with Jesus in Matthew 5:39, "If anyone strikes you on the right cheek, turn the other also.") Tolokonnikova takes this "beatitude" style of Matthew 5, as it is often called, and riffs on it: "We are in desperate
From the comedy troupe Monsters from the Id, a video that for some of us might strike a little too close to home.
httpv://www.youtube.com/watch?v=LZYjCAbdubc
In light of the recent discussions on this blog as to what, exactly, we might call the "definition" of rock (see here and here), I was struck by an interview this morning on NPR's Weekend Edition.
Audie Cornish interviews the band Miracles of Modern Science, and the lead-off to the story deals with the fact that they don't look like a rock band (nary a guitar in the group), but they play "rock."  At one point, a member of the group notes that — because of their instrumentation — they often get mistakenly booked with folk acts, and when they take the stage they completely destroy the quiet vibe of the room.
"There's sort of a thaw in the music community now between people who play classical music, or whatever you want to call it — concert music, art music — and what we do in music clubs," says Geoff McDonald. "And that's a really great thing. You see lots of people doing imaginative things from both sides of what was [once] a divide."
What do you think?  Are they a "rock" band?  A "folk" band that plays with rock-like intensity?  Something else entirely (like performance art)?
Take a look at this video for their single, "Eating Me Alive," and let us know what you think.
httpv://www.youtube.com/watch?v=sjpbHlJ4rjA
David Dault, Memphis, Tennessee
Dave Nantais' post below celebrating Metal Day, by way of Spinal Tap, put me in mind of my favorite Bee Gees metal tribute band, Tragedy. This is, perhaps, closer to the "rock" end of the "Rock and Theology" spectrum, but no doubt there are Bee Gees theologians out there. Happy 11-11-11!
httpv://www.youtube.com/watch?v=dhgjEObtrWE
Is this the new face of rock?
httpv://www.youtube.com/watch?v=AtJZesEWNzc
Is this the new face of rock?
httpv://www.youtube.com/watch?v=VUJw8JFPrpE