Pages
Categories
Contributors
Recent Posts
Recent Comments
Recommended
Archives
For those in the New York City area: Next Sunday 19 May, Trinity Rivertowns Church (mentioned earlier at R&T here) is hosting a forum called "Creativity and Trust: A Performance and Conversation on the Art of Improvisation." The event, in Hastings-on-Hudson, will be moderated by Rev. Jim Kirk and will feature extraordinary musicians, likely well-known to many R&T readers, including John Patitucci on bass, Jay Azzolina on guitar, John Ellis on saxophone, and Rogerio Boccato on percussion. Here is the flyer:
The intriguing quotation on the flyer from jazz legend Wayne Shorter, "You can't rehearse the unknown," put me in mind of some remarks I made in a 2009 paper presented at the Catholic Theological Society of America's Annual Convention. In that paper, titled "Give It Up / for Jesus," I was reaching for ways to talk about the confluence of rock and roll and theological work as practices that are spiritually significant. Taking a seemingly different tack from Shorter, I suggested that in fact "You can rehearse the unknown," and that both theological work and musical experience can help you to do (more…)
My friend J. sent me a link to an interesting website called Sacred Spaces in Profane Buildings. Check out the pictures there and see what thoughts they occasion in you. The website was apparently begun as part of a 2011 exhibit at the Storefront for Art and Architecture in New York City. During the exhibit, this call for submissions appeared:
Do you know of a secret-sacred building in your neighborhood?
Do you know of a shop that has become a Mosque?
Or an apartment that has become an Iglesia Evangelica?
Is there a prayer space in your block?
And, perhaps like our readers, I immediately thought of connections to Rock and Theology. Here, we ask things like:
How have you been saved/healed/freed/helped by rock and roll/hip hop/trance/pop/secular music/pop music/electronica/your playlist?
Are there rituals/practices/gestures/actions/performances in music/music cultures that seem to have a religious/spiritual/faith significance for you or for others?
Are there elements of faith/religion/spirituality/etc that seem to be musically/secularly significant?
What does the overlap/intersection/paradox/correlation/convergence of musical experience/culture and faith/religion/spirituality/etc mean to you or to your community?
Like the  Sacred Spaces in Profane Buildings project, we are attempting to catalogue the varieties of spiritual experience in contemporary culture — in space/place, like the Sacred Spaces project, but also in feeling, memory, imagination, and action.
What are the "sacred spaces" amidst "profane places" for you?
Tommy Beaudoin, Hastings-on-Hudson, New York
A new book on "ordinary theology" has just been published, for which I co-authored a chapter with my Fordham colleague Dr. Patrick Hornbeck. The book is titled Exploring Ordinary Theology and is edited by Jeff Astley and Leslie J. Francis (Ashgate, 2013). "Ordinary theology" is a term that Rev. Dr. Astley popularized several years ago in a thoughtful and wide-ranging argument, in his book Ordinary Theology, for the existence of a theology operative in ordinary life that is both different from, and startlingly analogous to, the theology done in the academy. "Ordinary theology" is the faith that becomes evident through how people actually live, how they deal with their lives, what they take as most important, influential or personally significant.
I think this concept is very important, and is part of a family of concepts that look to "ordinary" lived experience to find the place that theological material matters in people's lives… concepts like "lo cotidiano" and "popular religion" in Hispanic/Latino/a theologies, like "lived religion" in practical and historical theologies and sociology of religion. In theology from the UK, the study of "implicit religion" has been going on for decades, as well, and in the Philippines, Indonesia, Africa and other two-thirds world theological scenes, sometimes the theological literature on "inculturation" affords a deep appreciation of the theological significance of lived experience and everyday life. (In my reading, one ambiguity in the concept is how much of an explicit relationship to a founding theological figure, like Jesus (Astley's work falls mainly within Christian theology), must be evident in order for one to have an ordinary theology, as distinct from, say, an ordinary spirituality, ethics, religion, etc — whatever those terms might mean.)
In Exploring Ordinary Theology, there are a variety of chapters that deal with different dimensions of theology seen in and through and from ordinary life. There are qualitative-theological case studies, explorations of theological themes from ordinary life, and more theoretical analyses of ordinariness in theology. The chapter that Dr. Hornbeck and I wrote is titled "Deconversion and Ordinary Theology: A Catholic Study," and states our (more…)
The renowned Cambridge academic theologian and philosopher of religion Rev. Dr. Sarah Coakley has written at length about theology of prayer, spiritual experience, and spiritual knowing. In a recent 2-part interview for The Other Journal with SueJeanne Koh, Coakley discusses the cost and implications of becoming open in silent prayer. She emphasizes the surrender of perplexing and even disturbing material that arises in the disciplined practice of silent prayer, and commends communal prayer as an important support for the courageous, and literally en-couraging, submissions involved in silent prayer.
What occurs to me, on reading the interview (and the followup, part two, here), is how, in addition to the experience of silence, the experience of music shows up in people's lives as a way that the self is handed over to something more, to an excessive "call" from a generous and generative beyond. Silence is perhaps profitably thought of not as the absence or opposite of sound, but of noise. Musical experience can generate an experience of internal silence and a contemplative mein. I do not know of studies that compare silence and musical sound as comparative practices of meditation or contemplation, but the question is an important one for contemporary persons who probably need more silence in our lives and who also might need a deeper spiritual appreciation of the (musical) sounds we value.
Silence is certainly a way that lives are spiritually transformed, as she argues, but so is music, which sometimes does not cancel silence but deepens it. This notion seems particularly connected to Coakley's understanding that "prayer has everything to do with the erotic," to which she adds, (more…)
One of my first concert experiences was seeing Rod Stewart in Kansas City around 1984. I liked his early blues/rock material, and even some of his pop songs. (I am less enthusiastic about what I consider his more saccharine turn in the last two decades toward torchy covers.)
To get a sense for what his shows were like in that era, check out this raucous performance of him singing "Stay With Me" — and kicking soccer balls — with Tina Turner and Kim Carnes from 1981:
But recently I heard again a love song of sorts from a time when he was still rocking, titled "You're in My Heart (The Final Acclaim)" that Stewart recorded in 1977. (There was a time in the 70s and 80s when a lot of pop songs had parenthesized subtitles; that seems to be out of fashion now.)
At Mr. Stewart's shows, the song is belted by live audiences with great feeling. It is a lovely, adulatory confession of respect, fidelity, and need. When I heard it the other day, I wondered if anyone has used it in a wedding or anniversary party, like other pop songs. (If it were, there is probably one line that might need to be excised (about the Dutch-accented woman)).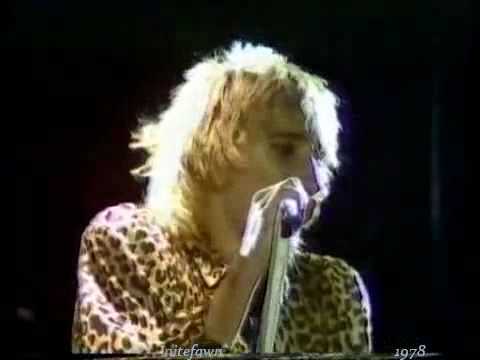 But this got me thinking about the trend toward using pop music in religious weddings, funerals, and other such important life-stage events. Although many pastoral leaders and academic theologians look down on this (at least in my experience), I (more…)
For the last couple of years, I have wanted to do some reflection on the practice of songwriting and its connection to the traditional Lenten challenge to grow in one's "prayer life." In the course of reflecting on songwriting and/as spiritual practice, it struck me that while there is quite a bit of reflection on rock performance and the analysis of finished songs in discussions of popular music and theology, there seems to be a lack of attention on the practice of songwriting, particularly as it takes place in an "individual" or "personal" mode.
One recent exception is the work of John McClure who has reflected on "song-making" as a source of insight for theological practice. Some of this work touches on what is happening in the songwriter when she is writing a song. McClure writes,
[S]ongwriters are keenly aware that their craft is cathartic, educative, and integrative in relation to their own lives. Writing in and out of a tradition carries with it certain ways of externalizing and dealing with one's experiences and ideas. Songwriting, therefore, involves a constant reeducation and maturation of the whole person within certain traditions of thought and practice. Writing changes the artist, providing healing, perspective, vision, and qualities of good judgment. Most good songwriters are aware that songs are doing this to them, and how songs are doing it. (John S. McClure, Mashup Religion: Pop Music and Theological Invention [Waco, TX: Baylor UP, 2011], 21)
As you can tell, the "cover picture" for Rock and Theology on our blog is an empty stage. Well, not entirely empty. It looks like a show has just been played or is about to be played. You can see a drumkit, microphone, amps, monitors. I don't remember how we found this image a little over four years ago when we were designing the site, but I think it might have been our skilled "backstage" blog technician, Brian E, employed by Liturgical Press, who recommended it. I have often thought about what this image symbolizes, and have never settled on one interpretation. I like that the scene, spare yet prepared, invites blog readers to visualize performers up there, according to their own imaginations. What do you imagine them doing up there? What would you want to hear or see?
I had the same feelings about rock stages as imaginative spaces when I was in Boston recently. On the way to meeting a friend for coffee on Commonwealth Avenue, I decided to stop in at the venerable Paradise Rock Club, just to see what was happening in the middle of the day. I like to think about how spaces shape experience, and so wanted to see if I could notice anything when the club was quiet.
The ticket window was unattended and the door was open, so I walked in, down the hallway past the lounge and into the performance area. I was hoping to announce myself as a fan of the place — I lived in Boston for eight years and attended many shows there — and as a scholar who worked on music and religion, and ask if I could look around, but I did not see anyone. The place smelled strongly of cleaning chemicals, and was obviously recently scoured from the beer and sweat and whatnot of the night before. So I took a picture of the empty stage and small hall, and walked out, remembering the last band I saw there, which may have been Living Colour a decade ago.
Here is the picture I took:
As I look at it, I think again of our blog "cover picture," but the Paradise stage is more or less bare. And you can also see the space where the fans stand in between the stage and the bar, allowing yourself to imagine a sparse show or a packed one, people in t-shirts or sweaters and scarves, an older crowd or a younger one.
I have thought for some time that imaginative activities in such "secular" spaces are the ways that many people today come to some spiritually significant awareness of what brings them delight, joy, consolation, or greater coherence with themselves and others. An empty stage (more…)
This is not a post about rock or theology per se.  Rather it is a sort of "meta-post," arising from a recent discussion I had with Tom Beaudoin, who suggested I share this with our colleagues (and readers) here on the blog.
For a couple of years, I have minimally maintained a page over at Academia.edu.  It's a social networking site for — you guessed it — academics.  I set it up back in 2010 or so, uploaded a picture, added a CV, and then just let it sit there.
Anyway, over the past couple weeks, I took another look at it, and started playing with it.  It is actually pretty simple to use and robust in its features.  There is one feature, in particular, that made Tom suggest I bring it to your attention.
In addition to allowing you links to articles and other print publications you have authored, the site also allows you to add customizable categories.  I added one for "Online Articles," and I am working on linking my various blog posts there.
If you are like me, you have some Rock and Theology posts you are proud of, and that show off your scholarship in a different light than the "normal" avenues of academic publishing might highlight.  Setting up an academia.edu page can help you showcase those posts beyond the readership of this or other blogs.
If you want to check out how I am using it, look here.  I'd also love suggestions from other folks about different ways to use academia.edu (or reasons why you don't want to use it), as well as other sites that might be useful for nerds like us.
Some recent posts have gotten my mind thinking.  In particular, the posts by Tom Beaudoin and Maeve Heaney have raised the question of  interpretations that are not lyric-oriented, but are instead interested in thinking about the meaning of the music.  We get so used to thinking that the only aspect of a song that matters is the worded expressiveness, and we pass over the "material substrate" of the music itself.
For me, this raises a really interesting set of possibilities.  I think of Peter Gabriel, during his musique concrete phase in the early 80s (n.b. Melting Face and Security?), telling interviewers that he was trying to process primal screams through filters so that they became part of the texture of the songs–the sonic landscape. I think of Ween, Geza X, my beloved Brainiac, and the almost unlistenable moments of NEU!–each is pushing beyond the "meaning-content" of the lyrics to the point of using the voice as an instrument in itself.
Which makes me think about the points where voice and instrument are literally melded–autotune, vocoder, and talking guitar.  Let me take this backwards in three steps: the contemporary example, of course, is T-Pain.  But isn't he just using new technology to build on the ground laid by Roger and Zapp? And Roger was riffing with synthesizers, using technologies popularized by Peter Frampton and his guitar.  But in these examples, the "instrumentalized voice" is still capable of being examined for meaningful lyric content.
So what of the artists that used voices but refused to offer intelligible lyrics as content?  Dave Thomas of Pere Ubu once wrote that (more…)
A friend sent me a link to a 3-year old article about a grass roots Facebook campaign.  Fans of Rage Against the Machine attempted to vote the band's 1992 hard rock classic "Killing in the Name" the number 1 Christmas song in the U.K. and defeat the front runner, Joe McElderry's song "The Climb"–at the time McElderry had just been crowned victor on the show The X Factor.  Rage's Tom Morello supported the campaign and sent the following tweet to fans: "Rage's Killing in the Name & the X-Factor's goofy Christmas single are neck and neck for num one spot on UK chart. England! Now is your time."
Here is a link to the article in Rolling Stone:
http://www.rollingstone.com/music/news/tom-morello-supports-rages-killing-in-the-name-in-u-k-christmas-sales-battle-20091215
Given his track record for standing up for social justice causes, I don't believe that Morello was utilizing this opportunity for selfish purposes.  Rather, it appears to be an attempt to counter the rampant consumerism that descends upon us every Christmas season.  How can socially conscious persons who are immersed in a consumerist culture (and who, speaking for myself, often contribute to that culture) take a stand against it?
One possibility is something I've dubbed "listening local"–a riff off of "eat local," a motto that encourages purchasing and consuming food that is locally produced.  The idea is that when people eat local food they support local businesses, they are able to acquire food that is much more fresh than what is found in a grocery store, and local food produces a much smaller carbon footprint than the food driven in semi trucks to the U.S. from Mexico, or flown from overseas.  Similarly, supporting local music can make an important impact.  Hard working bands in your town need your support!  Check out one new local band every 4-6 weeks, pay the small cover charge, purchase a beverage at the club, pick up a t-shirt or a CD and express your appreciation to the players–either in person after the show or via Facebook, email, etc.
Next Page »