Pages
Categories
Contributors
Recent Posts
Recent Comments
Recommended
Archives
September 2017
S
M
T
W
T
F
S
« Jan
1
2
3
4
5
6
7
8
9
10
11
12
13
14
15
16
17
18
19
20
21
22
23
24
25
26
27
28
29
30
I recently read this report from Rob Fields at Boldaslove.us, which argues that a change is going on in African-American culture that has black rock being the index of a changed racial-musical self-understanding. "Post-modernism has come to black music," he writes, "and African-Americans are flocking to it." Hip-hop as an influence and a symbol, Fields suggests, is in decline, and a new "post-black" identity among African-Americans within a relatively privileged demographic is on the rise.
I wonder what our contributors (especially Daniel White Hodge, Rachel Bundang, and Monica Miller, who have written on hip-hop) think of this claim, as well as what R&T readers make of it.
I'm a fan of Boldaslove.us, a site that works hard to chronicle diverse tastes in African-American punk/rock/pop music and its cognates. And I recognize my own inclination to valorize black rock. Still, I am going to have to learn more before I can embrace Fields' claims. His sample of 316 Internet surveys, from what I can tell, may be disproportionately drawn from already-avowed fans of black rock, and the fact that the survey results are worked into a a ready-made branding/marketing strategy to reach African-American consumers raises some questions about the study's reliability. But these are only questions, and I reserve further comment until I learn more.
Such questions, however, are not meant to suggest that I think the Boldaslove study is completely misconstruing a cultural phenomenon, especially given the rapid rise of interest in Afro-punk and other forms of black rock in "mainstream" and "alternative" music cultures. Given the historic entanglement of popular music with religion in the United States, one question I have is how these (potential) shifts map on to contemporary forms of Black Theology, especially if popular music retains its spiritual significance for everyday life even and perhaps especially in its "nonreligious" forms. Or is "post-black" correlated to "post-religious" or "post-Christian"? Where are these phenomena headed in terms of spiritual and cultural identities and practices in the USA and beyond?
While we're at it, here is Tres Mts, a new band featuring Dug Pinnick (King's X), Jeff Ament (Pearl Jam), Richard Stuverud (Fastbacks/Fifth Angel), and Mike McCready (Pearl Jam).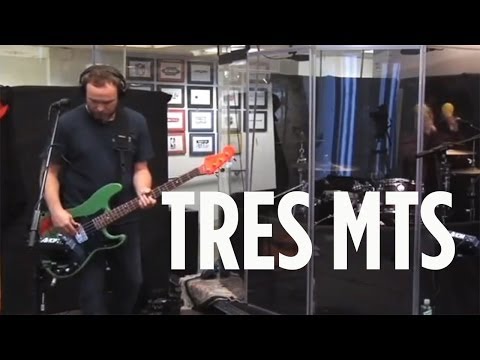 Tom Beaudoin
Hastings-on-Hudson, New York
As a complement to the posts below on Clarence Clemons, I want to mention that Timothy Egan has a column in the New York Times about the significance for rock fans of the interracial friendship of Clarence Clemons and Bruce Springsteen. He revises Martin Luther King, Jr.'s famous observation about Sunday morning being the most segregated hour in the U.S.: "The most segregated place in America on a given night," Egan writes, "can be a stadium rock concert — on stage, and in the audience." The death of Clemons spells the end of a particularly inspiring hope for what the band Earl Greyhound calls the imperative to "Rock your faces [and] mix the races."
Theologically, I consider the matter at stake here to be the question of whether and how popular musical experience and culture can be a witness to and training for a transcendent horizon — by going through the particularities of specific identities (religious, racial, ethnic, gendered, classed, dis/abled, sexual, and more) telling how they (we) have learned to live with and beyond themselves/ourselves. A white-privileged rock scene is, from this perspective, deficient in a way that a theological consciousness can help to unearth. Coming out of a Catholic background, as I do, the imperative is only multiplied, given how deeply the religion and theology I have learned has been covertly co-identified with whiteness.
Egan's article shows a little of its own whiteness when he writes that "There weren't a lot of blacks in my high school graduation class — two, to be exact — which meant that race was somewhat of an abstraction, happening elsewhere, mostly on a screen or from the grooves of a record."
I know what he means, because I went to mostly-white schools, from kindergarten through seven years of graduate school, and have taught in mostly-white universities for ten years. A good number of these years
Today I visited the Apollo Theater exhibit at the Museum of the City of New York, in Manhattan. I have never been to the Apollo (though after seeing this exhibit, that will have to change), but had a vague sense of its importance in the history of African-American art and life in New York. Titled "Ain't Nothing Like the Real Thing: How the Apollo Theater Shaped American Entertainment," this installation offered an introduction to a famous institution that has served New York City's African-American community and many guests for nearly eighty years.
The Apollo Theater is perhaps most famous for its Amateur Night, dating back to the 1930s, in which audiences get to boo or cheer for the artists on stage, and often enough help elevate relatively unknown musicians to a national platform. Here is Lauryn Hill on Amateur Night in 1987…
httpv://www.youtube.com/watch?v=gdwhGmvB7aA
From inside the Apollo's walls have emerged some of the most famous U.S. musicians of the 20th century: The Jackson 5, Stevie Wonder, Aretha Franklin, Ella Fitzgerald, Jimi Hendrix, James Brown, and a great many more.
As I followed the panels on the wall from the 1930s to the present, I noted the changing role of the Apollo in the history of race relations in New York. My thoughts turned continually to how it is that music can drive down prejudicial social differences. As I understood the story I read at the exhibit, the original white owners of the theater (which was then a burlesque club under a different name) had kept it a whites-only venue, but thanks to a subsequent owner named Frank Schiffman who took it over in 1935, the Apollo was opened to black and white audiences, performers, and employees. There is even a letter from Martin Luther King, Jr., to Schiffman thanking him for his support of civil rights.
Randy Wood, the famous founder of the Dot record label, died last week. His place in the history of rock and roll is significant and also controversial, because he played a key role in helping white musicians cover (and massively distribute) black songs, an historical hinge moment in rock and roll becoming identified culturally in the States as a white-music phenomenon built from a largely African-American back-catalogue. You can read Douglas Martin's helpful obituary here.
Now, Fats Domino's "Ain't That a Shame," followed by Pat Boone's Dot-sponsored cover:
httpv://www.youtube.com/watch?v=GoopwXoG79M
httpv://www.youtube.com/watch?v=MdhCf0MK6wY
As a white theologian trained in Catholic theology, I will never forget the charge laid before white Catholic theologians by Jon Nilson in his presidential address, "Confessions of a White Catholic Racist Theologian," at the 2003 Annual Convention of the Catholic Theological Society of America. (Nilson's address was later elaborated in his 2007 book, Hearing Past the Pain: Why White Catholic Theologians Need Black Theology (Paulist).)
Been thinking about canon + appropriation again.  On canon, there's the recent news of De La Soul's 3 Feet High and Rising being added to the National Recording Registry at the Library of Congress.  It's only the second hip hop LP and the fourth hip hop recording to make it onto the list.  Criteria for the NRR include cultural significance and general excellence, plus the piece must be at least 10 years old.  So in pop culture, that's at least one test of staying power.
httpv://www.youtube.com/watch?v=Mh2_GOPGKBs
The other bit is about appropriation as imperialism and theft, as evidenced by these ongoing tiffs between Diplo and the artists he samples.  There are the questions of who gets credit vs. who really benefits.
I wonder about that tension between hewing to tradition vs. pushing forward to the new.  At the risk of being simplistic, it's as if theology is all "slow twitch" and pop culture "fast twitch."  Does theology tend toward the former + pop culture to the latter?  Does theology lack enough of the right "twitch fibers" to keep up with quickly evolving postmodernities?  And likewise with pop culture:  might it also tend toward historical/cultural amnesia, except for what it can sample– and steal?
Rachel Bundang
NYC
[Photo: TELLUSTools. 2001. Double-LP. Composition: 12 1/4 x 24 5/8″ (31.1 x 62.5 cm). The Museum of Modern Art Library, New York. Gift of Harvestworks. Cover Art by Christian Marclay. Produced by Carol Parkinson, Harvestworks. Image courtesy Kanji Ishii.]
I spent last Saturday afternoon at MoMA, checking out the new exhibit Looking at Music 3.0, which explores the connections between music and contemporary art.Previous portions of the exhibit were shown in 2008 and 2009 respectively. This third segment focuses on New York in the 1980s and 1990s and encompasses everything from street art to hip-hop and graffiti, underground mixtapes to Riot Grrrl zines, Eric B & Rakim to Fischerspooner, Sonic Youth to Wu-Tang, and of course the birth of MTV.
Much of the hip-hop history would not be new to an engaged listener, but the cross-genre collaborations and the juxtapositions between the sonic and the material dimensions of the culture were certainly thought-provoking when regarded with a more anthropological and religious eye. What we hear connects with what we see and touch, and even what we smell and taste. It reminded me of a friend's story of her recent experience going to Lil Wayne's concert at the Nassau Coliseum in that the security check and a certain herbal odor that lingered on her clothes were, for her, among the markers of the pilgrimage just as much as any ticket stub or cell phone photo.
One of the threads that I see persisting in the production of music is the DIY aesthetic (as with the audiocassette or the zine, treated like relics or fetish objects in their own right), combined with interactivity via computer culture and accentuated by the subsequent fragmentation of the music landscape and the move from studio to home recordings. This has its parallel too in music videos' move from performance art (Diamanda Galas is certainly an eyeful) to MTV to YouTube.
A second thread is the ongoing conversation about appropriation, sampling, and remixing. Whether in theological thought (such as Sharon Welch's use of African-American women's literature in her ethics) or the many uses of a hook (such as the classic example of Kraftwerk's "Trans-Europe Express" forming part of the DNA inAfrika Bambataa's "Planet Rock"), when is the use of another's work legitimate borrowing to pay homage or to create something new vs. being outright theft? (Bonus: to carry this to the present, check out jazz pianist and 2010 MacArthur genius Jason Moran's deft + muscular cover of "Planet Rock".)
A third is about canon. I found myself wondering about who conceived of the exhibit. Barbara London has been a longtime curator of media and performance art at MoMA, so these works felt privileged in this exhibition. Very few would argue with the inclusion of A Tribe Called Quest or Laurie Anderson in the lineup. But if the aural had been given preference, what different music might have been chosen, and what different artworks might have instead been highlighted as classic, transitional, even pivotal or transformational?
When reading through the call for papers for the 2011 Annual Meeting of the American Academy of Religion, the largest and most encompassing scholarly society for the study of religions in and beyond North America, I noticed a new program unit that will be of interest to many R&T readers. It is called "Critical Approaches to Hip-Hop and Religion," and they are a new "consultation" in the AAR, which means they are an experimental entity meant to research an emerging or underrecognized area in scholarship on religion. For the Annual Meeting (which draws several thousand attendees, and this year will be meeting in conjunction with the Society of Biblical Literature, making for a pretty impressive crowd), this new consultation has chosen the theme "Salvation for Sale: Hip-Hop as Religious Commodity." You can read their call and the description of their program unit here. Its co-chairs are Professor Monica Miller of the University of Pennsylvania and Christopher Driscoll of Rice University.
The American Academy of Religion has other program units that regularly feature research on theology and popular music and culture across various musical and theological genres, among them the Music and Religion Consultation, and the Religion and Popular Culture Group. If you are able, make your way to the Annual Meeting this fall.
This gives me occasion to raise again the important cultural and religious question about how the boundaries and communities form around constellations of concept and practice like "rock" and "hip-hop." And to ask for your assistance in thinking about how we treat that in the Rock and Theology Project.
Those markers between rock and hip-hop are historical, unsteady, and saturated with the history of race in the United
Two months ago, Jay-Z was featured at the New York Public Library in conversation with philosopher (of religion) Cornel West and with Paul Holdengraeber of the NYPL. The entire interview can now be viewed in eight parts on YouTube. Here is the first part:
httpv://www.youtube.com/watch?v=mPWc5rVaneY
For what it's worth, I find the interviewers too ingratiating at many points, although Prof. West finds many gentle ways of raising some important questions about the religio-political dimensions of Jay-Z's music. And it seems that West can't quite get Jay-Z to subscribe to the black liberative theological tradition in the way West seems to want. Jay-Z seems too invested in honoring individuals' complicated lives and backgrounds, as he often puts it, and avoiding too much religious particularism. West is operating (it seems to me) in a venerable theological (and ancient philosophical) idiom of "epideictic," working from the presumption of the good intent of the interlocutor and continually circling back to the rhetoric of invitation and opportunity rather than condemnation or judgment. (This is the very rhetorical genre, as historian John O'Malley has argued, in which the Second Vatican Council in Roman Catholicism presented its teachings.)
I have followed rap and hip-hop only sidelong for many years; my ignorance about this genre is deep and wide. When we started the Rock and Theology Project, the intent was to focus primarily though not exclusively on rock musics and cultures — while leaving the very definitions of these open to negotiation. I had not thought very carefully about the racial dimension of the Project,
« Previous Page