Pages
Categories
Contributors
Recent Posts
Recent Comments
Recommended
Archives
September 2017
S
M
T
W
T
F
S
« Jan
1
2
3
4
5
6
7
8
9
10
11
12
13
14
15
16
17
18
19
20
21
22
23
24
25
26
27
28
29
30
One of the double edged graces of my life as a missionary is that of diving and delving into different cultures – that disconcerted sense of feeling the ground move beneath your feet: 'the way things are done around here' is not quite the same as where I am from, and yet not very different… especially when the language is the same! That the Spanish or the Italians see the world diversely  seems normal – language is a lens – but that Ireland and England be so very, very different, surprisingly (I know!), was a shock for me. The US was fun: we have a history of liking each other across family, friends and fights about English spelling.  And now that I am in Australia, forewarned that it would somehow be a cross between Ireland and the United States, here I am once again finding my feet, or rather learning to swim!
So I am looking out for keys of comprehension, and as I teach a course on "Signs of the Times", I try to lead students to listen for God (also) in and through music, in the hope of discovering something of Australia's sensibility as I do so.
My thoughts move in the following direction: sometimes I hit on a song that paints a culture, and in particular how they 'feel' , or otherwise, God, faith, Christianity (before and/or underlying how they think it).
One of the clearest expressions of English culture, for example, for me, has been this one: a song about a guy dealing with the death of his father, (more…)
Browsing iTunes Movies after a long day, looking for something interesting to watch, I came across a perplexing offering: A Band Called Death. It has just been released, screening in about 20 cities across the United States, and available to stream online (the Drafthouse Films website or  iTunes). Here is the promo paragraph:
Before Bad Brains, the Sex Pistols or even the Ramones, there was a band called Death.
Punk before punk existed, three teenage brothers in the early '70s formed a band in their spare bedroom, began playing a few local gigs and even pressed a single in the hopes of getting signed. But this was the era of Motown and emerging disco. Record companies found Death's music— and band name—too intimidating, and the group were never given a fair shot, disbanding before they even completed one album. Equal parts electrifying rockumentary and epic family love story, A Band Called Death chronicles the incredible fairy-tale journey of what happened almost three decades later, when a dusty 1974 demo tape made its way out of the attic and found an audience several generations younger. Playing music impossibly ahead of its time, Death is now being credited as the first black punk band (hell…the first punk band!), and are finally receiving their long overdue recognition as true rock pioneers.
The brothers-David, Bobby, and Dannis Hackney-were preachers kids, sons of a Baptist minister in Detroit. Because they were black and from Detroit, where record companies thought every band ought to sound like Motown, they never got a record deal. So their demo tape languished until finally being released in 2009 on the Drag City label. An excellent New York Times article, "Death was punk before punk was punk,"  also from 2009, chronicles their story.  Back in 1974 or so, the brothers made 500 copies of a demo single, "Politicians in my Eyes," which circulated in punk collector circles. Finally, though, it was Bobby's three sons who rediscovered what their father and uncles had done in music as truly the first great punk band, years before the Ramones first record (1976) and the Sex Pistols first record (1977). Not only were they the first, and excellent, they were deeply spiritual. Their name, Death, seemed nihilistic, but actually was chosen after their dad was killed in an accident, hit by a drunk driver. They chose the name Death to say something real about life, but also to say there is nothing to be afraid of because in Christ death is destroyed, it is no more. Neither life nor death nor anything in all creation can separate us from the love of God. This deep spirituality comes through in the story, complicating the perspective on punk, and on faith and rock music.
So the story is a punk story, a faith story, and a story about race in America. I'll have more to say about their story and their music, but for now, you must check this out. Here is their single, "Politicians in my Eyes."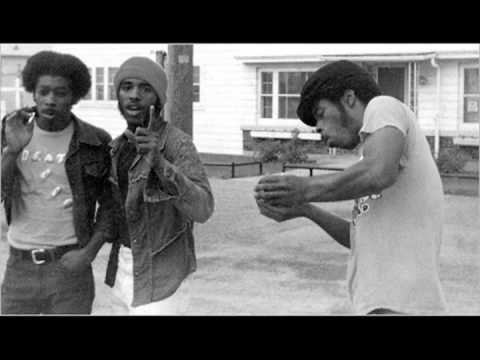 I am a fan of A Band Called Pain, the San Francisco Bay Area hard rock act. They are a spry, assertive, tight ensemble with a knack for writing memorable hooks while stomping confidently through the neighborhoods of rock-metal-pop badassery. They are also that rare contemporary art form, an African-American rock band. They are a band that, based on talent alone, deserves to be much better known than they are.
Here they are performing "Swallow":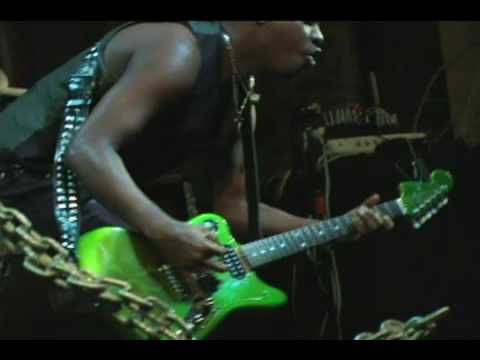 Recently, I watched their homemade "documentary" ("A Band Called Pain: Behind the Pain") and learned some more about the backgrounds of these excellent musicians. Given the racial divisions still operative in popular music, and the racist history of rock and roll, it is interesting to hear snippets of their stories about their interest in the genre. It is worth remembering that without that racist history, black rock bands (or multiracial bands) would be much more the norm today, instead of the exception. In the United States, anyway, rock and roll has never not been racially invested music, wittingly or unwittingly, even when it sets out to complicate or displace raciality (by which I mean the ongoing authority of race as a determining factor of identity) in popular music.
Part one of the documentary (viewer discretion advised) is here: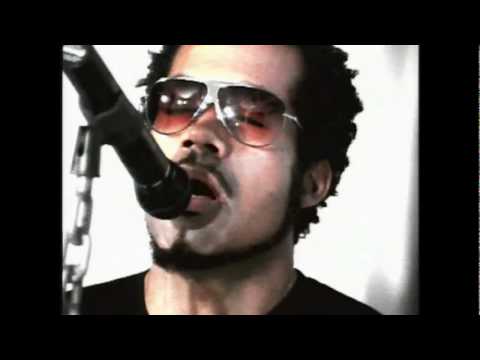 part two is here, part three is here, and part four is here.
Thinking about my experience as a white musician, in dialogue with these videos, I was aware of how rarely race has come up as an explicit factor in what I can and cannot do as a musician, compared to the members of A Band Called Pain. This is not, of course, because my own musicianship has not been steeped in racialized history and practices, but because I have had the benefit (and in a different way, the disadvantage) of not having had race called to my attention in creating, recording, distributing, and performing music. That said, neither rock and roll nor life are reducible to a few licks, to sound bites, and this documentary gives
I recently conducted a short email interview with Sheila Hardy, the producer of the forthcoming film,  "Nice and Rough," an exploration of the contributions of black women to rock and roll. (Visit the website if you are interested in learning more about her project, or would like to contribute to its completion.)
httpv://www.youtube.com/watch?v=WKr7ESILHQQ
Beaudoin: How did you get interested in this project?
Hardy: Next to the amazingly complex and wild women, and their powerful music, the biggest thing that interests me about this project is the fact that this history is little known.  I am a champion of the untold story.  And this is an aspect of music history that has yet to be examined and shared.
B: What are you finding about religion and/or spirituality through your work on "Nice and Rough"?
R&T author David Dault has raised the interesting thread of "poaching" in this space (begins here). David originally brought up the idea of covers of songs, and debate ensued about if that was quite the right use of Michel de Certeau's study of the everyday practices of consumers and of 'poaching' as one of the tactics employed by the users of culture. This gives me an interesting theoretical space within which to raise some questions I've been mulling on since my Christmas post on John Fahey. What I'm wondering about, and I'm not sure de Certeau's practice of 'poaching' fully helps us with, is white privilege and blues thievery.
This is the beginning of a new direction of writing for me, and it emerges from the claim that I think white men (like me) need to stop writing about the blues. Starting with Paul Oliver's Blues Fell This Morning and extending through Robert Palmer's Deep Blues to Elijah Wald's Short History of the Blues, far too much writing on the blues has been done by white men. There are some important exceptions, including James Cone's The Spirituals and The Blues and Angela Davis' Blues Legacies and Black Feminism. More can be done by black scholars, and should be. What white scholars haven't done, but desperately need to, is to write about white privilege and rock's thievery of the blues. As young men, scholars such as Oliver and Palmer, and bands like the Yardbirds, engaged in something like 'poaching'. That is, they took a cultural product and adapted it for their own pleasure and use, but in ways somewhat different from its public shape (either rooted in the public culture of the Delta or in the fraught public culture of the 'race records' like Paramount and so on). But they quickly and too often without attribution created their own massively popular products based on their poaching, becoming (one must say it) not only rich but divine as a result (Zeppelin and Jimmy Page particularly served as the template for the 'Rock God').
I have recently written in this space about my 'discovery' of the incredible guitar virtuoso John Fahey, typically referred to as a master of the "American Primitive" genre. I think I hate that term because of the inevitable condescension built into it (it is borrowed from the art world's use of "primitive painting" to describe those artists who do not have 'formal' training). I don't know what Fahey would have thought of that title. I prefer to think of him as deeply rooted in the blues, rooted so that he never really lost the threads of how they taught him to play the blues, never completely got out from under their mastery, nor really wanted to.  At least I hope that is so, because as I learn more about the complicated and largely exploitative relationship of white musicians to the blues musicians in the 1950s and 1960s, I find Fahey to have been one of the few who sought to maintain some integrity to his obvious debt his African-American teachers.  These included Skip James and Bukka White, personally, but more profoundly, from a distance, Charlie Patton whom Fahey studied for his thesis in UCLA's Folklore program.  Fahey's study of Patton remains the definitive study of the King of the Delta Blues, including transcriptions not only of all Patton's lyrics, but his unique tunings and most of the music as well.
An interesting case study for opening up the question of poaching in relation to the issue of white privilege and blues thievery is the blues song "Jesus Makeup My Dyin' Bed." The song's origins are unclear, but the first recording of the song was in 1927 by Blind Willie Johnson. Two years later, the famous Charlie Patton recorded a version of the song as "Jesus is a Dying-Bed Maker." Joshua White, whose own blues story is incredible, recorded two versions: in the twenties he recorded "He's a Dying Bed Maker (Jesus Gonna Make Up My Dying Bed) but in the thirties he recorded another version called "In My Time of Dying."
Here is a potential theological ally for Rock and Theology: In Marginality: The Key to Multicultural Theology (Fortress, 1995), theologian Jung Young Lee proposed a few different ways to think about the relationship between the "marginal" (Asian/"colored") and the "majority" (American/"white") dual identity of Asian-Americans: as "in-between," "in-both," and "in-beyond."
An "in-between" identity is one in which Asian-Americans and other persons and communities identified as non-majority – and/as non-white – are marginalized overtly or covertly by not being able to find a place of identity from which to relate to self and others, and especially to the racial norm, in a racist society.
While this construal was common in theological literature since the Second World War, Jung Young Lee argues that it shares space in recent work with the picture of the "in-both" identity. Here, an attempt is made to go beyond a strongly negative reading of racial impossibility that keeps "minorities" confined to "majority" categories for showing up socially, and toward a creative habitation across differences that works more with the agency of non-normative persons and communities. "In-both" means experiencing oneself, and presenting oneself to others, as both culturally particular (Asian-American) and as part of the identity signaled by a social matrix beyond one's particularity (here, "American" – where "America" for JYL does not mean Caucasian or any single racial-ethnic particularity, but a pluralistic and democratic project in process).
While there are good reasons to affirm both possibilities for (and realities of) identity among marginalized persons and communities, JYL posits a third construal: identity "in-beyond." This is the paradoxical experience of being both "in-between" and "in-both." One does not leave marginality, rather "one becomes a new marginal person who overcomes marginality without ceasing to be a marginal person" (p. 62). One lives in both realms "without being bound by either of them." (p. 63) Jesus becomes the exemplar of new marginality, and for Christians the par excellence of living in multiple worlds without being captured or exhausted by them. Jesus' own consent to his distance from the majority cultures of his day enabled him to use his marginality creatively in service of his call.
One thing I appreciate about JYL's argument is its attention to form as a theological content.
What are some new ways to help break the riches of academic theological conversation out of the confines of the academy? A few weeks ago, I attended an event that got me thinking about the possibilities. It was a reception at a hair salon for a new book by one of the founders of Black Theology. The event, at Hair Rules on the West Side of Manhattan, was to celebrate the publication of The Cross and the Lynching Tree (Orbis, 2011) by renowned theologian Professor James Cone.
This book, which I am just underway reading, promises a sobering and searching analysis of the relationship between the cross of Jesus' crucifixion and the lynching trees on which African Americans were hanged by whites in the United States from the late 19th century through the 1960s. This is a hard and harrowing story of Roman colonial terrorism in antiquity, and of white/American terrorism that took place, indeed, within the lifetime and memory of many who are alive today. There is video of an excellent interview and conversation here between Prof. Cornel West (Princeton) and Prof. Cone that took place at the Annual Meeting of the American Academy of Religion in 2009, and the discussion eventually comes around to Cone's new book.
Holding this event at a hair salon, a traditional site of African American community, and moreover, at the interracial hair salon that Hair Rules is, created the occasion for friends of the salon to come and socialize under the sign of an important theological work.
The event was co-organized by celebrated hair shaman Anthony Dickey, the owner of Hair Rules, and the renowned actress and performance artist Anna Deavere Smith. Dozens of copies of The Cross and the Lynching Tree were purchased for all who attended. It was memorable to see Union Theological Seminary President Serene Jones addressing dozens of people in the salon who presumably are not usually involved with academic theology.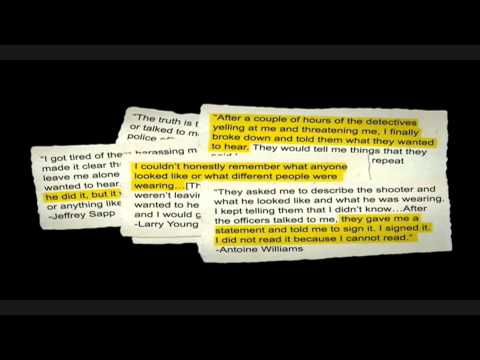 As we reflect on the past ten years and what 9/11 has done to our countries culture, I wanted to post a great video here from a colleague and true Hip Hop scholar, Dr. Mark Anthony Neal. His series Left Of Black, tackles issues from both a practical and scholarly point of view. I wanted to share this clip with you all here and have you listen to where we're at as a country ten years later. It is interesting to note how Hip Hop and rap have continued to be a voice in these times—albeit on the underground.
This episode aired earlier this year—and the new season of Left Of Black is starting now, but I wanted to post this as I think it captures the racial, class, and gender element so often not heard in both mainstream media and particularly mainstream rap music.
Enjoy, and let's hope the next 10 years are much better than the last! (Check out the rap "What if The Tea Party were Black?")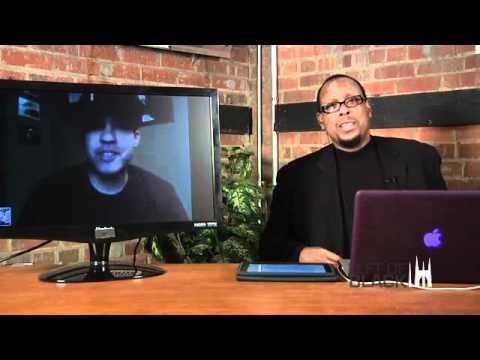 On the heels of Tom Beaudoin's post on Paul Simon and God, I decided to finish a draft of a brief post that I started a while ago on Simon's 1986 album Graceland.
When that album was released (25 years ago!), I was too young to be aware of the politics and controversy surrounding it. But it's one of those albums that was a prominent part of my life soundtrack for many years and it remains one of my favorite albums of all time. Over the years, though, I have become aware of the multiple issues surrounding the phenomenon of that album. In fact, Graceland came to mind when I read a quote from Randall Dunn of the band Master Musicians Of Bukkake that a friend passed along on Facebook:
What can happen with a lot of these 'world music' bands is that they think they're above looking at themselves as colonial appropriators, vultures, you know? So I always jest and call our music 'post-colonialcore', and I've always wanted that to stick. Or 'No-Age'. So we always try to keep ourselves in check on that, and the name always helps every time we feel like we're doing something beyond our actual cultural background. It keeps us grounded – 'Oh yeah, that's right, we're from Seattle…'
I recently came across a lengthy blog post from activist and researcher Ethan Zuckerman that narrates the fascinating history of Graceland, touching on everything from its release within the context of 1980s superstar benefit projects ("We Are The World," Farm Aid, Artists United Against Apartheid, etc.), charges of musical colonialism and the exploitation of particular musicians (e.g. Los Lobos), the politics of international live tours, and the possibility of authentic cross cultural musical experience.
Zuckerman's view of Graceland is ultimately a positive one, an example of "xenophilia" in which Simon simply used connections that he had to forge musical friendships with African musicians to produce a document of cross cultural musical encounter. I tend to read Graceland along those lines as well, but recognize the complexity of the issues involved, particularly when we move beyond questions of the artist's intentions and into the realm of audience reception and use of musical "texts."
How do Rock and Theology readers understand Simon's Graceland? And what might these debates in the world of popular music have to say to those of us engaged in various forms of intercultural theology? (Can any of us anymore dare suggest that we do not do intercultural theology?)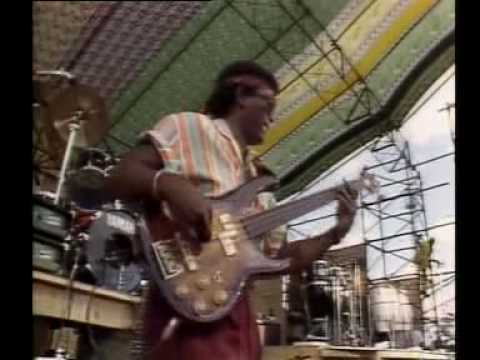 Michael Iafrate
Parkersburg, West Virginia
USA
Next Page »