Pages
Categories
Contributors
Recent Posts
Recent Comments
Recommended
Archives
September 2017
S
M
T
W
T
F
S
« Jan
1
2
3
4
5
6
7
8
9
10
11
12
13
14
15
16
17
18
19
20
21
22
23
24
25
26
27
28
29
30
Tonight I read music critic Jon Pareles' report in today's print edition of the New York Times about the celebration/memorial of Lou Reed's life on Monday at the Apollo in Manhattan.
The evening featured samples of many genres of Mr. Reed's work, testimonies from friends, experiences of tai chi, reminders of Tibetan Buddhist teachings, and appreciations for how ruin can become glory.
Religion, love, outsider ethics, bodily askesis. These are essential elements of rock and roll. It is fitting that they show up at a service dedicated to taking the measure of a rock artist's life. You cannot unmake the spiritual dare that rock and roll has always promised to afford. It is a dare to which Mr. Reed continually consented. It is almost too much to read that Mr. Reed's spouse, the artist Laurie Anderson, shared that Mr. Reed's final words were: "Take me out into the light!"
Here is rough video of Ms. Anderson talking about Mr. Reed on Monday night:
Tommy Beaudoin, Hastings-on-Hudson, New York
Last week, I visited the exhibit titled "The Universe Within" at Tibet House in lower Manhattan. The exhibit consists of many paintings by Nepalese artist Govinda Sah "Azad", whose website is here.
What do I know from painting? Very little. But this exhibit reached me gravitationally. Many of the recent, more abstract paintings are given titles — like "Hope," "Rising Truth," "Tracing Truth," "Salvation," "Apocalypse," and even the guileless-sounding "Never Give Up" — that evoke religious, spiritual, philosophical, theological feelings and thoughts. Each one seemed to summon me into a substantial weightlessness, pulled outward into the cosmos and inward into consciousness. Many of the paintings were like starbursts and dreams all at once. Through soundings of shapes that evoke cloudforms and nebulae in gentle yet dynamic powers of contrasting forces, I wondered where they lived, after all: inside or outside of me? As if the painting invited a galaxizing of inner experience. Or in the words of the exhibit: "The Universe Within."
You can see pictures of some of these paintings here and here, but they only hint at the actual artworks, which are geographies of uneven elevations, like topographical maps, and painted on a variety of textured "canvases", including some that look like small tightly woven ropes.
Here is a video of the exhibit: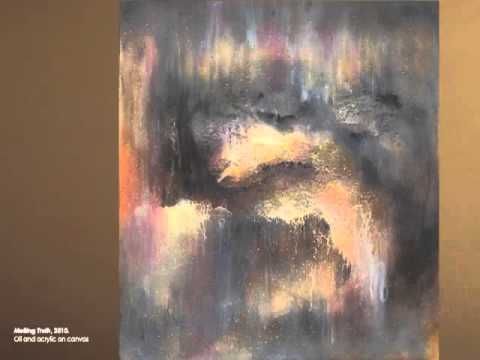 Govinda Sah "Azad" is quoted accordingly in the exhibit: "My imagination is exploring alternate realms outside of me that somehow seem hidden just beneath the surface within me. Painting becomes this continual process of losing myself." This reminds me of the theme of dispossession with which I have been working for the last several years, and puts it in a new frame. With regard to myself and my students, I wondered how our spiritual convictions might deepen and change if we had to express them in colors. Or if we had to explain our spiritual acts and knowledge with respect to paintings. It seemed like a whole other order of theological experience was, in this exhibit, on offer.
Tommy Beaudoin, in flight between Washington DC and Omaha, Nebraska
When I wrote Virtual Faith: The Irreverent Spiritual Quest of Generation X in 1998, one of the reviews (thankfully not this classic two-word review) pointed out that I had given theological commentary on the music of the band Nirvana but had never attempted to explore the meaning of the band's name itself. That was quite right, and that observation, among many other experiences, eventually gave me the impetus to try to enter into "different" and "other" religious experiences, texts, traditions, such that I would describe my theological work on popular culture and on other topics as increasingly a philosophy of religious/spiritual practice that is interreligiously and intersecularly informed.
But the journey out of reliance on a "single" religious tradition, learning to see the world multilingually/multireligiously, can be a complicated one. That is why I was interested to read recently about the "Esplanade of Religions" in France. What might it be like if religious/spiritual/theological sense-making of music were to be incubated in such an esplanade — whatever form that might take in different cultural contexts? I think that is the direction that further research in music and religion will — and must — go.
Back to Nirvana. I confess that I wasn't thinking too much of Buddhism when I studied Nirvana in the 1990s, especially because of videos like this: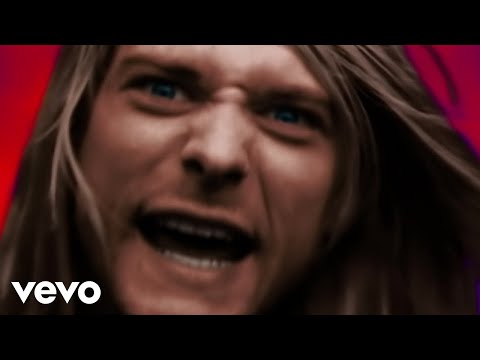 Tommy Beaudoin, New York City
There was a fairly long moment (as pop culture moments go) in the mid-1990s that — across a good number of musical-cultural differences — Alanis Morissette was "cool." I learned about her music through hearing her song "You Oughta Know" everywhere, seeing the video on MTV multiple times,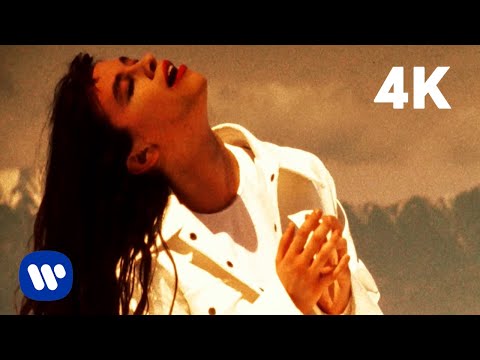 and purchasing her Jagged Little Pill CD at a CD store near The Tasty in Harvard Square (Cambridge, MA) and playing it constantly. I thought that every song on that record was a beautifully crafted work of pop revelation. As I listened to her interviews, I sometimes disagreed with the way that I thought she melted "new age" psychology into religion, but I also respected and was intrigued by the earnest and searching quality of her attempts to put the pieces of her life, faith, belief together… and to risk that searching in public.
By the late 1990s, the zeitgeist had moved on to other artists, but like hundreds of thousands of other fans, I continued to follow her music and, when I could, her life and interviews. I frequently found songs that invited me into reflective states occasioned by a reflective, regretful, celebratory, or uncertain lyric. Not all her music of the 2000s caught my attention; I wished she had kept the rock aesthetic and bombast that drove "You Oughta Know" and what I considered some of her other strong songs, like "21 Things I Want in a Lover," "Uninvited," or "Baba."
I have noticed that Morissette describes herself Holy mother of God!! Have you seen her perform "Baba" live? Check out this performance from a decade ago that opens with scenes of her backstage with her band:
Morissette has described herself as "post-Catholic." She has talked about her transformative travels to India. She speaks openly about the Dalai Lama, and acknowledges her interest in Buddhism, Christianity, and other religions, as well as the debt she owes to her Catholic upbringing for how she is moved by the excellences of ritual. She speaks frequently about therapy and healing (more…)
Adam Yauch of the Beastie Boys died this year. Here is Alex Pappademas' memorial essay in the New York Times Magazine, including a brief discussion of Yauch's turn to Buddhism.
Pappademas suggests that Yauch's early commitment to exploring "spirituality and impermanence" pushed the band to grow. And in the scope of his spiritual venturing, "it was Adam Yauch… who grew up the most."
Here is a tribute on YouTube that a fan, PinkyGhost723, put together in Yauch's memory: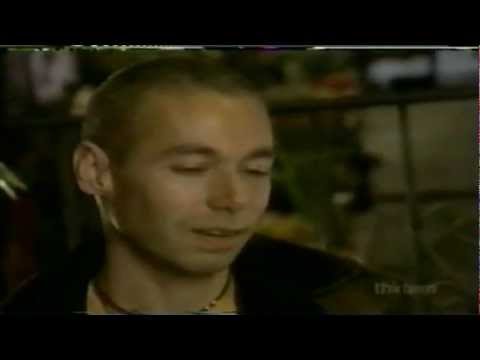 Tommy Beaudoin, Hastings-on-Hudson, New York
Adam Yauch, also known as MCA of The Beastie Boys, died on 4 May. Jon Pareles' obituary in the New York Times is here, and C.J. Hughes' NYT report from the Lower East Side and East Village of Manhattan about mourning Yauch on the streets is here. Oliver Wang at NPR has a thoughtful piece on Yauch here.
I first listened to the Beastie Boys around 1986 or so, when a high school friend played his Licensed to Ill cassette over and over, and our group of Risk-playing ne'er-do-wells quickly memorized the whole album. Thus began the peppering of everyday speech with Beastie Boys lyrics, many decanted from the mouth of Yauch, whose scratchy throat always made him sound like the scruffiest of the three. Well into the 90s, part of the bond I had with that group of men from high school had to do with the ability to drop Beastie lyrics into ordinary scenarios like ordering fast food at the drive-through, playing basketball, or competing in video games.
Yauch and the other Beastie Boys, just a few years older than me and my friends, seemed to grow through their 20s, 30s, and 40s in ways that kept making sense, while never letting go of their adolescent insouciance. Licensed to Ill is a ready-made soundtrack for a punk rock frat party – or suburban fantasies of same. But Yauch was instrumental in shaping the band's later lyrical maturity and public presence in the direction of political and spiritual engagement. Yauch took up Buddhism, and penned a song for the Beastie Boys, "Bodhisattva Vow." Here are the lyrics (courtesy of lyricsdepot.com, with some of my editing):
While this is not directly on the topic of theology and music, at R&T we also deal with larger issues of religion and culture, and this one certainly qualifies:
I have been participating in Occupy Wall Street since 30 September (my first post about it is here), and was most recently on site at Zuccotti Park in lower Manhattan on Friday the 14th. (My post imagining Occupy Wall Street being applied to the Catholic Church is here, picked up by the Chronicle of Higher Education blog here.)
Among other fundamentally irreversible influences in my life, it was my Catholic upbringing, Catholic religious education, and Catholic graduate studies at Harvard Divinity School and at Boston College, that laid the spiritual and intellectual groundwork for me to be able to recognize, in Occupy Wall Street, a possible shared work of corporal and spiritual mercy, a potential place for practicing solidarity, and a plausible habitat for more deeply and experientially learning and living love's public name: justice.
httpv://www.youtube.com/watch?v=RGRXCgMdz9A
(A word about the video above: while it is intended to make a point about the connection between democratic struggle in the Occupy movement and the Arab Spring, I am uncomfortable with its selective presentation of police officers; I think it is crucial for the Occupy movement not to presume that all police are enforcers of repressive state policies or personally hostile to the movement. I hope the Occupy movement can start from an engagement with police officers that appeals to them as fellow working men and women, most of them with middle class and working class families. The Occupy movement therefore shares an interest in changing the political scene to improve their lives as well.)
Because of this Catholic background, I am drawn in particular to the practices and rituals that help those of us at Occupy Wall Street to appreciate and to try to act on reality. These actions and performances bear the movement's theologies or spiritualities as much as any explicit statement on the part of any single person about what they do or do not believe.
There are lots of practices and rituals to notice on site: serving meals, standing with a placard, drumming, dancing, silk-screening shirts, browsing literature, listening, meandering, and many more. But I have tried to pay special attention to the Sacred Space area in Zuccotti Park that emerged soon after the occupation began. (I am not sure exactly when, or by whom, though I would like to find out.) (For some initial pictures, see here.)
Recently, the Sacred Space area has changed its shape a little bit, but it is still a place for a hodgepodge of symbols left by protesters, a place for people to think, meditate, pray, wonder, and talk, and only the most recent example of how Americans hold their religious pluralism and relate it to their political commitments. Theologically, there are many reasons to take this space seriously and with critical curiosity: the relationship between religious/spiritual imagination and political imagination is of interest not only to Christianity but to conceivably all religious and spiritual movements today. One of the basic theological questions is how a relationship to God, "God," or some other ultimate name or reality bears on how one lives and the choices one makes. Theological questions are present moment to moment in Occupy Wall Street.
What follows are my pictures from Friday, with brief captions/commentary. Please, if you are sympathetic to this movement, consider helping Occupy Wall Street or any of the apparently now more than 1000 "Occupy" movements around the world. (If you cannot see the pictures, click the "more" tab below to see them.)
Tommy Beaudoin, Hastings-on-Hudson, New York
Music critic Ben Ratliff appreciated the metal band Salome in a recent New York Times feature that seemed written especially for Rock and Theology readers. His profile focused on how the lead singer, Kat, experiences the music as a meditative descent into and ascent from emotion, in a way that makes one "closer to God." Specific mention is made of her singing and her lyrics as ways of performing this religious ritual of sorts, which Kat associates with yoga and with Buddhist dissolution of ego. It seems that metal and religious practice make a way of life for her: Kat "teaches yoga and takes physical therapy courses at a community college. She doesn't drink or smoke. She doesn't sing more than six songs in a row — about an hour, max. She says she thinks of her singing as part of her spiritual practice, though she is reluctant to talk about it."
If we think of theology as CHECK THIS OUT:
httpv://www.youtube.com/watch?v=Qdw_AMaLBuM
(After you have recovered from that, continue reading:)
Ratliff's article and Kat's theology are terrific examples of the complex ways that religiousness, or theological material, shows up in rock culture, without falling into simplistic binaries of religious or nonreligious rock. In Ratliff's fine phrasing, "The best metal of any kind feels like it comes from below and wants to pull you down there."
Tom Beaudoin
Atlanta, Georgia