Pages
Categories
Contributors
Recent Posts
Recent Comments
Recommended
Archives
When my nieces introduced me to The Script, I will admit that the title of the first CD I tried out grabbed me: "Faith and Science" – hardly surprising for someone who was theologically trained in fundamental theology and theological aesthetics. In truth, there is only one song that develops that theme – the 4th track of the same title. Although it could be fruitfully brought into dialogue with PierAngelo Sequeri's theology of faith and trust (and perhaps I will in a future post), it is not the only one I like.
I admit it: I'm hooked. I love their music. From the first guitar riff of the first song "You won't feel a thing":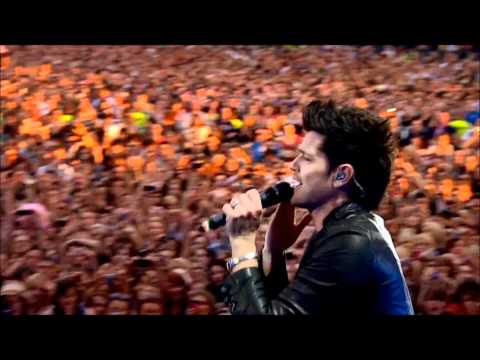 my bad days are interrupted and touched by something my body recognizes and moves to, inside and out. So in the next blog or two I am gonna reflect a little bit about what and why that is. They're Irish (Dubliners even
) – but I will declare with complete honesty that I only found that out after I started investigating them. But of course it only endears me further. There is always gonna be that fascinating, albeit paradoxical, pull to and rejection of the mystical side of life that is such a part of my nation in 'recent times', and that I recognize.
What they say about themselves is interesting, and again has to do with what making-music implies, as much as, or as a means
Here's the link to a recent, excellent video conversation with Bruce Springsteen. He talks about his new CD Wrecking Ball, songwriting, social justice issues, and the loss of saxophonist Clarence Clemons. In the middle of the interview he briefly discusses how Catholicism has influenced his music.
"Bruce Springsteen and the Song of the Working Man"
Mary McDonough
We lost one of the greats when Donna Summer passed away. I grew up on her music. The news of her death came as a shock. Summer was young. Barely in her sixties. A life cut off way too short.
Summer had a finger print styled voice. Arguable one of her best albums was her self titled album Donna Summer (1982) when she teamed up with producing king Quincy Jones to construct an album that flirted with an existential humanity within every song. Summer begins the album discussing her modus: love is in control. Focused chiefly on relationships, love, broken hearts, and the struggle between faith and reality. Summer fused the legendary pop sound of a DX-7 into the heart of the album.
Summer even lets us know that there is a "mystery" to love with James Ingram. Love is not exactly a science and that within this almost mythological state, mistakes can be made, but in the end, "love wins." The orchestra background supports the strong duet that Ingram and Summer have.
Summer even pays tribute to nationalism with State Of Independence and Livin' In America. Her ethos here is that "everyone can make it" and that you will eventually—albeit a difficult road—"live the American dream" if you persist and push through certain hard times—which, by her next few songs Protection and (If It" Hurts Just A Little will surely come.
What Summer did in this album was lay out a type of existential estrangement between love and hate; pain and peace; the ideal life and the reality of what life is. As I listened to this album as a child, I remember not necessarily understanding what Summer meant in her lyrics regarding pain and love. I was confused for lack of experience on the subject matter. As I matured, I quickly learned and saw these connections in my relationships which did not always go the way I had hoped—especially with the
I was reading a review of the latest musical offering from Machine Head, a 90′s-era heavy metal band that has been a critics' favorite for many years .  The review discussed their latest (seventh) disc called "Unto the Locust."  Commenting on how heavy this album is, the reviewer mentioned that frontman Rob Flynn sings one song in Latin!
Latin lyrics are not uncommon in some styles of heavy metal.  One other example that occurs to me can be found at the beginning of the Queensryche song "Suite Sister Mary" from their prog-metal epic "Operation Mindcrime," where it sounds like a Gregorian choir is chanting in a monastery.
I am intrigued by metal bands integrating Latin phrases into their songs.  What is the attraction?  When did Latin become so bad ass?!
As Tom sang in Black Market Baby (1999), "There's no prayer like desire," and I certainly desired something more than "safe music" in my early 30s. But I was probably too much of a coward to look beyond my steady diet of singer-songwriters such as Jackson Browne and Bruce Cockburn. As with providence, it's not what we seek that matters so much as what finds us. In the case of Tom Waits, it was as if I had wrestled with an angel and had my hip dislocated in all the right ways. Frankly, I had no idea what was about to hit me. I was over at the home of my then-girlfriend (now wife) when she put Bone Machine on the CD player and I heard—no, I experienced—the opening track. It was Earth Died Screaming, with all its redemptive horror, like an "audio stigmata," or like falling face-first into Flannery O'Connor's Wise Blood. While Earth Died Screaming is a song for the end of the world—"What does it matter, a dream of love or a dream of lies / We're all going to be in the same place when we die"—Jesus Gonna Be Here is a song of sorrowful hope beyond hope amidst a miserable world:
Well, Jesus gonna be here
He gonna be here soon, yeah
He gonna cover us up with leaves
With a blanket from the moon, yeah
With a promise and a vow
And a lullaby for my brow
Jesus gonna be here
He gonna be here soon, yeah.
The song has the whiskey-stained tremor of a preacher pushed beyond reason—maybe beyond theology—akin to the Psalms of Asaph like Psalm 73. There is sorrow, there is cynicism; but there is also hope, like flowers in the dirt. (more…)
"I guess we're all one phone call from our knees."
Mat Kearney, "Closer to Love"
One of the reasons I dig the song "Holy" from A Band Called Pain is its theological fireworkiness without being pedantic or predictable. And also that its psychagogic properties are directly proportional to the volume at which the tune is cranked.
The song seems to speak many wishes at once, and all of them are theological materials. It sings for a healing that uses religious language ("take me to the river"), but who is the addressee? God, a lover, drugs or alcohol, the "midnight sky"? Listen to the verses and imagine different personae there.
Then at the bridge there is the meditative chant, "I don't wanna meet your maker," which only thickens the complexity of the address: is that chant a fear of death, evil — or God?
Through it all recurs the cry to "Make me holy / Teach me, show me."
I do — and I don't — "wanna meet your maker," the song seems to say.
Fear and love of What May Lie Beyond (or, "God") is strangely and surprisingly symmetrical to fear and love of What Is Right Here (or, "World").
This is the kind of palimpsest-style writing that has kept me in both rock and theology for so many years. Such multiple significations, that splay out ways of holding and redirecting our deep experiences of life, are theological acts. For me, it helps that A Band Called Pain delivers its theology with the dramatic pulse and thwam of hard rock, but we each have our own tolerance for how we like to read, hear, and feel such palimpsests in theology and music.
Tommy Beaudoin, Hastings-on-Hudson, New York
Even though the song began as graffiti on the apartment wall by Bikini Kill's Kathleen Hanna after a double date with Dave Grohl, Kurt Cobain, and the "over-bored and self-assured" Tobi Vail, who wore Teen Spirit perfume, Cobain said that Smells Like Teen Spirit was ultimately an attack on the apathy of his generation in the 1990s. As I point out in my book Your Neighbor's Hymnal: what popular music teaches us about faith, hope and love, Cobain admitted in interviews that the grand irony is that this great anthem of the grunge movement was musically structured as a '70s pop-rock song—the guitar riffs are taken directly from Boston's More Than A Feeling. Set to a standard power four chord progression in Fm, Cobain's theological genius lies musically in never settling on a major or minor resolve, pushing the standard power chord riffs through with a layering of suspended open chords.  Like listening to someone practice the scales on a piano and never resolving to the last note, Cobain's now classic "chunk, chunk… chunka chunka, chunk chunk" opening backed by Krist Novoselic's bass runs and Dave Grohl's frantic attack of the drum kit opens the world, clears out distraction, yet never completely answers the pain and anguish it pointedly and passionately identifies. This is many ways was the tragic genius of Kurt Cobain:  the simple fact that he spoke such truth loudly and yet, rather than embracing hope, chose to freefall into an all-too- honest despair that many don't have the courage to admit lies growling like a caged animal in the pit of many a soul. His now infamous suicide note stutters with concern:
The fact is I can't fool you. Any one of you. It simply isn't fair to you or me. The worst crime I can think of would be to put people off by faking it and pretending as if I'm having 100 % fun. Sometimes I feel as if I should have a punch-in time clock before I walk out on stage. I've tried everything within my power to appreciate it, and I do. God, believe me I do but it's not enough.
As the band's name itself attested, Nirvana strove for authenticity in a world of corporate bands that were more concerned with product placement and being the "emo" soundtrack for new Audis. But even for the idealist Cobain, entering the mainstream fray  – that of big money, huge exposure, massive stadiums filled with would-be disciples in fifty-dollar t-shirts with his picture on them, chanting the lyrics he wrote under a bridge in Aberdeen, Washington, when he was kicked out of his house—inevitably meant an Icarus-like rise and fall. This should not be such a surprise. Waking up each morning and facing both the shadowy reminder of the ideals you professed and the stark reality of what you have become would be dissonance enough for anyone. But as with the myth of Icarus, the higher the flight on waxen wings, the greater the fall.
I am sad that Kurt Cobain's life and death has become so iconic as to verge on cliché; it not only cheapens the tragedy but removes some of the responsibility we as fans have for the life and death of those we venerate through our iPod downloads and t-shirt choices. I am reminded that as Icarus began his naïve ascent toward the sun, his father Daedalus screamed for his return to the earth, that his life made sense with his feet on the ground, that he was created for the earth and not for the air. As Kurt closed his suicide
David Samuels wrote an interesting essay last May for Harper's Magazine, titled "Underachievers Please Try Harder," about his experience of indie rock during an "All Tomorrow's Parties" festival in England in December 2010. I have been thinking about some passages from Samuels' essay, because they register so well some larger currents in the rock/theology interplay.
Like many today, Samuels takes important cues for his everyday life from popular music. "My own experience of the world," he writes, "has been shaped as much by pop music as it has by people, a fact that I recognize without understanding what it means or where it will lead me. The fact that pop songs don't have plots the way movies and novels do is a source of drift and disquiet in my life, as I suspect it is in the lives of other people who love rock music at the expense of more traditional art forms. I pay close attention to the lives of the artists who have made it into their forties while singing about longing and doubt, and who have replaced the youthful promise of transcendence with the consolations of pop craft."
Ok, wait. It is not clear to me why the latter is a "replacement." Is transcendence edgier and craft more settled? Today I taught a class on Protestant theologian and philosopher Friedrich Schleiermacher's (1768-1834) understanding of practical theology. He argues that practical theology (in contrast to historical theology and philosophical theology) is the theological domain that develops "techniques" or "rules of art" for pastoral practice, drawing on the insights of philosophical and historical theologies with reference to contemporary concerns that emerge in church life. Schleiermacher is not alone in arguing that "craft," or wise practice, or theological savoir-faire, is not an add-on to the "yes" to transcendence but can indeed facilitate that "yes." When in the presence of one who really knows how to deliver a sermon, offer counsel, or teach, we really can be taken to a new, sometimes even permanently new, place, whether alone or together. I might add that craft can be its own transcendence — one "toward" or "within" history and materiality rather than itching to escape it.
Anyway.
In "Underachievers," Samuels displays sensitivity to the way that (ambiguously) sexual imagery in
The news that REM has decided to conclude their life as a band is a pretty big deal for anyone who has paid any attention to pop and alternative rock over the past three decades. A remarkable creative force in contemporary music has gone silent.
This news had me thinking today about my favorite REM songs. Among them are "You Are the Everything," and its pleasure for me is thoroughly theological (which, please know, means among other things: soundly material, or sounding the material for its now consoling, now uncanny "more").
"You Are the Everything" has, ever since I first played it again and again on cassette in late 1988, letting its plaints ply my brain, through the headphones, with reverie about "the all" present in "the particular," or, let's get more specific, "the Everything," present in "she" who "is so beautiful" — this song has been one important artifact in my thinking about feeling the specifics of my ordinary life and loves ("this kitchen," "the back seat," "the stars") as potential doors to a gracious infinity. "Here's the scene," Stipe sings. Could it be, could it really be, "here's the scene"? Can this really be said of that in which "the everything" is present? Well, I'll take more of that, please.
Tommy Beaudoin, Hastings-on-Hudson, New York
« Previous Page
—
Next Page »