Pages
Categories
Contributors
Recent Posts
Recent Comments
Recommended
Archives
September 2017
S
M
T
W
T
F
S
« Jan
1
2
3
4
5
6
7
8
9
10
11
12
13
14
15
16
17
18
19
20
21
22
23
24
25
26
27
28
29
30
Here is Marc Ford (wiki, website), the highly respected guitarist and former member of the Black Crowes, talking about his spiritual journey. (Thanks to AS for the link+inspiration.) We have an evident intersection of rock and theology in his testimony: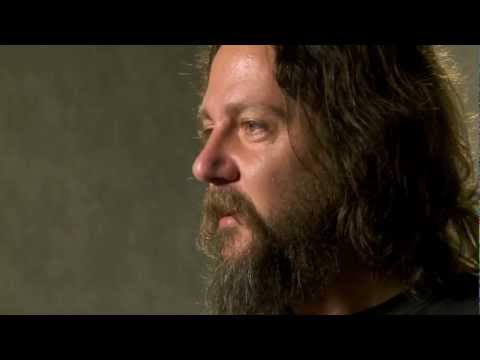 Being only vaguely familiar with Mr. Ford's accomplished and turbulent background, but a fan of the Black Crowes, I watched this video with interest. It evoked two responses in me: wanting to know more about how his faith has helped save his life; and wondering how for him, as for most of us, he comes to the understanding of divinity that he needs to pull through the chaos.
Here is footage of Mr. Ford playing with the Crowes…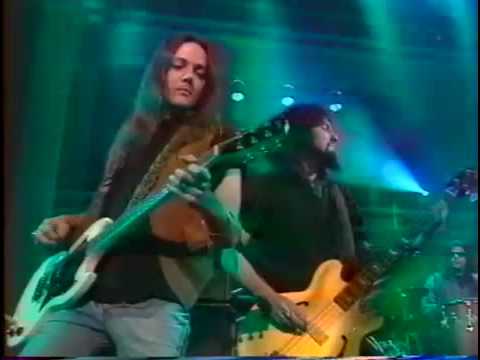 Tommy Beaudoin, Hastings-on-Hudson, New York
I recently saw Brian Wilson and Jeff Beck perform at the Fox Theater in Detroit.  Yes, an odd pairing of musicians!  Each did a one-hour set with their respective bands and then played a few songs together.  Wilson, seated at the grand piano,  presented the more "catchy" pop tunes, but Beck is clearly the master musician–what a shredder on the guitar!  Except for a cover of Hendrix's "Little Wing" I did not know any of the instrumental tunes that Beck and his accomplished band performed.  During one song, as Beck and his band were slowly building a wall of sound, the screen behind them flashed a beautiful picture of stories-tall stained glass windows with light rushing through.  As the picture came into focus, the song shifted from building tension to a sweet release.  The stained glass colors reminded me of windows I have seen in gothic churches–brilliant cobalt blue, fiery red, shades of green and bright yellow.  It was a very intense visual and auditory combination.
I reflected on the use of stained glass imagery during a rock show.  What purpose does stained glass serve in a church that would translate to a rock venue?  I do not know what Beck was hoping to achieve through the image, but it did invite me pause and reflect after the show.  First I thought of something I had read in a church history book about stained glass being used as a catechesis tool, especially for those who were too young to read or illiterate.  Stained glass was used to tell a story through its multiple panels–the great feats of the saints, the gospel accounts of Jesus, or the stations of the cross.  It made sense to me that stained glass was being used to communicate meanings or stories during rock songs without lyrics.  In other (more…)
Last night at the Hammerstein Ballroom in Manhattan, I saw My Bloody Valentine (website, wiki), the short-lived 1980s-90s "shoegaze" rock band that helped define the genre.
Here is their video for "Only Shallow":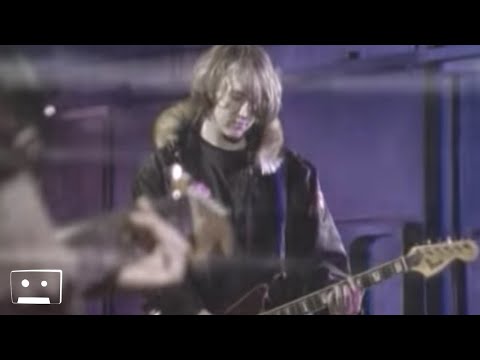 Much-lauded and lately seldom-seen, they played two shows at the Hammerstein this week, and announced last night that this would be their "last show for a long time." (I have written at R&T about a newer shoegaze band, The Sunshine Factory.)
Last night was the first concert in my thirty years of concertgoing where I could not understand one single lyric. The music was so overbearingly loud (I came prepared with my earplugs, but by the end I had to cover my ears with my hands over the earplugs); the huge projection screen behind them so dazzling with engrossing visuals of hyper close-up/fast nature-culture details bordering on the grotesque/beautiful; the stage so devoid of any (more…)
Alex Lifeson, famed guitarist for Rush, was recently featured in an interview in Classic Rock Magazine. The all-things-Rush website RushIsABand has a scan of the interview here. In the interview, by Paul Elliott, Mr. Lifeson is asked "Do you believe in God?" His answer to this question is already leading to Internet debate and now positions the band interestingly theologically.
I have been following, I mean ravenously following, this band for more than thirty years, and I don't recall Mr. Lifeson ever being asked that question directly before.
His bandmate Geddy Lee is on record as being an atheist, and his bandmate Neil Peart has been continually critical of religion over several decades of lyric-writing. My impression is that Mr. Peart prefers to remain agnostic, but others will know more about Peart arcana than I do. Mr. Lee has characterized himself as a Jewish atheist. (Two posts I've written ("Geddy Lee, Jewish Atheist" and "Geddy Lee Responds to My Question") about Mr. Lee's views about religion are among the most read and commented posts here at R&T.)
This means that Rush, one of the best selling rock bands of all time (behind only The Beatles and The Rolling Stones for consecutive platinum or gold records), is more or less now publicly a nonreligious-to-antireligious, agnostic-to-atheist, group.
In Mr. Lifeson's interview, his response to "Do you believe in God?" is: "No. When I was younger I did. My mother is not super-religious but she has a belief. My father was the total opposite. He thought religion was a crock. In my early teens I started to question it all. I had friends who were Jesus (more…)
I like listening to articulate musicians talk about playing. Steve Vai is one of those musicians. As he discusses what is involved in progressing in musicianship in this clip, I think once again of the entwinements of music and religion.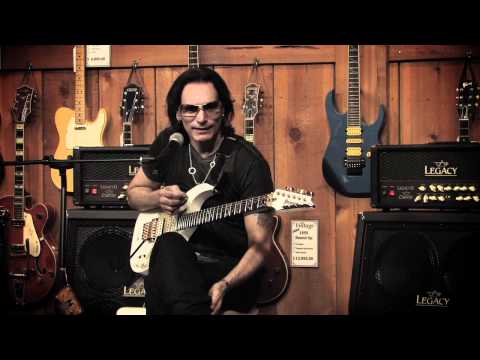 Mr. Vai is talking about experiential forms of self-possession and -dispossession with reference to a reality that exceeds the musician. Here is the deep overlap with the techniques, askeses, and spiritual exercises that religions confect: Consent to what you really, perhaps despite yourself, want; be led by the imagination of a consummate, elegant performance; turn off all other noises and concentrate on the practice.
I did hesitate, however, when Vai says that the "only thing that's holding you back is the way you're thinking." That statement might, given a certain (more…)
There may be a few musicians who are relatively, and unjustly, unknown on the national scene, who are exquisite and heartbreaking singers, torrid and groovish guitarists, soulful songwriters of unaffected Americana and Southern-tinged old-fashioned rock and roll, and a stage presence that makes of every word of every song a test of authenticity and an opportunity for spiritual reconsideration — but I only know of one such musician: Michelle Malone.
(I have written about Malone several times earlier at Rock and Theology, first in October 2009, again in October 2009, and in January 2013.)
Here is Ms. Malone playing "Wild Horses" at a house concert: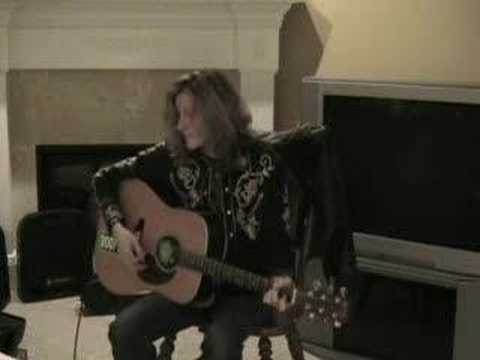 Last night, I saw her play in New York City, at a classy Irish bar and performance space called An Beal Bocht, in the Bronx. I took this picture:
I know you will not believe the next sentence I am going to write, but I will write it anyway: I have been seeing live music for over thirty years, and after hundreds of shows, I can say that I know of no solo artist who is more dedicated to, and natural at, making their songs live afresh every time (more…)
While this post will be less adventurous and more off the cuff than the title promises, I'd like to begin by asking you to check out this recent interview with jazz (and more) musicians Pat Metheny and John Zorn, as conducted by the New York Times critic Nate Chinen.
I want to focus on two statements Mr. Metheny makes:
"What I look for in musicians is a sense of infinity. Within this world, you could go forever."
"Another thing I love is hearing musicians who develop context for themselves. And of the many things I admire about John, that might be right near the top. He's a master of coming up with opportunities for music to exist."
Put together, these ideas of musicians inventing the context for their music to make sense on its own terms, in such a rich way that doors keep opening seemingly without end, put me in mind of theology. The notion of "context" has come to play a very important role in contemporary theology. Many theologians today would argue that all theology is "contextual," by which is usually meant that it is grounded in or emerges from a particular human/worldly scene, situation, or difficulty — for example, an existential question, an unjust suffering, or a break in normal ways of life.
This development in academic theological work over the past generation has helped to make theology in (and beyond) the West more attuned to local needs and to break it away from Eurocentric ways of proceeding. One of the questions about contextual theology — whether as its own approach or as a way of thinking about theological approaches in general — that I have had, however, is its reluctance to be contextual all the way down. That is to (more…)
This is part 2 of my reflection on a review of a recent "drone" music concert in New York City. Part 1 is here.
Now for further reflection:
In the process of his review, Ratliff explores meanings of sounds that take one into humming ruminations on essentials: musically we call these "drones," but in theology they are, in a sense, the whole game, because theology is no more and no less than a humming rumination on essentials. We can explore such "droning" by theologically overhearing music reviews, and musically overhearing theological works, which are two ways of relating theology to music.
Consider Ratliff's opening reflection: "There's an irreducible element of music that connects metal, industrial music, power electronics and classical minimalism, and no word exists for it."
Stay with that for a while. And then onto the next sentence:
"It involves deep pulsations; excited provocation through sound and concept more than traditional technique; low-end frequencies rarely encountered in life; long sustained tones enlarged through overdrive; or distortion or just force of hands on instruments."
The kind of theology I write and teach often falls within the domain of "practical theology," in which it is emphasized that whatever is worthy of being called "theological" must be "experienceable" by people. I stand by that, so long as what it means is carefully interpreted, but Ratliff's meditation on (more…)
That was my first thought, or at least my fourth or fifth, when I read the headline over music critic Ben Ratliff's review of a drone concert in last weekend's New York Times. The print headline read: "A House of Drone, Ecstatic and Raw, With a Potent Aura of Largess." I wondered: with this evocative headline, what are we really talking about here?
(I have frequently quoted and celebrated Ratliff's reviews, such as here and here.)
The theological significance of drone may have to do with Holy Mother of God! Before anything else happens, take a look at this picture that accompanied the story, of Kim Gordon (formerly of Sonic Youth and now of Body/Head), taken by photographer Brian Harkin:
I hate to ask so pedantically whether you consider this as remarkable as I do, but ask I must. This is an ornate, even extreme position in which to posture an electric guitar. I can only surmise that by driving the headstock into the top of the amp, hunching over the upturned instrument from shoulder strength supported by delicately bent knee inside the carefully calibrated leg-stance, working the tremolo with her right hand, and steering the balance from her left hand, she is summoning feedback. For some reason the picture reminds me of the disturbing provocation of an upside-down crucifix, an (more…)
The renowned Cambridge academic theologian and philosopher of religion Rev. Dr. Sarah Coakley has written at length about theology of prayer, spiritual experience, and spiritual knowing. In a recent 2-part interview for The Other Journal with SueJeanne Koh, Coakley discusses the cost and implications of becoming open in silent prayer. She emphasizes the surrender of perplexing and even disturbing material that arises in the disciplined practice of silent prayer, and commends communal prayer as an important support for the courageous, and literally en-couraging, submissions involved in silent prayer.
What occurs to me, on reading the interview (and the followup, part two, here), is how, in addition to the experience of silence, the experience of music shows up in people's lives as a way that the self is handed over to something more, to an excessive "call" from a generous and generative beyond. Silence is perhaps profitably thought of not as the absence or opposite of sound, but of noise. Musical experience can generate an experience of internal silence and a contemplative mein. I do not know of studies that compare silence and musical sound as comparative practices of meditation or contemplation, but the question is an important one for contemporary persons who probably need more silence in our lives and who also might need a deeper spiritual appreciation of the (musical) sounds we value.
Silence is certainly a way that lives are spiritually transformed, as she argues, but so is music, which sometimes does not cancel silence but deepens it. This notion seems particularly connected to Coakley's understanding that "prayer has everything to do with the erotic," to which she adds, (more…)
Next Page »