Pages
Categories
Contributors
Recent Posts
Recent Comments
Recommended
Archives
This is part 2 of my reflection on a review of a recent "drone" music concert in New York City. Part 1 is here.
Now for further reflection:
In the process of his review, Ratliff explores meanings of sounds that take one into humming ruminations on essentials: musically we call these "drones," but in theology they are, in a sense, the whole game, because theology is no more and no less than a humming rumination on essentials. We can explore such "droning" by theologically overhearing music reviews, and musically overhearing theological works, which are two ways of relating theology to music.
Consider Ratliff's opening reflection: "There's an irreducible element of music that connects metal, industrial music, power electronics and classical minimalism, and no word exists for it."
Stay with that for a while. And then onto the next sentence:
"It involves deep pulsations; excited provocation through sound and concept more than traditional technique; low-end frequencies rarely encountered in life; long sustained tones enlarged through overdrive; or distortion or just force of hands on instruments."
The kind of theology I write and teach often falls within the domain of "practical theology," in which it is emphasized that whatever is worthy of being called "theological" must be "experienceable" by people. I stand by that, so long as what it means is carefully interpreted, but Ratliff's meditation on (more…)
That was my first thought, or at least my fourth or fifth, when I read the headline over music critic Ben Ratliff's review of a drone concert in last weekend's New York Times. The print headline read: "A House of Drone, Ecstatic and Raw, With a Potent Aura of Largess." I wondered: with this evocative headline, what are we really talking about here?
(I have frequently quoted and celebrated Ratliff's reviews, such as here and here.)
The theological significance of drone may have to do with Holy Mother of God! Before anything else happens, take a look at this picture that accompanied the story, of Kim Gordon (formerly of Sonic Youth and now of Body/Head), taken by photographer Brian Harkin:
I hate to ask so pedantically whether you consider this as remarkable as I do, but ask I must. This is an ornate, even extreme position in which to posture an electric guitar. I can only surmise that by driving the headstock into the top of the amp, hunching over the upturned instrument from shoulder strength supported by delicately bent knee inside the carefully calibrated leg-stance, working the tremolo with her right hand, and steering the balance from her left hand, she is summoning feedback. For some reason the picture reminds me of the disturbing provocation of an upside-down crucifix, an (more…)
The renowned Cambridge academic theologian and philosopher of religion Rev. Dr. Sarah Coakley has written at length about theology of prayer, spiritual experience, and spiritual knowing. In a recent 2-part interview for The Other Journal with SueJeanne Koh, Coakley discusses the cost and implications of becoming open in silent prayer. She emphasizes the surrender of perplexing and even disturbing material that arises in the disciplined practice of silent prayer, and commends communal prayer as an important support for the courageous, and literally en-couraging, submissions involved in silent prayer.
What occurs to me, on reading the interview (and the followup, part two, here), is how, in addition to the experience of silence, the experience of music shows up in people's lives as a way that the self is handed over to something more, to an excessive "call" from a generous and generative beyond. Silence is perhaps profitably thought of not as the absence or opposite of sound, but of noise. Musical experience can generate an experience of internal silence and a contemplative mein. I do not know of studies that compare silence and musical sound as comparative practices of meditation or contemplation, but the question is an important one for contemporary persons who probably need more silence in our lives and who also might need a deeper spiritual appreciation of the (musical) sounds we value.
Silence is certainly a way that lives are spiritually transformed, as she argues, but so is music, which sometimes does not cancel silence but deepens it. This notion seems particularly connected to Coakley's understanding that "prayer has everything to do with the erotic," to which she adds, (more…)
I just saw this news that Robert Plant is (at long last) apparently open to a Zeppelin reunion. If you have any doubts about whether they can still do it, you should see the Celebration Day film, which recounts their one-off 2007 show in London. Here is a clip: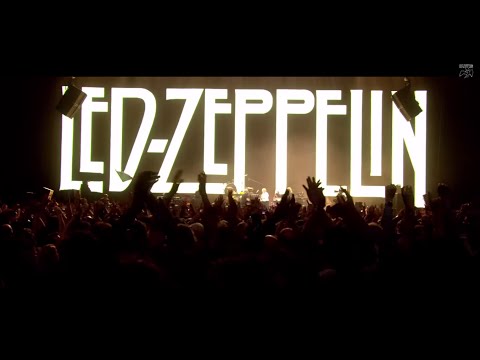 Such a reunion, which would probably be among the biggest concert events in decades, reminded me of the remarkable book by Susan Fast, In the Houses of the Holy: Led Zeppelin and the Power of Rock Music (New York: Oxford University Press, 2001). If this tour materializes, I'm going to have to go back to this book and write a commentary about its spiritual significance for R&T. My thesis would be something like: this book is laden with examples of how rock and roll is a spiritual exercise. (In fact, now that I am writing this out, I think I might choose a few examples from Fast's book to punctuate my upcoming talk at South by Southwest.)
Here are just a few suggestive examples: Writing about Jimmy Page's way of holding his guitar on his hip, and how it creates a "fictional body" that performs on stage, she writes: "The way in which Page moves the guitar over to the side is a metaphor for this decenteredness: the right side of his body and the hip on which the instrument rests in particular form a zone of psychological difference; it signals that now Page has moved further into the subjunctive, further into his otherness, further into the music. Raising his leg deepens the movement further, creating even greater instability. Raising the leg also points more directly to the materiality of the instrument: "Look; this is the vehicle through which I have become other." (p. 152)
"Many Zeppelin fans link sex with spirituality in their experience of the music" (p. 174), and this is exemplified in the (more…)
I recently listened to an interview with J Mascis of Dinosaur Jr on the WTF podcast with Marc Maron. For the interview, go here. Wiki on Dinosaur Jr is here; on Mascis here; the band website is here.
I had heard of Dinosaur Jr., but did not know about their music. But one of the parts of the interview with Mr. Mascis that I found interesting was his discussion of his relationship to Mata Amritanandamayi. She is known popularly as the "hugging saint," or simply as "Amma" (mother) or "Ammachi". Her website is here; Wiki here. Mr. Mascis tells of the profound impact that her embrace and presence has had on him. (Learn more about preparing to be embraced by her here.) He has also recorded an album in her honor, J and Friends Sing and Chant for Amma.
Here is "Heavy Metal Ai Giri Nandini" by J Mascis and friends:
This reminded me of a post here at R&T about the guitarist Jason Becker, by Mary McDonough here. McDonough introduced R&T readers to Mr. Becker's remarkable story. On his website, Becker tells the story of Amma's profound role in his life. I don't know if rock and roll musicians are (more…)
As R&T readers know, last week I saw the musical "Once" on Broadway (and wrote about it here). This afternoon, I was walking in NoHo in Manhattan, and was about to stop in at a cafe.
Out front, I noticed a familiar-looking guy, and I quickly realized he was one of the cast and musicians from "Once." In fact, he was an extraordinary musician in the musical, playing guitars and drums and singing. His name is Lucas Papaelias, and he is already an accomplished musician, actor, and composer.
I told him about Rock and Theology and we talked about musicals, performing, and spirituality. (He was very generous with his time, allowing this interruption from a random professor who wanted to talk with him about religion and music.) He is performing in, and is the musical director of, a show this weekend at The Culture Project in Manhattan, a show titled "A Thick Description of Harry Smith (Volume 1)," which, if you read the description, looks like it would be of interest to R&T readers.
Here is a picture of Lucas and me. (That's him in the AC/DC shirt, and that's me holding the phone-camera.)
On YouTube, I found a video of Lucas playing at a party purportedly at 4 a.m. Ever been in a scenario like that? If so, you will recognize
Anyone know who this terrific drummer of a priest (or seminarian) is? (Watch all the way through for the special ending.)
No doubt he'll be pegged for the youth ministry, but despite myself, I am wondering what it would be like if he teamed up with bass wizard Fr. Stan Fortuna on bass to compose a Mass.
And wait — they could be joined by, perhaps, guitar guru Fr. Stan Fortuna on guitar:
And while Fr. Fortuna can — it is true — also front a rock band, I suggesting sharing the wealth, and nominate Fr. Cesare Bonizzi for lead singer:
I believe this opens up a new topic at R&T: Religious leaders who rock. Do readers have other suggestions?
This topic takes us back to the origins of Rock and Theology and its patron saint, the Abbot Primate of the Benedictines, Notker Wolf.
Tommy Beaudoin, Hastings-on-Hudson, New York
At Christmastime I usually lurch around in search of something new musically. Sure, I love Handel's "Messiah" and indie artists like Sufjan Stevens' "Songs For Christmas" and even classics like Burl Ives' familiar versions of "Rudolph the Red-Nosed Reindeer" and "A Holly Jolly Christmas". Ives was, of course, the narrator for THE Christmas special of my childhood: debuting on NBC in 1964, Rudolph the Red-Nosed Reindeer is the longest running Christmas TV special. Yet such feel-good holiday cheer doesn't hold up to the edgy feeling I'm left with this time of year. After the apocalyptic cries of a new advent of hope give way to a fragile baby born in the midst King Herod's paranoia, a paranoia that send the Holy Family fleeing to Egypt and deals death to scores of innocent children, I want something a good deal more real that a marriage of feel-good home and hearth plus consumer orgy (Jingle Bells + Santa Claus is Coming to Town).
Imagine my surprise in discovering this gem from 1968: A New Possibility: John Fahey's Guitar Soli Christmas Album. It was the cover art that grabbed me first (I know, don't judge a book by its cover; but then, presuming there is some relationship, I do find myself attracted to books and wines by virtue of their interesting labels).  So when I saw this
cover I was attracted to the clean simple lines combined with the block print style, along with the two crosses and the phrase 'A New Possibility, drew me in. I listened to some bits of songs including the first track, "Joy to the World." It was at once familiar and strange, both accomplished and simple, a man with his steel-stringed guitar, letting its twanging ringing pulsing rhythms sing instead of adding other instruments or voice. I bought it and have been listening impulsively to it ever since. HIGHLY RECOMMENDED!
Because I like to know who I'm listening to, I poked around to find out about Fahey.  I'll write more on Fahey another time, but for now I'd just like to admit how humbling it is to continually realize how little one knows, even in worlds with which one has significant knowledge (like, for instance, rock and theology!). I'd never heard of Fahey, but he is an iconic figure in American music, crossing a range of genres from blues to folk to rock, and influencing generations of guitarists and bands. He learned the blues from blues greats Bukka White and Skip James, both of whom recorded in the 1930s but had not played for decades when he contacted them in the early 1960s.
After several months of (full?) immersion into the world of old time Appalachian music and another several months spending intentional, attentive time with the biographies and back catalogues of Neil Young and Bob Dylan, I've begun to pay more attention to some more "current" music. Over the past couple of months, a number of new albums by artists new and old have grabbed by attention, including the recent offerings of P.J. Harvey, J Mascis, Mogwai, Alela Diane, Bill Callahan, The Decemberists, and others. (I even found the new R.E.M. album to be surprisingly good.)
One of the most interesting is the new album from Kurt Vile, Smoke Ring for My Halo (Matador, 2011), which had me hooked from the first track, "Baby's Arms." It features Kurt's signature fingerpicking (not all that common in "lo-fi" and indie circles), Lou Reed-like singing, and gorgeous atmospheric decorations. Here are album and live versions:
This post furthers my recent sketches relating theology to Winger (Part One is here, One and a Half here, and Two is here).
One of the most recognizable images of Winger's live shows — which they share with larger rock culture — is the utter importance of the musicians' bodily wherewithal to the sound, look, and feel of the rock experience. Last weekend, I saw Winger at BB King's in New York City,
and before the show, I was talking with other fans gathered in front of the stage. One woman said to me that she was trying to get as close as possible to lead guitarist Reb Beach's side of the stage because, as she put it, Beach "totally melds with his guitar," he is "so into it, like he's in a trance." I could not disagree, and kept her observation with me through the performance and my later reflection on the band.
Beach is among a coterie of lead guitarists who display an uncanny familiar and lavish sympathy with their guitar, making it into a same and separate entity at once: both dance partner and electric extension of Beach's own body. For those whose tastes run to rock, it is compelling to be in the presence of this style of musicianship. I think the fan who said that to me is pointing to the way that bodily wherewithals or dispositions among rock musicians can symbolize and refocus fans' desires. I have felt the same way in seeing the relationship of Geddy Lee to his bass guitar, Michelle Malone to her guitar, and many fans say something similar of Hendrix's relationship to his guitar. Rock musicians, and probably all musicians, can develop intimate relationships with their instruments, and this in itself is spiritually interesting and important, but it takes another kind of psychology and musical identity to allow the abandon tucked into that intimate relationship to show itself in that peculiar combination of a studied and unstudied showing so characteristic of rock, especially hard rock, shows. There is also something interesting here in the way that this musical surrender allows body postures for men in particular that are forsworn in larger society. In the logic of "normal" North American everyday life, these postures would be weird or, importantly, "queer," but here the queer becomes revelatory, a "total meld." Whatever this is speaking to in fans' desires, it seems to be related to some kind of freedom that is an excellence, a relationship to a beyond, and the beauty of a sacred singularity.
Here is a clip of the band from last weekend's NYC show. Beach is the guitarist with the very long hair on the right side of the screen. In addition to lead guitar, you can see he also takes a harmonica solo!
And another show I attended in Los Angeles in 2007 had Beach channeling this guitar solo:
To be continued…
Tom Beaudoin
Hastings-on-Hudson, New York, United States
Next Page »