Pages
Categories
Contributors
Recent Posts
Recent Comments
Recommended
Archives
October 2017
S
M
T
W
T
F
S
« Jan
1
2
3
4
5
6
7
8
9
10
11
12
13
14
15
16
17
18
19
20
21
22
23
24
25
26
27
28
29
30
31
My earliest memories from my Catholic boyhood date to the mid-1970s, when I would have been about 6 years old. Dave Nantais' recent post about Sr. Janet Mead and her rock and roll version of the "Our Father" prayer immediately sent me back to that era. I have vague but sure recollections of hearing and singing that arrangement of the song at mass in the '70s.
We also sang pop/rock-inflected hymns at "CCD" (religion classes during the week), and during retreats or other youth programs. There seemed to be a fair amount of theater/drama in our religious education, too. We could act out Bible-inspired skits or use primitive video cameras to record our own "commercials" (I did one for "Jesus Adds Life" as a riff on the commercial jingle "Coke Adds Life," and I pray that it never finds its way to YouTube).
My friends and I were both pious and irreverent at once. We prayed the prayers, received our sacraments, and respected our authorities, and I never once — not once — bothered to wonder whether there was any other or better route to God for me or anyone else than the Catholic road. I joined many friends in being a good altar boy for several years, and taking pride in excelling at it. But we were also at the same time being drawn into a world whose contours we could not fathom at the time: rock and roll — and its related allures, real and imagined: sex, the occult, "other" religions, hedonism, the musical life, and general untetheredness. As far as I can remember, we rarely saw any substantial conflict between being Catholic and loving popular (more…)
In the world of Rock and Theology, my interests have hovered around the relationship of underground music cultures, social movements, and religion. In particular, I've been interested in the relationship of DIY punk music cultures (broadly defined) and spirituality/religion and have done some writing on this, most recently in an essay in the new Rock and Theology book, Secular Music and Sacred Theology. In my essay on "staying punk" as a theologian, I spend a good deal of time discussing one of the "patron saints" of punk rock, Ian MacKaye of Fugazi and Minor Threat, whose distinct voice within the many discussions of "punk ethics" has made me think not only about my own musical practices but about the practice of theology.
In December of last year, MacKaye and his wife Amy Farina released their third album as The Evens. The album, The Odds, is another great batch of MacKaye and Farina's "quiet," but still uncompromisingly political, punk rock. As I was preparing final edits to the chapter I submitted for the book, I was also reading the press' discussion of MacKaye and The Evens, and I realized that, had I had more space, I could have discussed The Evens as great example of the traditioning of punk, of the way punk evolves — "grows up," even — but stays true to its commitments.
The Evens' recent string of interviews contain some discussion that might help to push forward some of the ideas I've been tossing about on theology and punk rock. (more…)
When my nieces introduced me to The Script, I will admit that the title of the first CD I tried out grabbed me: "Faith and Science" – hardly surprising for someone who was theologically trained in fundamental theology and theological aesthetics. In truth, there is only one song that develops that theme – the 4th track of the same title. Although it could be fruitfully brought into dialogue with PierAngelo Sequeri's theology of faith and trust (and perhaps I will in a future post), it is not the only one I like.
I admit it: I'm hooked. I love their music. From the first guitar riff of the first song "You won't feel a thing":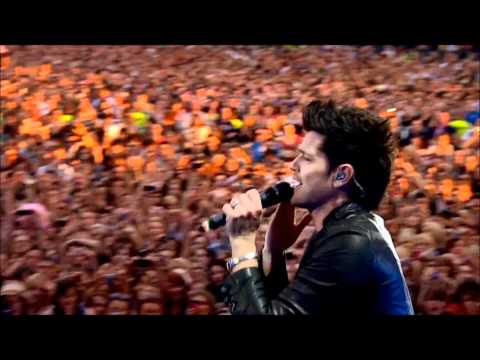 my bad days are interrupted and touched by something my body recognizes and moves to, inside and out. So in the next blog or two I am gonna reflect a little bit about what and why that is. They're Irish (Dubliners even :-)) – but I will declare with complete honesty that I only found that out after I started investigating them. But of course it only endears me further. There is always gonna be that fascinating, albeit paradoxical, pull to and rejection of the mystical side of life that is such a part of my nation in 'recent times', and that I recognize.
What they say about themselves is interesting, and again has to do with what making-music implies, as much as, or as a means
I can't say I'm particularly unhappy to see 2011 come to an end. It hasn't been the best year. Over the last eight months I've had a good friend die, had to euthanize two beloved pets that I'd owned for years (a horse and a dog) and had surgery. Adding salt to the wound, the package of Christmas gifts I mailed to my brother never arrived and I woke up on Christmas Day with a vicious head cold.
I asked myself what could I do to feel better? The answer was clear. Buy a new electric guitar. Granted I already own several but I've wanted a Fender Strat for years. So I bought a beautiful bright red one. The pickups, the mid range boost … I'm in heaven. When I took my new guitar out of the case for the first time I got goose bumps. A sensation that brought me back to my childhood when I first fell in love with the instrument and with rock music.
That sensation of awe also reminded me of a discussion here at R&T about my colleague Jeff Keuss's post on "what constitutes rock." In comment #3, another R&T colleague, Dave Nantais, lists his five "random associations" with rock music explaining that the only thing they appear to share in common is that they all that give him goose bumps.
Goose bumps. What a great way to describe a sensation we feel when something moves us, takes us, emotionally and spiritually, to a special place. A place that can't be described visually because it's a feeling deep down in your gut, in your soul. I would describe such experiences as moments of transcendence.
A few days ago, I went with my friend B. on a walking tour of NYC rock sites in lower Manhattan. The tour was sponsored by Rocks Off, and was led by concert promoter and musician Jake Szufnarowski (Village Voice profile here), a deeply knowledgeable and friendly guide to all things rock and roll.
We met at Union Square Park, near two locations of Andy Warhol's factory (and a new statue of Warhol at the northwest corner of the park). From there, Szufnarowski took us many places in and near the East Village and Lower East Side, including the sites of the former Max's Kansas City and the Palladium, the Gem Spa, Irving Plaza, and Webster Hall. Unfortunately, B. and I had to leave after a couple of hours to make another appointment, but the tour (at only three of us plus Szufnarowski, it was an intimate one) went on to the former CBGB and more. At each site, we were given not only basic historical information about what transpired there in the history of rock and roll, but also many personal tales of mischief, decadence, and innovation that could only be told by someone with Szufnarowski's deep embeddedness in and love for the city as a musical place. For a young guy (late 30s), he has experienced an extraordinary amount of (and taken copious mental notes from books about) New York City's musical culture.
As I walked along the tour, and on later reflection, I could not help but think of the theological notion of pilgrimage, a concept that contains a span of meanings related to the practice of visiting sites of spiritual significance.
Pilgrimage is a way of being rendered a "pilgrim" (a wanderer, a traveler) in search of a place-based touchstone and anchor in the larger scheme (cosmos, universe), whether that place be officially recognized or not. Pilgrimage is a way of training the body to be the seismograph of the sacred, as one undergoes the departure, the traveling, and the arrival, conforming oneself a little more, in the doing, to that which the pilgrimage represents spiritually (and in which — like commercial interests — it is always entangled).
Among many pilgrimages in my life, there have been those to Jerusalem and to Kent State, and I am thinking now that even such a simple act as a walking rock tour is a kind of pilgrimage, because it more deeply instantiates a particular relationship to places where an "event" or
I just finished reading fellow R&T contributor, David Nantais's, wonderful book Rock-A My Soul (Tom Beaudoin reviewed it here). Chapter 3, my favorite part of the book, is called "Spirituality and Rock Music: 'A Fusion of Intimacies.'" Apparently, the term "A Fusion of Intimacies" is a phrase Patti Smith once used to describe rock music. In this chapter, Nantais discusses music and moments of grace. He defines such a moment as "a spiritual event, one in which God draws ever closer to a human being through one or more of several spiritual pathways" (58). He goes on to explain that God's grace can act through music. "In this way," he writes, "music is like an 'aural icon' that can help facilitate a spiritual experience" (58).
An "aural icon." What a great metaphor for the emotional experience music can give us. I've had many moments of grace when listening to or playing music but until I read Nantais's book I wasn't able to verbalize those experiences very well. Recently, I had my most profound aural icon.
I'm an emotional person. Lots of songs make me cry but until a few weeks ago I'd never burst into tears after hearing only the first few measures of a song. It happened when I was in my car listening to the Bruce Springsteen & the E Street Band station on SiriusXM radio. I was never a passionate Springsteen follower until I saw him play live a couple of years ago. Now I'm a diehard fan.
Anyway, I was in my car in a line at a drive-thru coffee shop. This song I'd never heard before started to play and within about 30 seconds tears welled up in my eyes. By the time I got to the window to pick up my latte, I was practically sobbing. I'm sure the woman who handed me my drink thought I was completely nuts. But for some reason that song made me feel, in the words of Nantais, "something that is both strange and familiar, both corporeal and spiritual, both felt and just out of reach" (58). Whether it was the song's minor key, the woeful lyrics, the yearning in Springsteen's voice or that mournful sax solo in the middle, "Drive All Night" touched my soul in a profound way.
Thanks, Dave, for helping me understand what happened.
httpv://www.youtube.com/watch?v=gZK6yp9WQ8E
Mary McDonough
One of the ways I think about the overlap, interplay, or mutual embeddedness of secular music and theology is to say that this relationship between music and theology is one of the few places in my life where the practices are always worth doing.
By that, I mean that basic musical practices in my life, like listening and playing, and and basic academic-theological practices in my life, like reading and writing, are some of the small circle of patterned things I do about which I almost always feel grateful. There are many other practices in my life within which I am often not glad to have spent time (for example, I have very low tolerance for shopping, emailing, and cooking). But listening to music, and playing it, reading (theology or anything interesting, really), and writing, as well as practices like walking, prayer or meditation or lectio, or reading the newspaper, these specific practices are ones that 999 times out of a thousand I feel zero regret for having done, and positively, I feel grateful, happier, and more collected for having done, like their doing involves some sort of step-by-step working out of an existential "yes."
I've realized over the years that this is one reason that the interplay of theology and music compels me so much — because it is so centering for me to dwell in that nexus. In all these practices, it is not only that I am "coming home" through them but that I am finding out where home is, realizing, through doing, where in fact I live.
It occurs to me that the practices I have mentioned here are mostly private and perhaps somewhat "introverted" ones, even though playing music in a band setting is a continually relational experience. Like many others, I have a
R&T readers, I know you will forgive this trifling truffle of a post, but come on, we can't be haggling out the hard theological issues every single post. As you will have already guessed, this opening feint is my attempt to de-stage the important place I secretly think this topic deserves, as so many disowned parts of everyday life and our everyday selves testify in their drowned clamor.
Here is my topic: what can happen in the supermarket. Occasioned by a few minutes of a recent afternoon with my five year-old daughter at a local chain, while we were looking at breakfast cereal, that's when I heard it: that familiar English permanently middle-aged earnest and so Britishly pleasurable strain, the kind of voice that first partakes of tea and cakes and then overturns the cart in pique and passion before apologizing for doing so and then cleaning up the mess, concluding with "Fuck, yeah!" I'm talking, of course, about Phil Collins. All it took was the familiar invocation, played at a gentle volume from just beyond the paper towels, of three words: "Tonight, tonight, tonight."
httpv://www.youtube.com/watch?v=pthU2RLmxqE
On hearing them, I was immediately placed somewhere around 1988, and will it make any sense if I tell you that between the single step that took me from the Honey Nut Cheerios to the Froot Loops, I had already traveled forth and back 23 years and felt what was in common and what was different in hearing those three words, now and then, now as then, then as now? So I sang the song to my daughter as we walked, and while she mischievously pulled things from the shelves to throw into our cart, I implored her, assisted by Phil Collins, "We're gonna make it right!"
And because life is so overly connected at these deep levels, I then remembered, singing it to her, the place of this song in a time in my life when with other music it helped stitch together a way of keeping life together. And here I must be necessarily discreet, but have you ever had the experience of songs or fragments of songs that come to stand in for a time, either in the moment or in hindsight? A passage of lyrics from this tune once did that for me, and so here I was
Thanks to Beaudoin's post last weekend, I've been reflecting upon the importance of rock-and-theology. I find particularly helpful his pointing to "practices that support our investment in this particular relationship…and how they go into making urgent an interest in theology and rock."
I see my own practices in relation to three interrelated and complex areas: listening, worshipping, and performing. I'll just highlight the first for now.
First, I love to listen to good music…but since being blessed (and cursed?) with an addiction to critical reflexivity, I can't listen as easily as I once did. In some ways, this is a loss…but also a significant gain. Perhaps a personal anecdote (in two movements) will help explain this development….
ALLEGRO
Somewhere in the late 90's, I was listening to public radio while driving back to my apartment from a seminary class. (Some readers may remember how commercial radio really began to suck around that time…thanks to the Telecommunications Act of 1996 and Clear Channel's subsequent invasion and occupation of the FM world.) There was a fund drive going on, so the local NPR affiliate was pulling out all the catchy classical tunes they could find and (more…)
Growing up in Independence, Missouri, I lived in two different "townhouse" complexes that were federally-supported housing for families hanging on to something like the dream of their own modest space in a relatively safe place. Most of the families were mostly lower-middle-class white families, with a few firmly middle-class as well as a good number of working-class folks. The education I received while living there in the 1970s-1980s, about the values and practices of nonelite white cultures, was probably as formative as my relatively deep and positive exposure to Catholic culture as a boy, or as my later formation in academic theological cultures as an adult.
In Independence at that time, there was a rolling interaction of that fairly narrow band of socioeconomic cultures, at school, at the mall, in our housing complex, and at an annual festival in downtown Independence called Santa-Cali-Gon (commemorating the Santa Fe, California, and Oregon Trails leading out of Independence). As classic evidence in the local lexicon for the importance of and anxieties around class, the annual festival was jokingly and derisively called the "white trash festival" by some of us who imagined that we could participate in that culture but not be touched by it. Whoever wrote this Santa-Cali-Gon entry is aware of the same class fear/identification as I was.
I was thinking of the kind of talk, music, camaraderie, ways of boy-girl interaction, and more as I thought about the recommendations people made in response to my recent post about music with "low cultural capital" today, music often presumed to be of little positive interest for theology. Whatever other class-based scoffings have been trained into me since I left Independence, I still find that I instinctively want to think about the ways in which this music is a part of people making sense of their lives, even as it symbolizes and enacts what holds people back. Placing a theological analysis of music in the context of lived life gets us away from preoccupation with a theological semantics of the songs or videos themselves, and moves us toward a curiosity about placing this music back in the lives of those who find it meaningful, available, or at the least unavoidable. Here are a few tunes from some of the groups thought of as lower on the musical food chain today. How do our relationships to these artists or songs, musically and spiritually, give us information about our social class? And what does that tell us for theological work?
*
This, anyway, was how my original draft of this post went. I spent a good deal of time sifting through videos that I wanted to add, for example, from Kid Rock and Insane Clown Posse. And I decided that someone who is better able than I am to show how these songs work culturally today should probably do this analysis. I had originally pasted up a few videos, but then could not stop wondering if abstracting them from their everyday use was contradicting the very point I was trying to make above.
Next Page »